Pros and Cons, My first month at Facebook
Last Update:
August 03, 2019
FB was driving me nuts
Only after 2 days from signing up, I was on the verge of leaving again.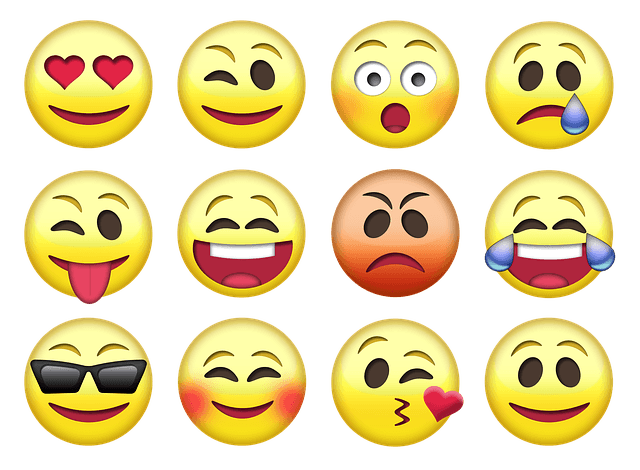 Facebook Emoji, Photo Pixabay
Wealthy Affiliate is great
Do you realize how nice we have it here at Wealthy Affiliate? The "tranquil" layout, no moving and interrupting things? Dear me, on my small screen is was soooo busy and I nearly quit.
To tell you why I decided to join FB I have to go back in time. I started my 2 websites in early 2017. For me that was a gigantic step, leaving me kind of exhausted as I was overwhelmed by all the technical stuff. I had no thought in my mind of joining any social media, my fork was full.
Starting on Pinterest
Luckily you learn and advance so then came the time I tackled Pinterest. I started in February 2018 and after an initial time of being confused (this is normal for me with new systems), I started liking it. I made 12 boards and Michael made nice pins with private photos. I posted my published posts and some of them were very successful, like the one on sugar which got some 45k impressions, and the other one on Kombucha tea.
Funny thing is that in the beginning I had mainly a female audience but that has changed over time, now it is more male, as the things I write about are often more science orientated, etc.
It is now a couple of months ago that I went back to an old post of Paul, many of you will remember him. I used the link he provided in that post to assess my posts rank and I was dismayed as my website could actually rate quite nicely but social media was lacking, Pinterest does not seem to count, the total points were not making me happy. Here is Paul's post.
I have great friends
I have a nice and helpful group of friends here who said I should not worry as they would share my posts on FB. I needed to install those icons and all would be fine. I did put those icons but as I was not on FB with an account those icons did not help. I realized there was no way around it anymore. If I wanted to improve my website ranking I had to join.
I made the leap
As I said at the beginning of my post, FB drove me nuts. It started already with the signup as you need a telephone number. I do not use a mobile. The one I have is more than 20 years old, is switched off in my handbag and will probably be used a maximum of 3 times a year. In the end, Michael had to let me use his cell number because using my landline number for the sign-up, did not function.
Completely lost
Well, I went there and got completely lost in the sea of messages. I have a small laptop and if you then get various pop-ups while you are doing/reading something it can get very confusing. My inbox suddenly had like 200 friends requests. I made the mistake to click ok, without knowing what I was doing, thinking it is OK when they are friends of people I know.
It soon became a never-ending story of friends of friends and again friends. I completely lost the line, so I stopped. My advice for those who want to join FB, never accept a friend request before looking at the person's profile. There is no guaranty you might like this person even if they are friends of friends etc, I suppose you get what I mean.
People join FB for multiple reasons, I did to promote my websites and have a look at what my friends are doing. Here at Wealthy Affiliate, most people have the same goal in mind so we are all looking in the same direction so to speak. I can tell you that Wealthy Affiliate is an oasis compared to FB. Thank God that Kyle and Carson have one very important rule. No religion or politics on our platform, very peaceful and good. FB, on the other hand, is an eye-opener as here people do not hold back at all. You will discover aspects of your friends you had no clue about or only lightly.
I did not know how FB functions and it took a while to learn. Slowly but surely, I started to understand it. There were some technical hiccups but that always happens when I do something new. When people would call me on the phone I say sorry, I am here for my websites and not to socialize, especially not to flirt.
Hey, all this flirting back and forth, little hearts and flowers sent takes up a lot of time which I do not want to spend on that activity. My Michael was sitting with a longish face in the background but he knows he can trust me. One man found on the internet is enough for me.
Some strange things are happening
I became friends with a young lady, a friend of friends you know, who wrote in her profile she worked at the FB office. Well, I suppose there are many offices worldwide so I had no alarm bell ringing, yet.
After a few days, she sent me a message: Hi, how are you? On this I answered: Still getting used to FB, I find it rather confusing.
She said: You will get used to it after a little while. Have you heard about the promotion......? I said: I have not yet.
Then she came with: CEO Mark Zuckerberg has given me permission to contact you......... and then suddenly she started to talk about $500.000. I was more than surprised so I answered: ???
I did not hear back from her. I contacted FB help center, they answered the next day. From my private messages what I had said was still visible but her part was taken away. The photo of her profile had also disappeared, reason: this account is being checked. I have not seen her back.
The second incident is quite a story. In this case, a man sent me a Hi, how are you. I again said: Still finding out how everything functions on FB. The answer was a drawing of a kissing couple. I did not react to this and shortly afterward I received a sex photo to be followed by a sex GIF. For those who do not know what a sex GIF is it is a moving sex photo.
I contacted FB and they sent me an answer the next day. The owner of that account had been warned. It was quiet for some days and then it happened again, one sex GIF after the other, I have quite a nice collection by now. I contacted FB again. They answered and up till now that person has not molested me anymore but his account is still active.
Finding out about people from a new perspective
When you meet the people you have known from WA for quite a long time here on FB you might discover unknown things about them. On FB there is no restriction on religion or politics. I have seen some awkward and hateful things I am not happy with. I will not comment on it even if I "know" this person from WA. These people dare to show sides of them which were hidden before and sometimes are not pretty, to say the least.
I will leave it at this. By now I have become used to the system, the layout is still confusing sometimes and I would like to give you one tip. Be careful what you post. As little private information as possible. Before accepting somebody's friends request check their profile and look at what they post, you might be in for a surprise. I have not checked my ranking yet as I think I need a bit more time on FB. Ah, I nearly forgot, it is nice to see the likes growing on a post.
Greetings from the south of Spain, Taetske
Laparra1's Posts
45 posts