Happy Meeting with Michelle and Loes, a special Holiday
Last Update:
September 03, 2019
Our Trip to Holland
The last time I visited the country where I lived from the age of 3 to 15 years was in 2006.
Michael had never visited Holland so we decided to take a 14 day holiday. He prepared everything well in advance and booked the flight, rental car and 6 different hotel rooms from South to North and from East to West. On arrival we fell into a heatwave, unbelievable, it was warmer than in the south of Spain. That same afternoon I got 3 T-shirts and the next day while visiting Aachen in Germany I had to buy a pair of sandals.
The whole of Holland was blossoming, in nearly every garden you would see trees and bushes in full bloom, a real delight. Driving through the forests the tall trees had new leaves, the color a bright and fresh looking light green. Spring is the best time of the year to visit this country I think.
A small trip to Belgium
The next day was really going to be special because we would meet Michelle. We were going to drive from the south of Holland to Antwerpen in Belgium where we would meet at the Central Station. It took us one and a half hour by car while Michelle would be traveling the same time by train.
There she was, a bubbly and nice person. We started talking as if we had met many times before. We had been in contact often being both with Wealthy Affiliate and we even had written a Guest writers post for each other's websites.
To meet in person is ever so nice and whenever she comes to Spain I hope to see her again. We spend some few hours together, too short for my taste, and had a nice lunch and a lot of conversation. She gave us Belgium sweets and Belgium yummy chocolates, I will have to work that off in the garden I am afraid. It was great getting to know her and hopefully, we will meet again.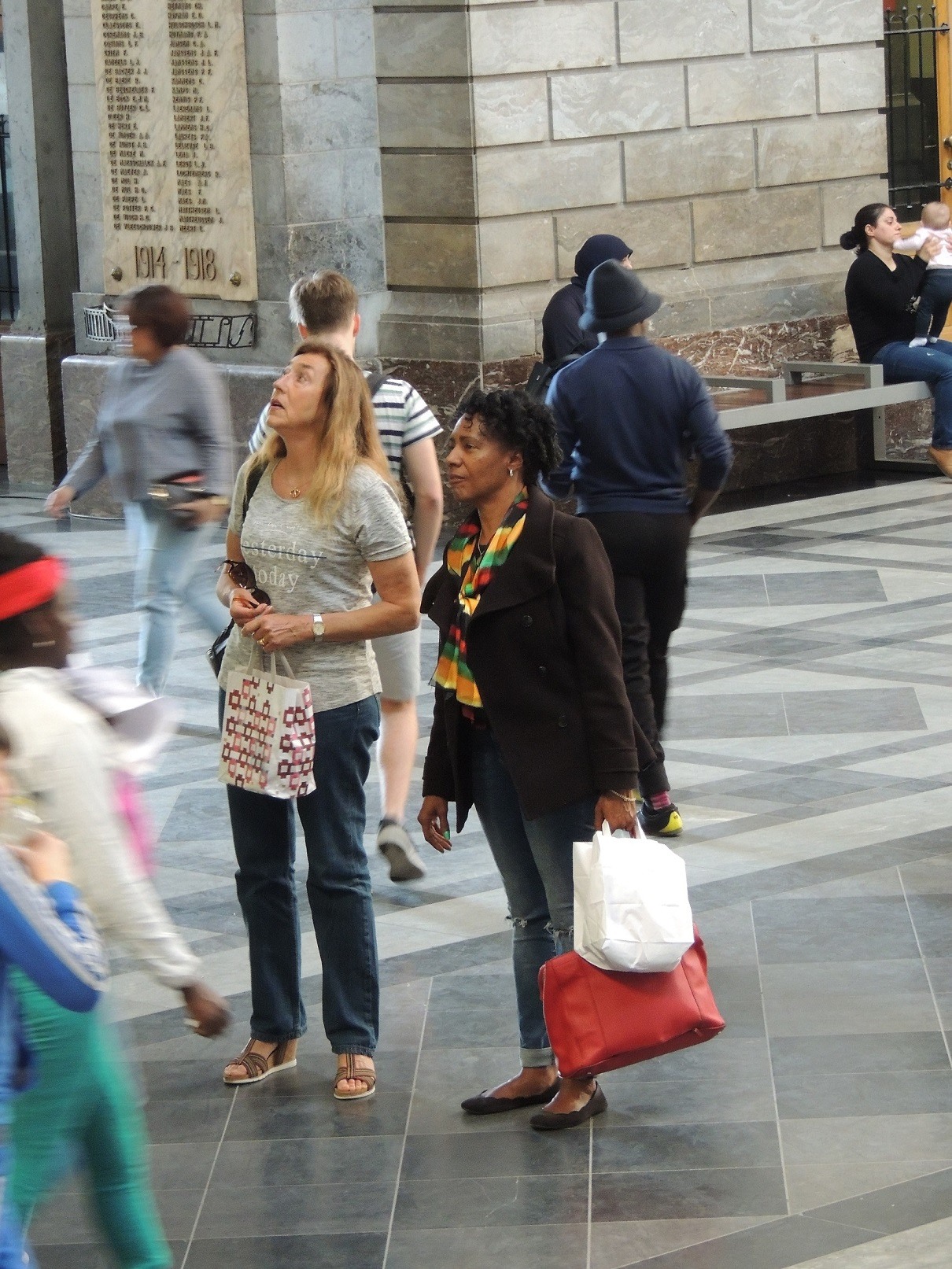 Meeting Michelle at Central Station.
Michelle wrote a post about our meeting, here comes the link:
https://my.wealthyaffiliate.com/mybiz4u/blog/wealthy-affilia...
Visiting my hometown
Our trip continued through Holland visiting friends and family. We went to Rhenen on the Rhine where I used to live and took a nice panoramic shot of the Cunera church, the second highest in Holland. I had a look at the 2 houses my parents build on the Bergweg. One bungalow in 1955 and the second house in 1972. It was very strange to see all this and a lot of childhood memories came back.
The Cunera Tower of Rhenen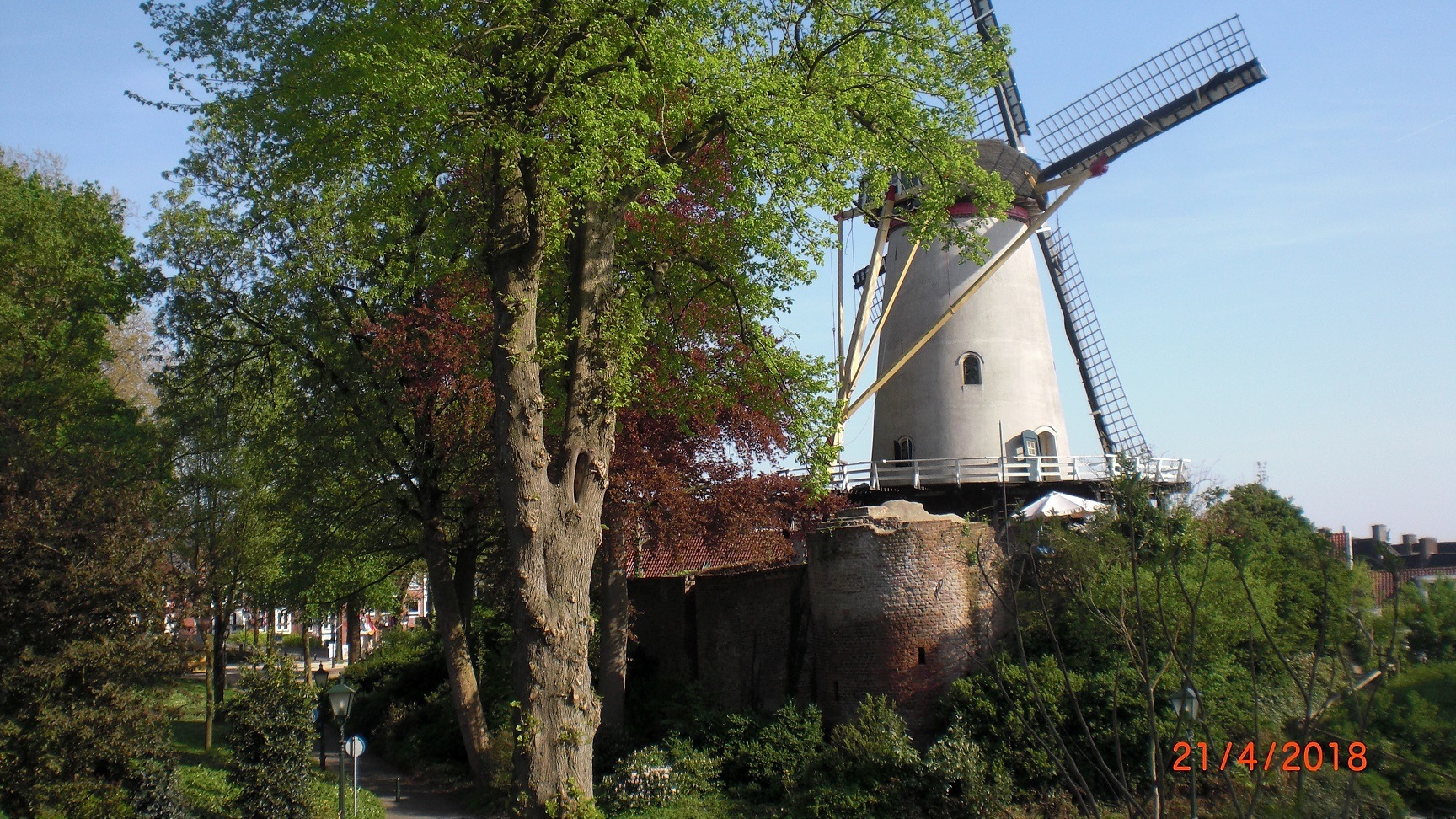 Windmill of Rhenen with remains of the city wall

Going North
Then we continued up North where we were going to meet Loes in Friesland. My name Taetske is Friesian by the way. We arrived at the hotel in Galamadammen. This hotel is situated at the waterfront and has a small Marina, all this is surrounded by typical Dutch meadows.
The next evening we had a nice dinner in the company of Loes and Willem, I think I can speak for all, we had a really good time together. Loes gave me 2 handmade presents, one for my handbag and the other for my mobile. I have preferred to hang them in my home office on my working desk, there I see it every day. Michael and Willem got along well chatting away while Loes and I talked a little about our websites but mostly about our lives. I hope to welcome them one day if they find their way to the south of Spain.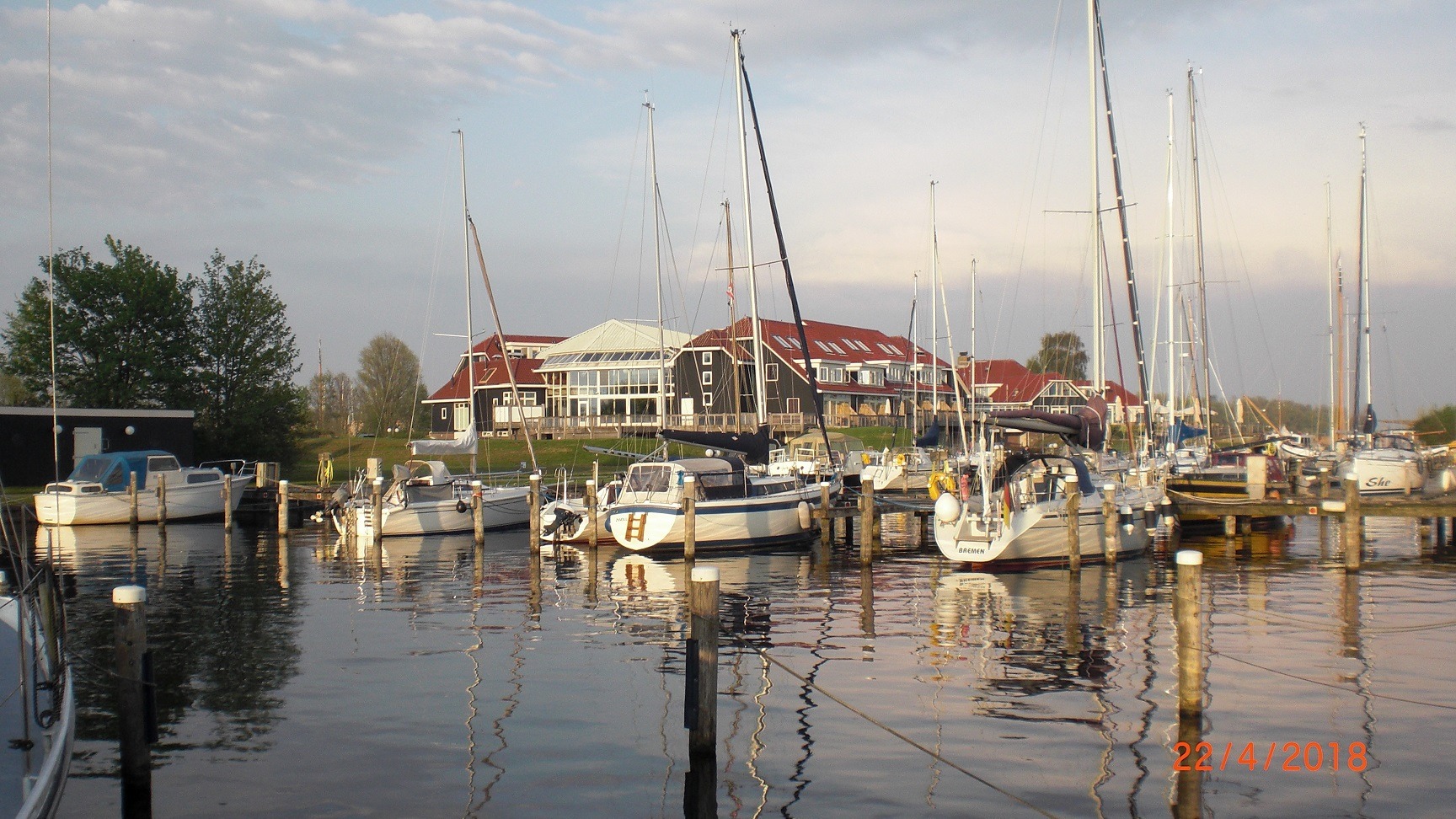 Galamadammen in Friesland

Having Dinner with Loes and Willem

Wealthy Affiliate Friendships
Meeting Michelle and Loes were the highlights of our trip. To meet people whom you have been in contact with for over 1 year is really special. I do hope to meet more people from Wealthy Affiliate in the future. We plan to visit the US in 2019 so you never know.
Some special places in Holland
I would like to mention a few places where we traveled and which were a special joy. Leaving Friesland we drove over the famous Afsluitdijk. This is a masterpiece of Dutch engineering which was started in 1927 and completed in 1932. It is 32 km long and 90 meters wide with 2 lanes both direction. On one side you see the North Sea and on the other, the now sweet water IJselmeer.
The Keukenhof
The world-famous Keukenhof is a beautiful tulip garden of 32 hectares. Because of the heatwave, 90% of the flowers were open. From all countries of the world, there were visitors walking in this park, everybody behaving so nicely. When somebody was making a photo of the flowers people would patiently wait to then continue walking. Nobody was loud so even if the park was really full of people it was a special experience, everybody enjoying the beauty of the flowers. We walked for more than 4 hours and bought 3 bags with 10 bulbs each which now hopefully will blossom on my patio.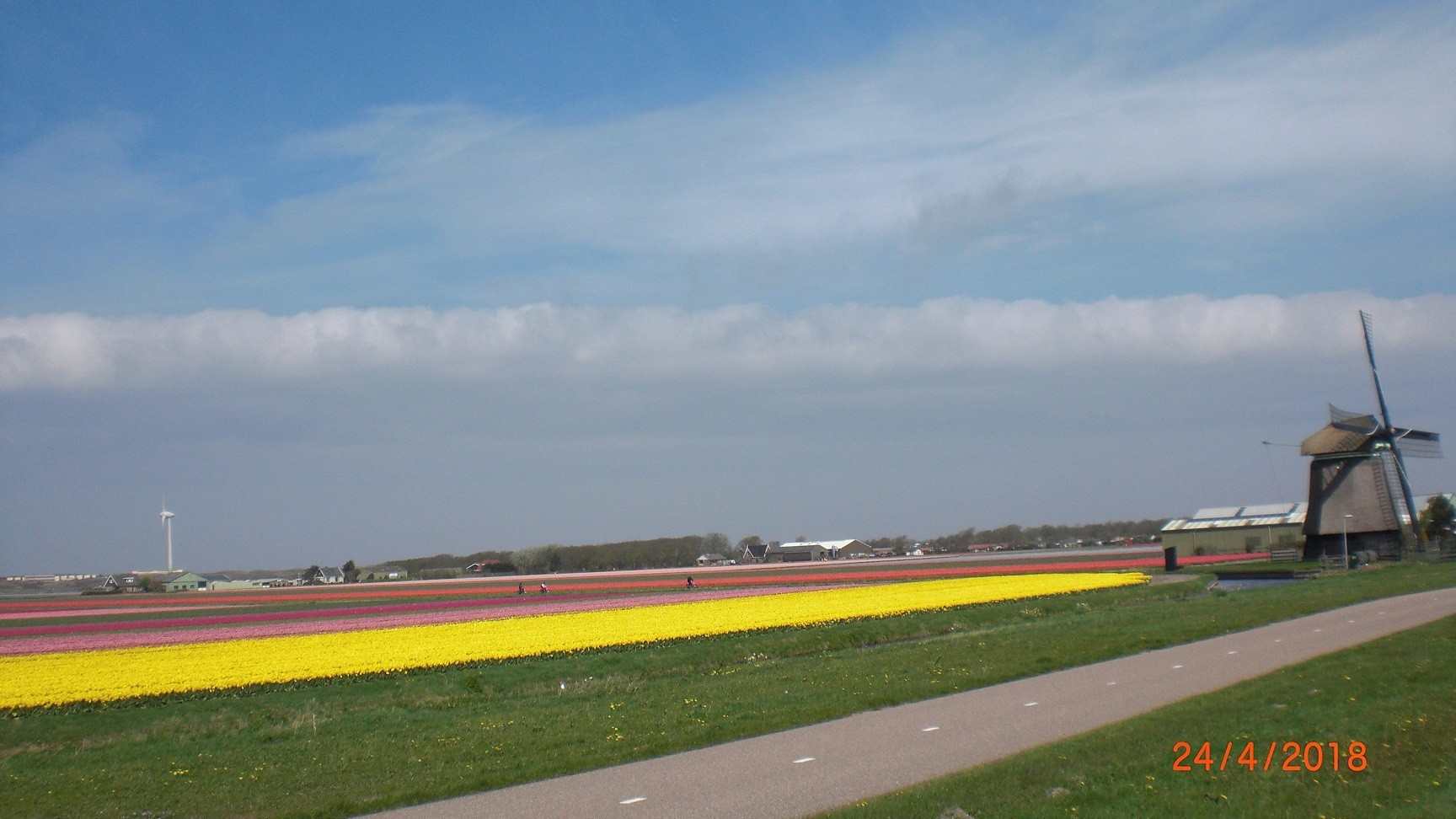 Windmill and Tulip Fields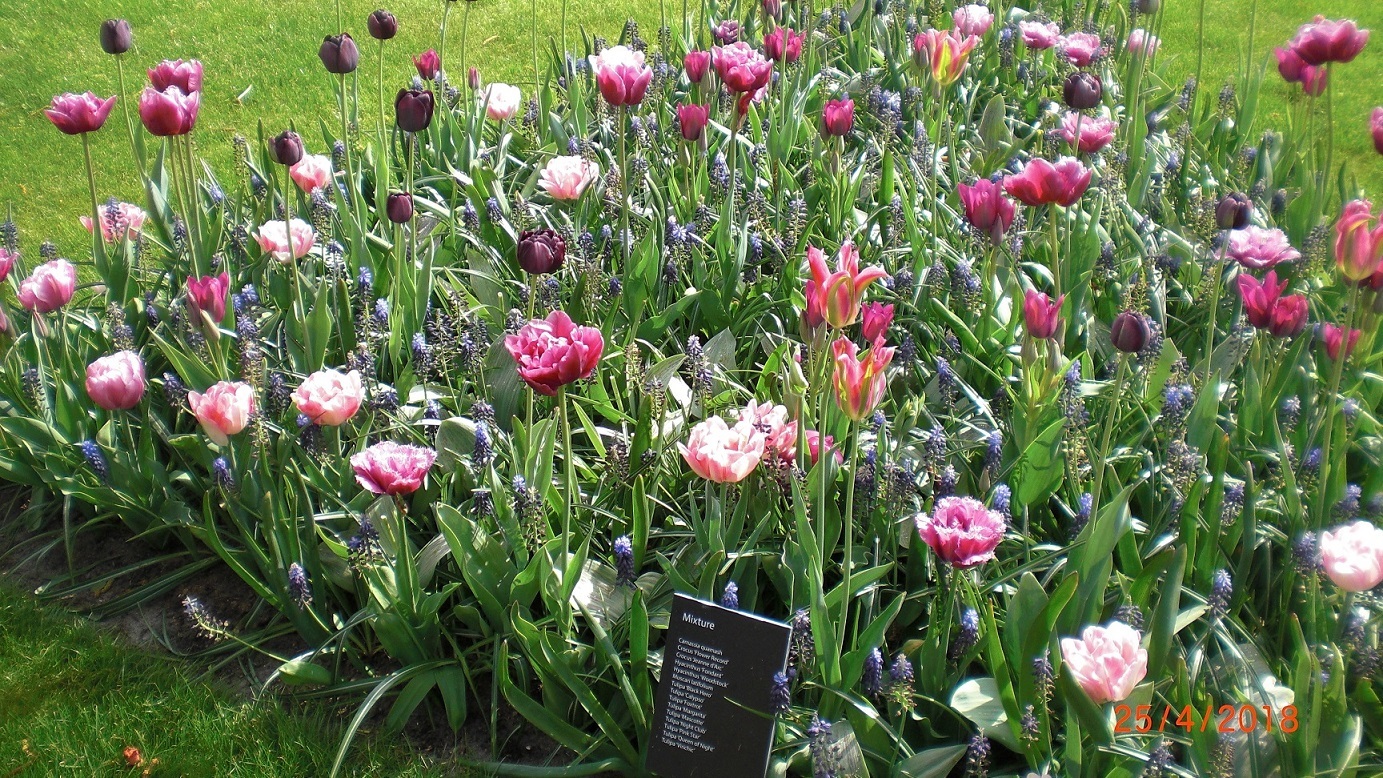 Beautiful Tulips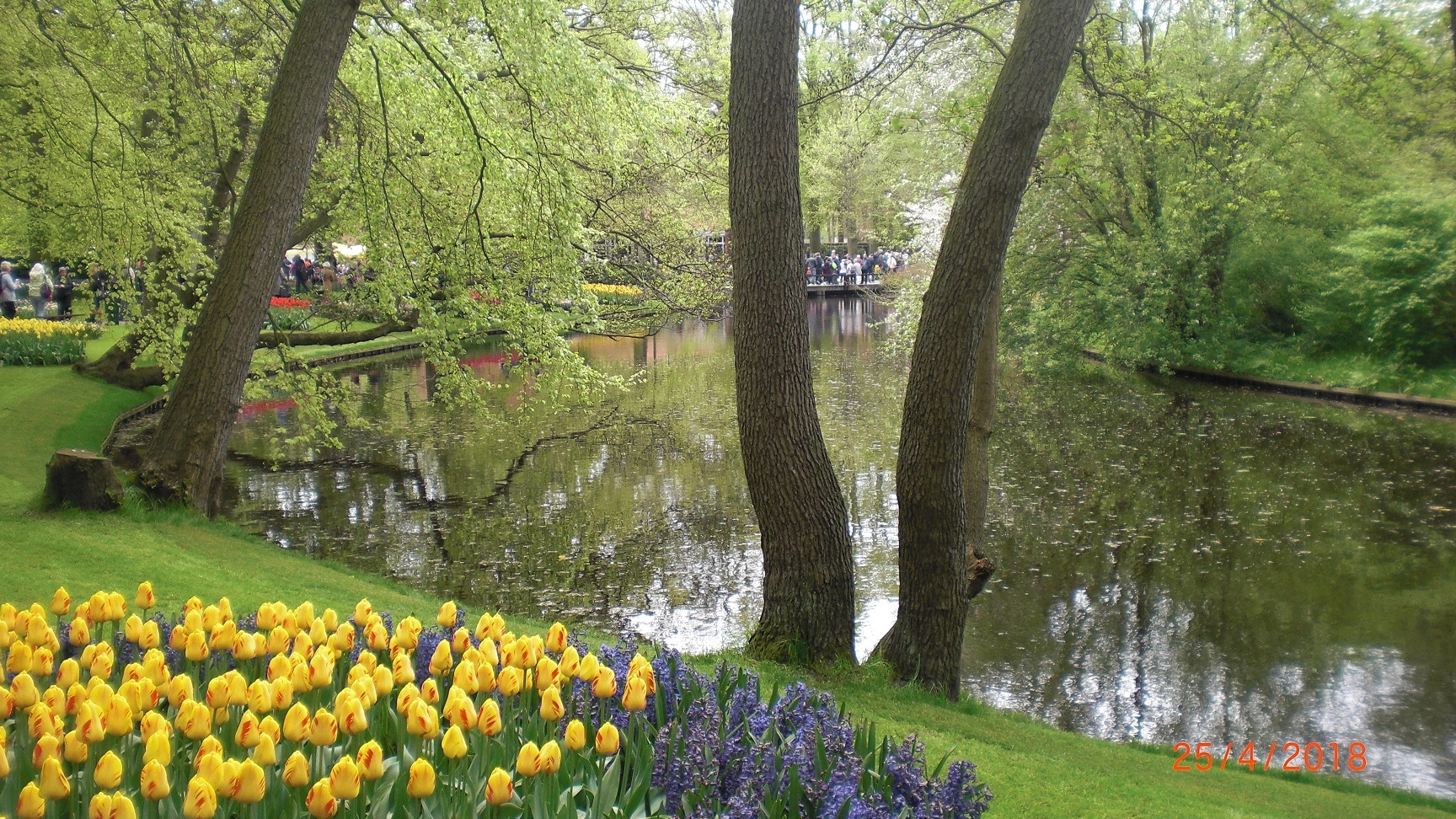 The Keukenhof Park

Amsterdam, the capital of Holland
A day in Amsterdam was also on the list. Again we walked for at least 4 hours making many photos. The museum with the history of the city was interesting indeed. Many centuries ago, during its golden times, the city welcomed refugees from all over the world. All religions were allowed in the city. The only requirement was to contribute with knowledge and or skills to the well-being of the community. After a little lunch, we took the canal tour by boat which lasted 1 hour. We came back to the hotel really exhausted.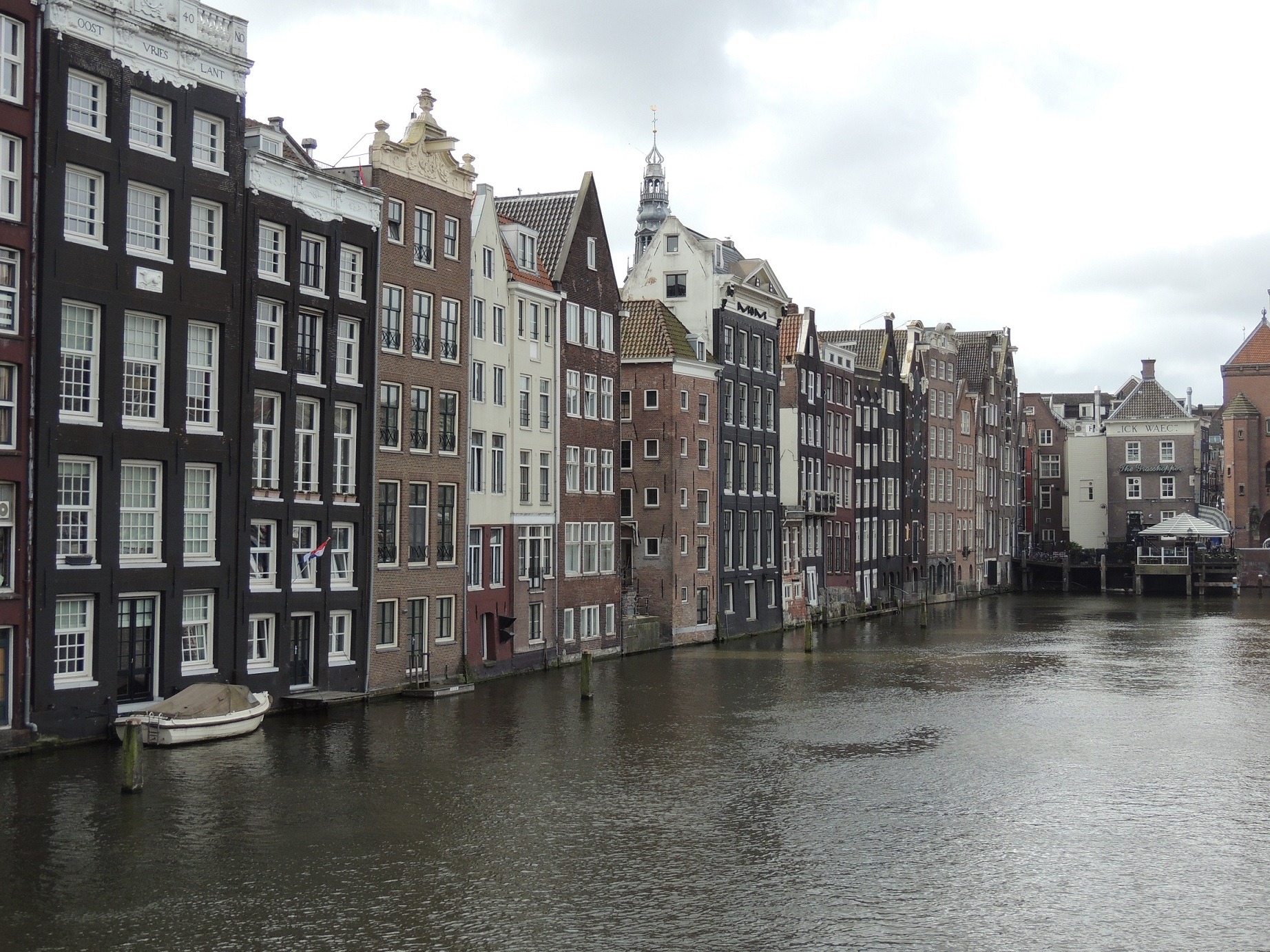 Amsterdam is built on timber piles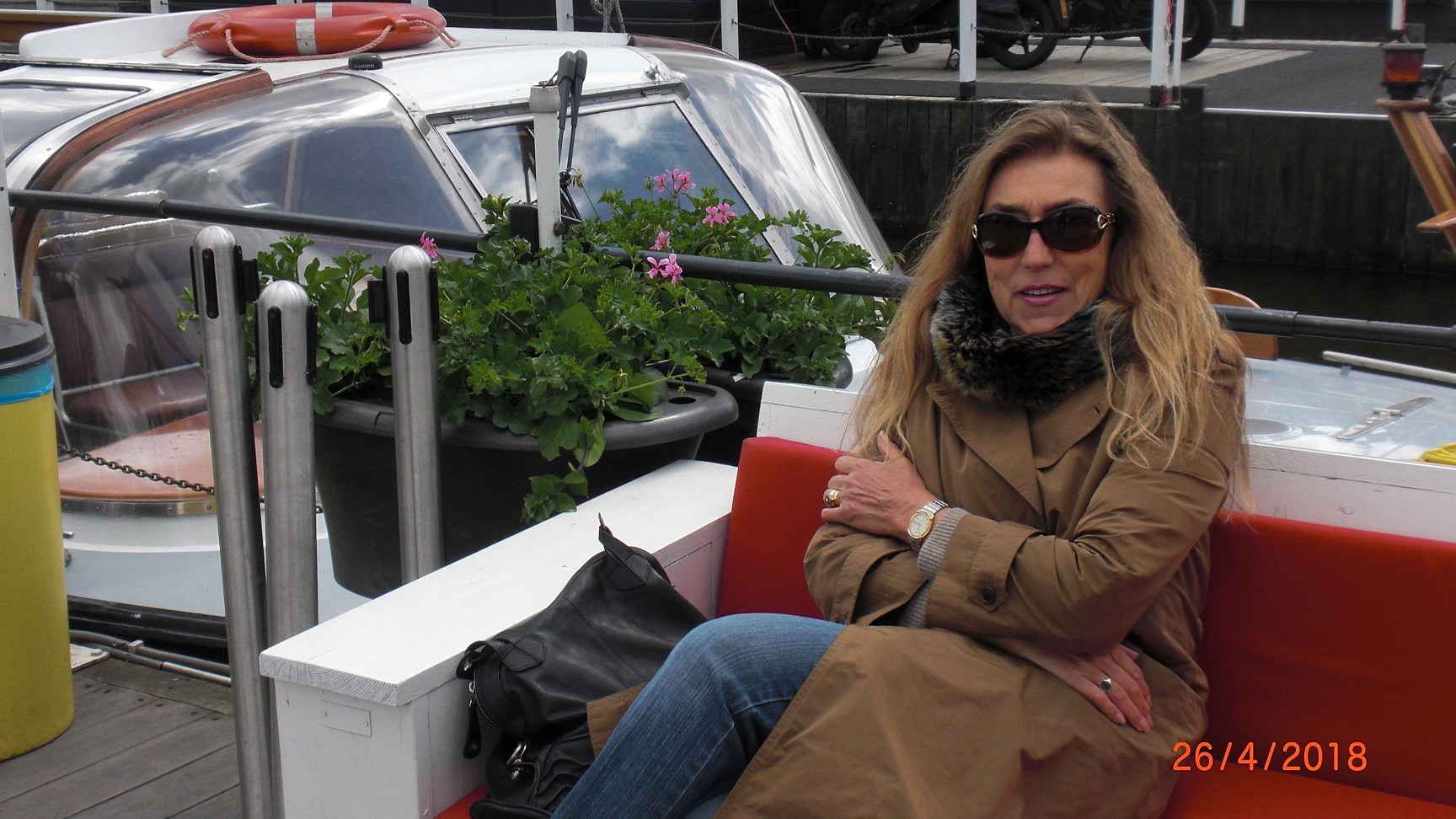 Waiting for the Canal Boat Tour

2 Beautiful parks near Arnhem
In the neighborhood of Arnhem, we visited 2 great places. One to the National Park the Hoge Veluwe with the Kroller Muller museum with the second largest collection in the world of paintings by Vincent van Gogh. This park is privately-owned and includes 5400 hectares of woodland, heathland, fen and drift sand. Driving through the park one could see the damage a huge storm, 200 km per hour winds, had caused in January. The effects of this storm were also visible in many other areas in Holland where we visited.
The next day we went to the well known Open Lucht museum. In this beautiful park, very old farmhouses from the whole country were rebuilt stone by stone. One can go inside and see how the people lived centuries ago. There are also many windmills and a water-powered mill where paper is made from cloth rags, a blacksmith shop, a shipwright shop, and ladies who were spinning wool to yarn, etc.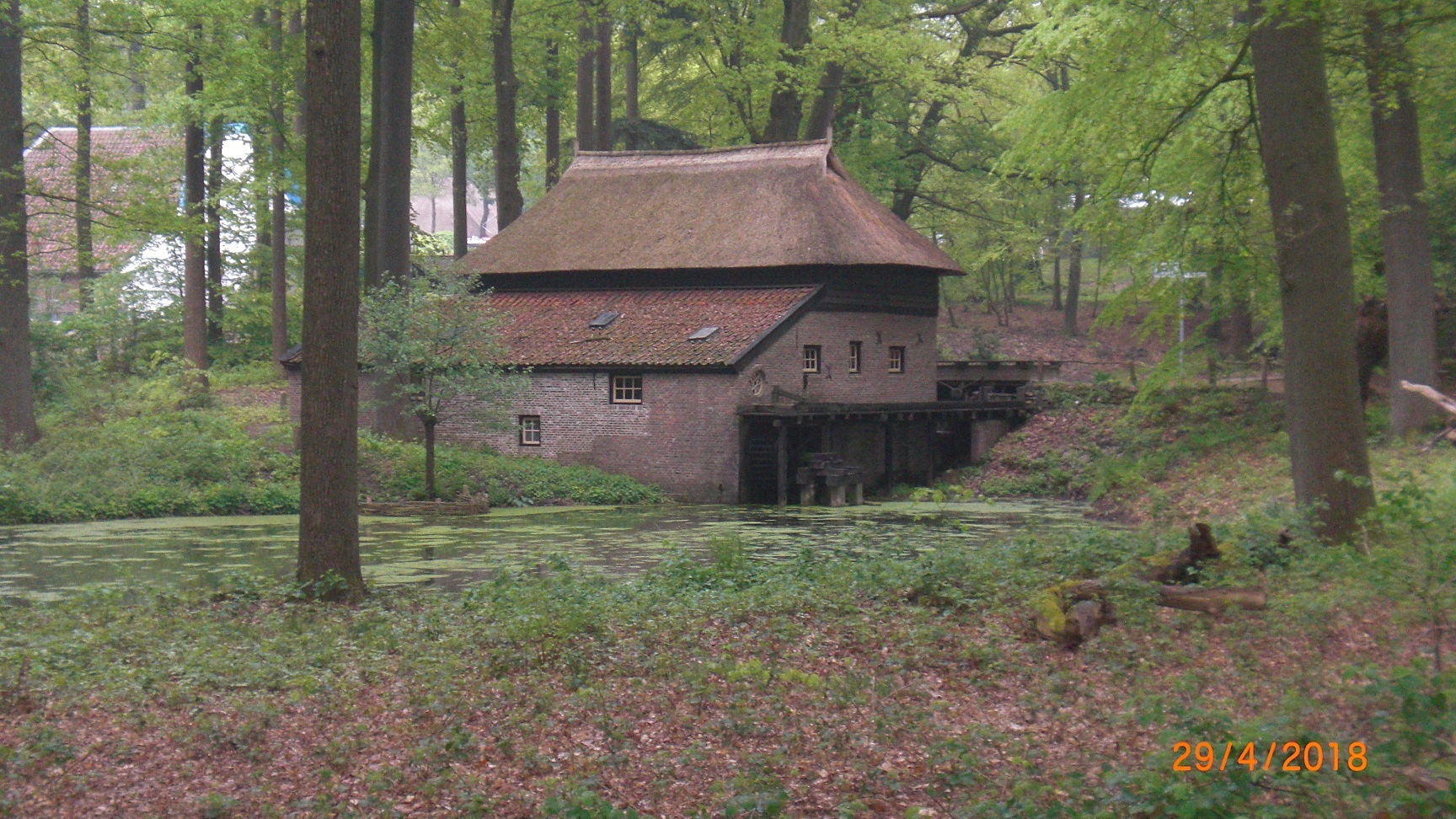 The Paper Mill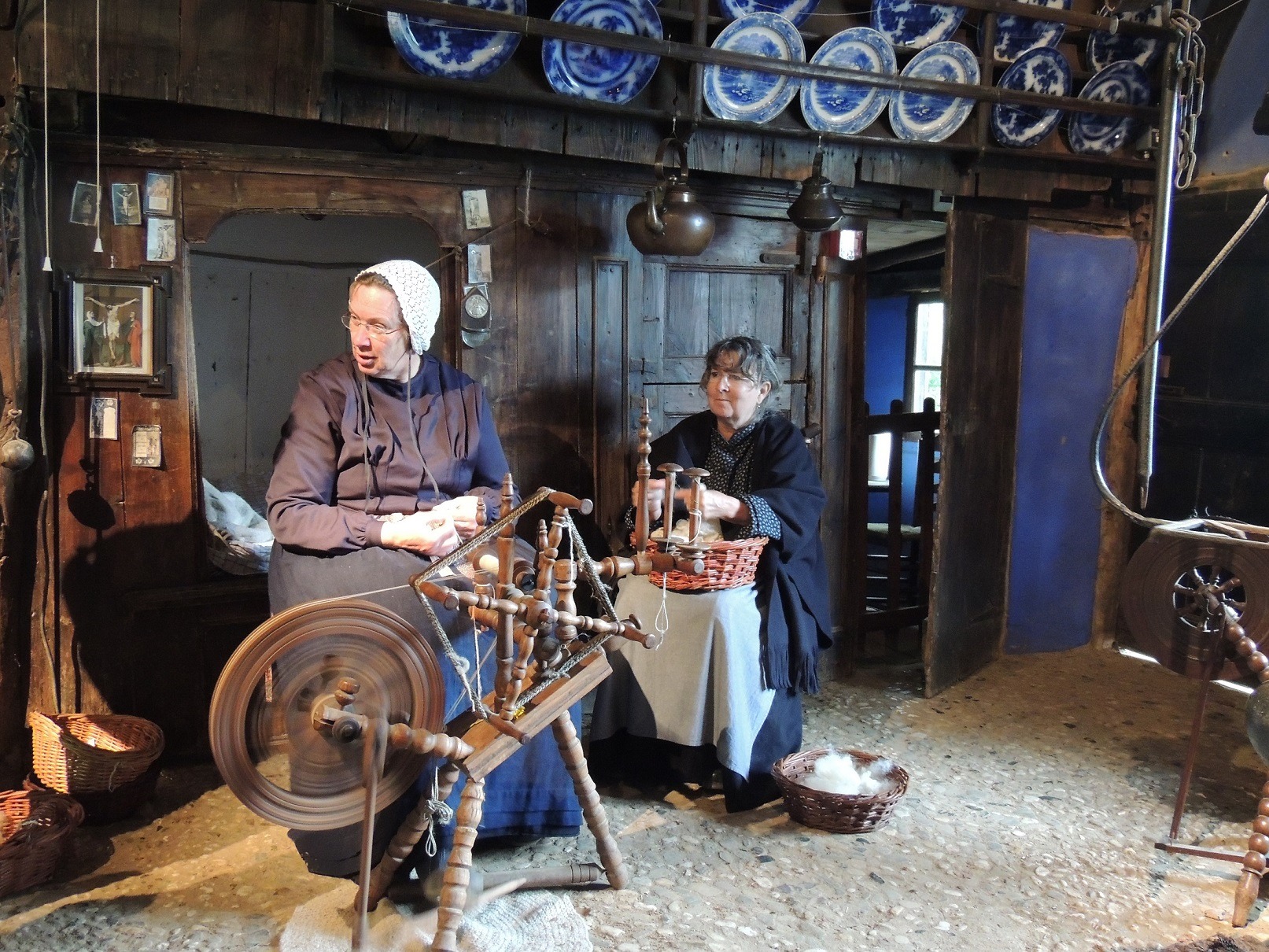 Spinning Wool to Yarn

The oldest hotel in Holland
Then we traveled South/West to Bergen op Zoom and stayed in the oldest hotel in Holland called de Draak = dragon. It is situated on the main square, lots of cobblestones there, and the building is from 1397. We took our plane back home from Eindhoven airport and arrived safely but tired late at night. Looking back to these lovely and interesting 14 days, and 1800 km on the road one can say that traveling is one of the nicest things one can do. We both enjoyed it immensely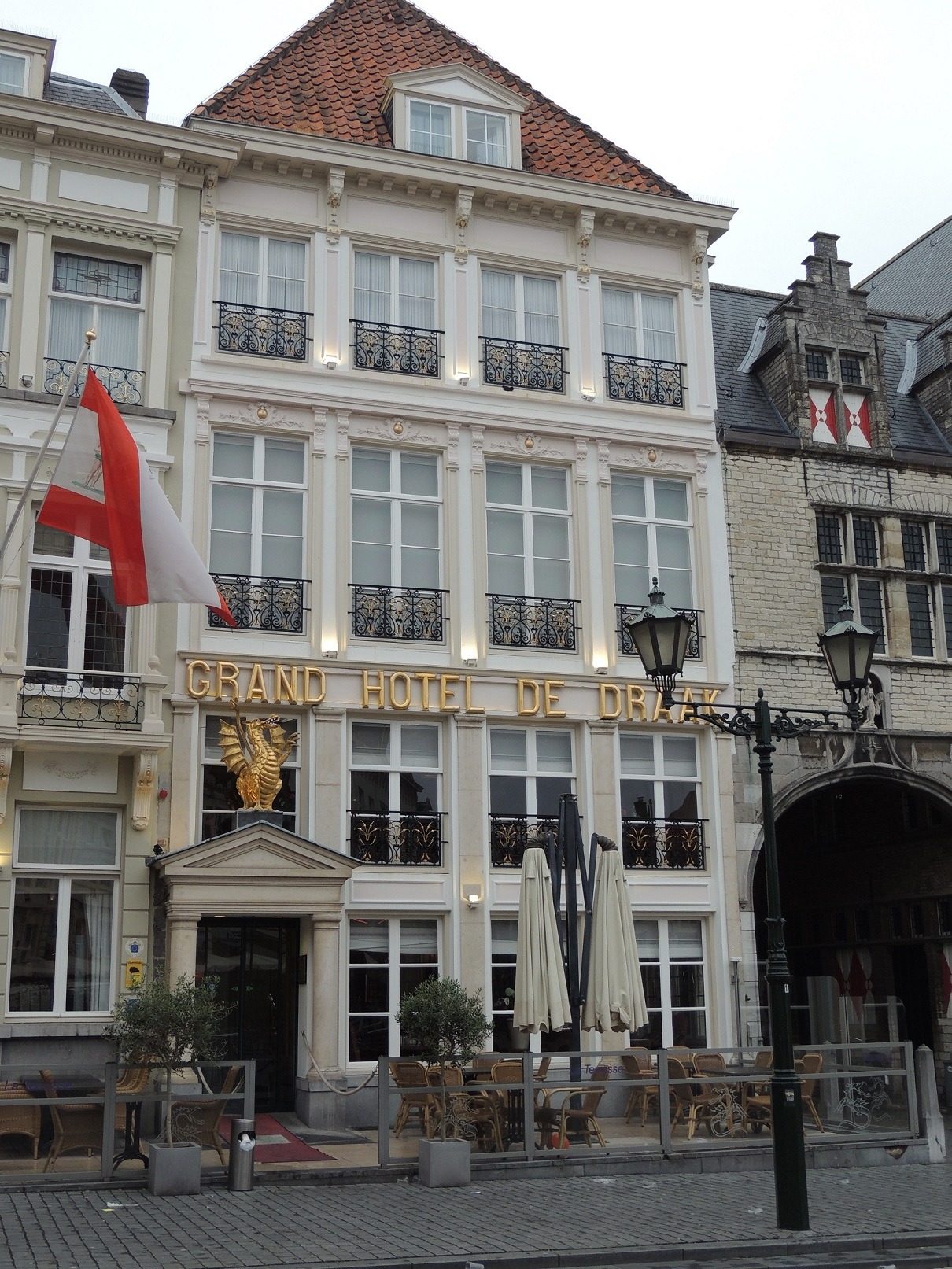 .
Hotel de Draak
We have included some private photos, a few were taken by Michael and others by myself
Greetings from the south of Spain, Taetske
Laparra1's Posts
48 posts