Attention chocoholics, for your eyes only
Last Update:
September 03, 2019
Chocoholics alert, do not miss a visit to sweet Sevilla
Hello everybody here comes my monthly post.
We recently made our traditional trip to Estepa, the sweetest town in Spain. It is situated in the province of Sevilla and about 1 hour away from where we live.
Estepa is the sweetest town in Spain
Estepa is a quiet little town with some 13,000 inhabitants. There are 24 factories dedicated to making sweets according to old and well-kept recipes. By September this village comes to life and the work starts. There is a lot to do as around 20 million kilograms are produced and sold in all of Spain and over the borders. The best ingredients are used, like honey and almonds, so even if they can make you fat eating too much at least they are with natural ingredients.
The weather was good (20 C), ideal for a little trip inland. We were looking forward as this particular factory, besides selling great Christmas sweets, constructed a diorama of a famous city entirely made of chocolate.
Every year a different city made of chocolate
2 years ago it was Paris and last year it was Rome so we were curious to see which city had been chosen for this year's display.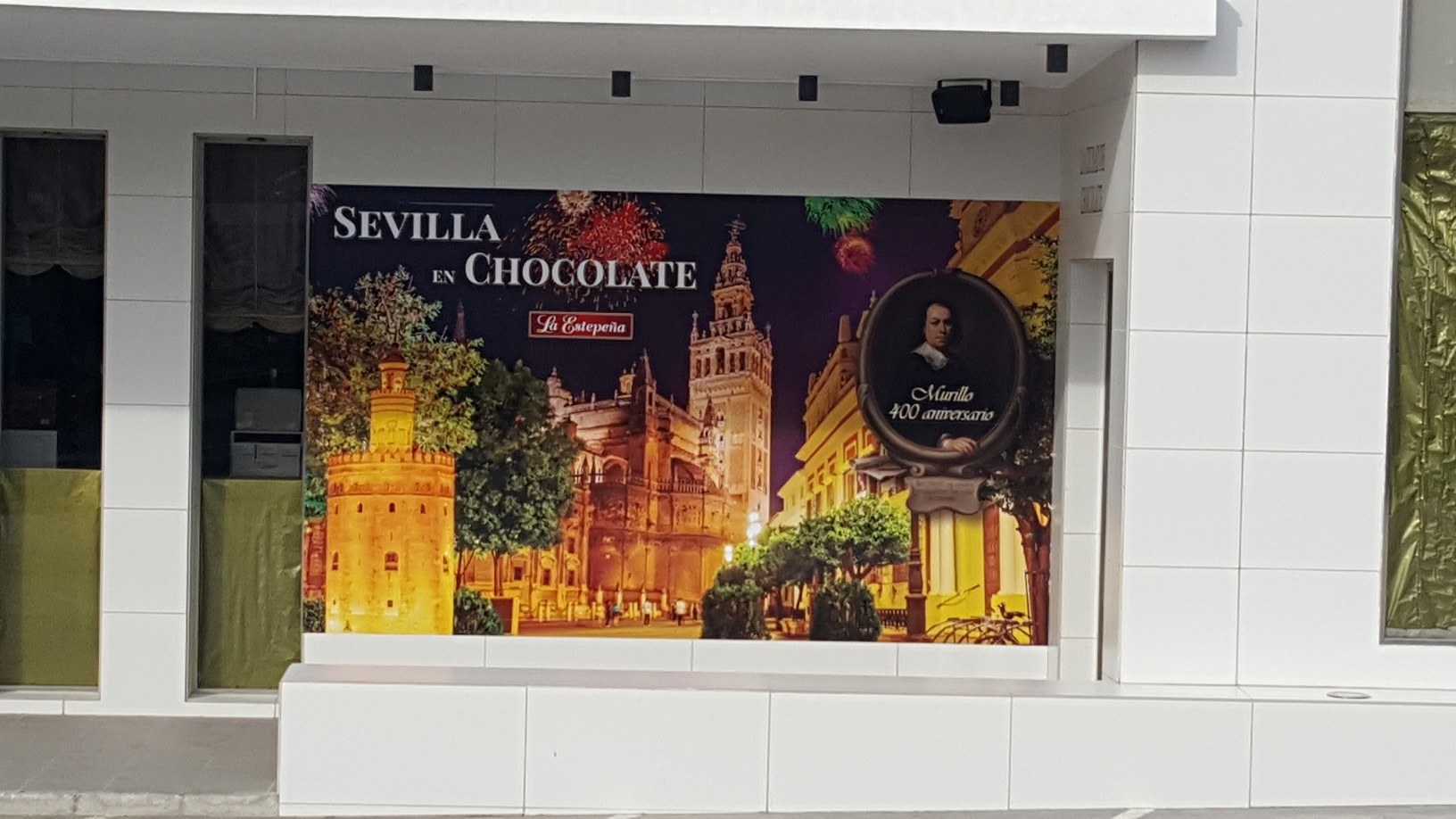 Entrance to the exposition of Sevilla made of chocolate

We were not disappointed, as this year the whole city of Sevilla was made from chocolate, what a yummy sight.
There was the Seville Cathedral, a large Gothic cathedral with that special Moorish bell tower and Columbus tomb.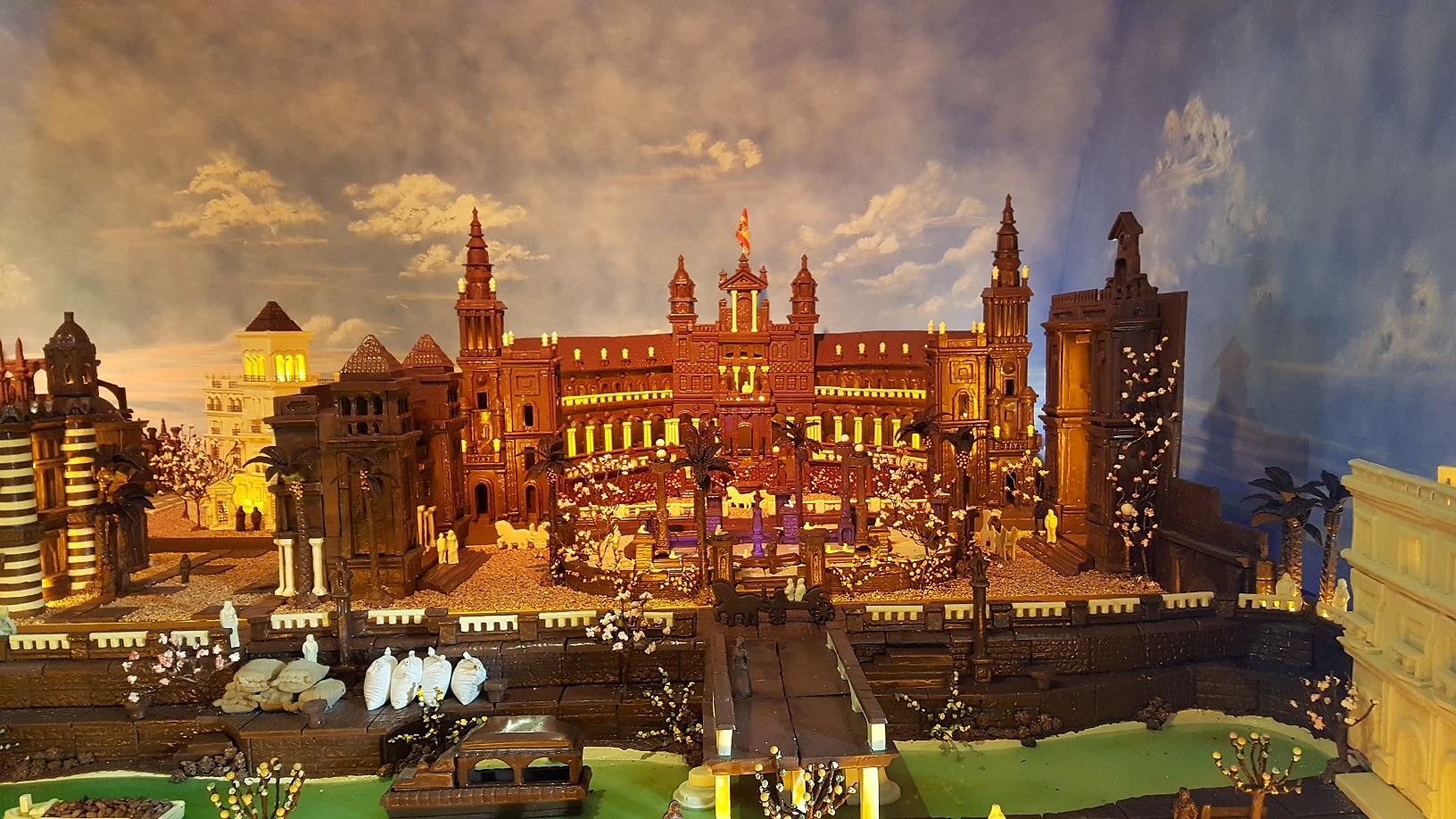 Part of Sevilla, Plaza de Espana

One could see the Plaza de Espana. A very big square with water features and the famous ceramic tiles covered seats.
Then there is the famous Giralda, a Spanish Renaissance-style minaret. On top is a Gothic and baroque bell tower built centuries later.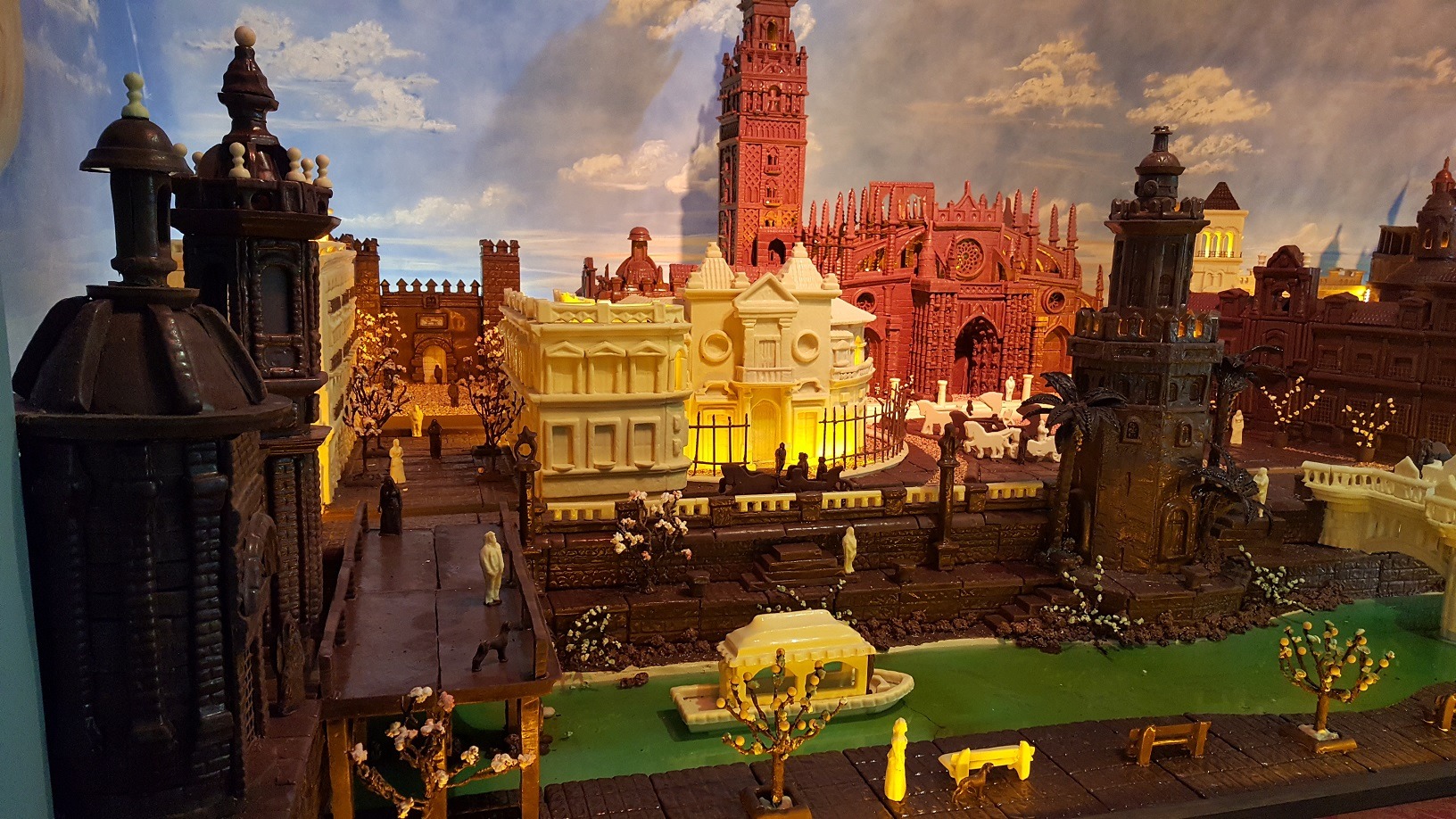 The Cathedral of Sevilla

You can also see the Torre del Oro (golden tower) standing on the river edge. This used to be a defense tower and was build around 1220. Why it is called Torre del Oro is not really clear.
In the foreground, you can see the Guadalquivir river. It is the fifth longest river of the Iberian Peninsula and the only navigable river in Spain. In Roman times it was possible to go from the Gulf of Cadiz up to Cordoba but nowadays it is only possible to reach Sevilla.


Torre del Oro
After taking photos we went to buy the delicious sweets. Each had a bag and a scoop and filled up from different price sections. On coming home I hid them in the cupboard as otherwise these sweets will be eaten before time. I hope you enjoyed your visit to Estepa.
Greetings from the south of Spain, Taetske
Laparra1's Posts
44 posts