Would $45,000. Motivate You To Sell A 1-Year Old Website?
Would $45,000. Motivate You To Sell A 1-Year Old Website?
Last Update:
March 26, 2021

Well, well!
I woke up this morning with my knickers in a twist and I REALLY need your help.
What would you do if you were in this situation?
Website Valuation Just For Interest
---
You may be aware that I have been building out my online business a little differently. Affiliate Marketing is my medium to long term strategy.
The short term strategy is my consulting, advisory and business (online and offline) management services. This is progressing exceptionally well.
April marks the start of my big push with Affiliate Marketing and really increase my traffic and earnings. All 3 of my websites are earning affiliate income, by the way.
Last week, in one of my brain burst moments, I thought about selling one of my domains and websites. Jeff had some great blog posts about this some time ago.
Flippa gave me a free rough valuation.

With such a motivating valuation, I decided to put it up for offers. They required a lot of information but I followed through.
My First Offer This Morning
---
2 days after putting it up on Flippa, I received interest from 4 persons. I have been in communication with 2 of them.
1 seemed rather serious. We exchanged some emails and I shared some more information. We held a Zoom meeting on Tuesday.
This morning, I awoke to find this email in my inbox.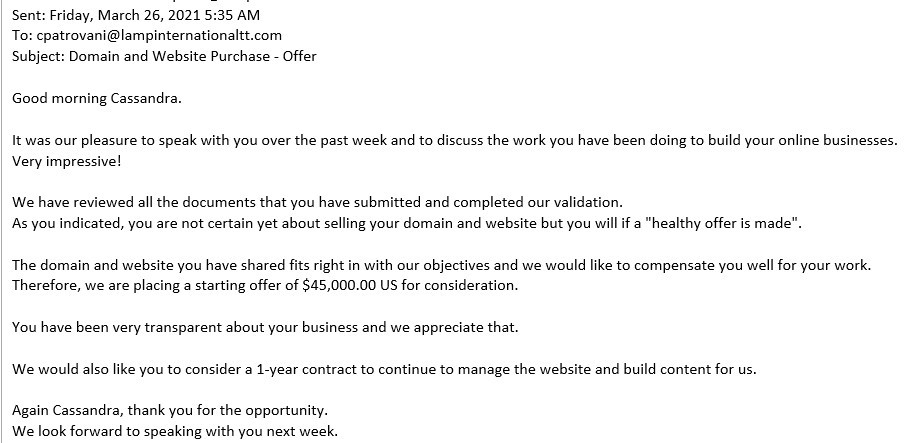 I have shared the email as I have received it, except with the proposed buyer's details.
Shocked Is Putting It Mildly!
---
To say that I am shocked is putting it VERY mildly!!!
$45,000.00 !!!
This started out as just a "let me see" kind of thing and I am now at this juncture.
I am so overwhelmed this morning that I cannot yet settle my mind to respond professionally to the email.
AND, a 1-year contract to continue to manage it as my own!!
This definitely requires some deep thinking before I make a decision.
Tell me. What are your thoughts?
Cassi
CassiOfTroy's Posts
326 posts