How to compress images using TinyPNG Compression tool
How to compress images using TinyPNG Compression tool
New features for Wealthy Affiliate Members
Most will know by now that Carson, Kyle and the WA team have been hard at work behind the scenes for our benefits. Just recently they introduced two amazing feature that will benefit all here in WA.
Adding Images via SiteContent
In a nutshell SiteContent which was created earlier on is for new posts and pages you wish to create and add to your website.
But now allows you add Images at the same time.
Once you are ready to publish your great work, you simply click publish and it will not only place your content on your website but also compressed the images you have chosen for that page or post.
It is my understanding I could be wrong but the image feature is for Premium members only.
As I said this is a quick explanation so please read Carson's Post on his link shown below
For more detailed information on SiteContent Images here is Carson's Blog below
https://my.wealthyaffiliate.com/carson/blog/sitecontent-images-is-here-over-1-000-000-optimized-images
This is great leap forward which Wealthy Affiliate has worked hard on and to the WA team, Carson and Kyle thank you so much.
The Second feature which will also relates to my training is PageSpeed Insights
PageSpeed Insights
Apart from creating great content which I know you are capable of another important aspect is to add images within the great work you have created.
This is because many people are visual by nature and adding images can make your page or posts more inclined to keep your reader experience in staying longer on your website with the aim of clicking a link from your image that will take them to the affiliate program you are part of.
Unfortunately or fortunately the size of images can also affect the speed of your website and this is where the PageSpeed Insights come into play as well along with the training below.
Too large a size can slow down your website to the point if it takes too long your visitors can easily be turned off and leave your website before it loads up which can easily lead to a loss of a potential customer and a sale or commission.
On the other hand having an image that has been compressed to it smallest size without compromising the image quality can easily help your page or post load up quickly giving the user a better quality experience.
There are other factors to help improve your PageSpeed but here we are just discussing the Image portion.
If you are not sure on how fast your website is loading you can go to SiteRubix then SiteManager and on the right-hand side relating to your website you will find the word Details click on that and all your pages and posts will be on display showing your current PageSpeed.

Note that with Google's PageSpeed Insights you will need to manually enter each URL relating to your page or post but in SiteManager as mentioned above you can see all your pages and posts in one hit a big-time savers just there.
Example of PageSpeed Insights feature.
Here is an example of how it would look using the PageSpeed Insights with the SiteContent for Wealthy Affiliate Members.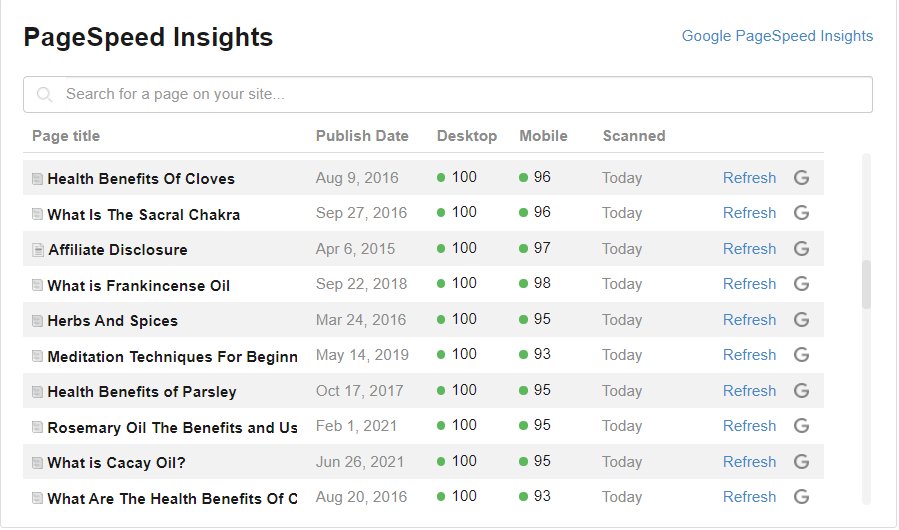 You can also see when it was last Scanned along with a Refresh button which is very important along with a big G.
Clicking on this Big G takes you directly to Google's PageSpeed Insights which will give you your results as is.
It will tell you what issues you may have that could be slowing down your website and most of the time it will be your images that can be reduced further.
For more information on PageSpeed here is Carson's Blog below.
https://my.wealthyaffiliate.com/carson/blog/pagespeed-insights-website-analysis-at-your-fingertips