Here's How to Rank No.1 on Google (Everything Revealed)
Last Update:
June 25, 2021

Those who know me well, it's probably time to get a cup of coffee, some snacks, a blanket, and start your online Christmas shopping before you settle in.
Those who don't know me well, you'll probably want to read the following in installments, but PLEASE take the time to understand every single word (trust me, it will help you).
And those who are in the "I don't read long posts" camp, See Ya!! You may as well hit the back button now (although "can't be bothered" is rarely a good indication of success, just sayin').
Okay, I've been working on a "test" site since September 2nd 2020.
This website is free for all of you to see, read, ignore, whatever you wish. You know where to find it.
My aim was to prove that you can be successful by following a very simple strategy and working hard.
I write articles, lots of them, and THAT'S IT.
I'm not bothered about designs, logos, social media, beautifying, videos, emails, or anything that takes me away from my main purpose.
What AM I Going to Achieve?
I am looking to have this website at 1,000 visitors a day (almost entirely from GOOGLE) by the one-year mark (30,000 visitors a month).
The website is currently on that upward trajectory (in terms of traffic) when you know you're writing the correct type of content.
Basically, the traffic after the 9-month mark typically doubles every single month.
At a guess, I'm not quite going to make it to 1,000 visitors from Google per day by the 2nd September 2021, but I will be very, very, very close.
I would say I should hit the 30,000 visitors a month by October 2021.

Oh and by the way, knowing this niche very well, and the type of ads I can receive from Ezoic (I rarely if ever use Google Adsense) I can expect $20-$30 per 1000 views in ad revenue.
And this is ON TOP of the affiliate sales that the site is currently making, and will no doubt continue to make.
At the moment, this averages around $75 per 1000 visits.
At a guess, by the end of 2021 I should be above 50,000-60,000 visitors a month (I'll let you do the maths in terms of affiliate and ad revenue).
Then it's onto outsourcing article writing (after I've taught the person/people how I like to do it), outsource other promotions that I haven't bothered with yet, and then do the same again with another website.
SIMPLES...
My point being, as I've always said, it's ALL about the TRAFFIC.
I'm not overly bothered by anything else to begin with.
If I'm getting that much traffic, then it's easy to monetize it.
So, get the traffic first, the money will come.
Deconstructing a NUMBER ONE Ranking Article
The website in question is an exercise and fitness website.
I guess it helps that I have a huge love of exercise.
And even though my background is in Finance, I also happen to be a Certified Personal Trainer and a Certified Strength and Conditioning Specialist (I completed the study and exams purely out of interest).
These qualifications would cast me as an "expert" in the search engines eyes (always helps with ranking).
Okay, I'm going to take one article that I've only written quite recently.
In fact, the article was written and published on March 22nd 2021.
So, it's only 3 months old.
I've often spoken of allowing an article 8-9 months to really get an idea of what it may potentially achieve.
Therefore, the rankings and traffic figures I'm about to reveal could (and should) go up substantially (then again they can also go down - Google is a weirdo after all).
The article in question is titled:
"Why Are My Abs Sore After Jumping Rope? (Here's 5 Reasons Why)"
This is something I have experienced myself and am well aware of.
Right, I don't want to overload you with stats, so let's take a look at the article's performance over just the last 7 days.
We do this via Google Search Console.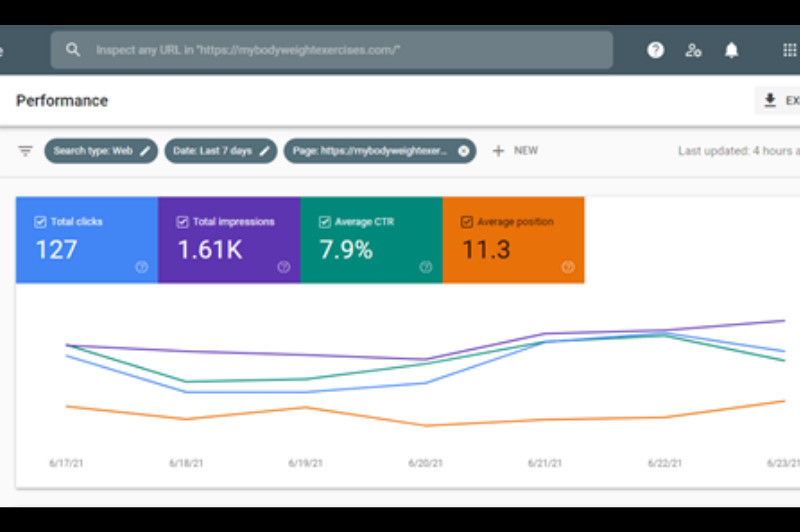 So, in the last 7 days the article has received around 1,610 impressions in Google.
This simply means that it has appeared in 1,610 different search results.
The article has received 127 clicks, so 127 people have visited my article.
Now this works out to approximately 18 visitors per day, so over the period of a month, this ONE article should receive 540 visitors.
I typically view an article as having "hit the mark" if it's receiving 600-700 visitors a month.
Some articles will receive far less (30-50 visits a month), and some articles will receive substantially more traffic (thousands and thousands of visits a month).
However, a nice average is in the 600-700 visitors per month range PER ARTICLE.
Basically, if you get 200+ articles achieving this you should be earning a pretty decent income.
You then rinse and repeat and do this again and again and again with more and more websites (if you want to, you can just stick with making one MASSIVE website) and you have a portfolio of sites all individually making a full-time income.
That being said, ALWAYS concentrate on ONE site to start off with. Make that a success first, and then move on (if you want to) to another project.
Okay, back to the point, SORRY!
This one article hasn't quite "hit the mark" yet, but remember it's only 3 months hold.
At a guess, this is the type of article that should regularly be producing 1,500-2,000 visitors per month after it's had a year to mature.
So, I'm happy with it at this early stage.
Where is the Traffic Coming From?
I am solely focused on getting Google traffic.
I'll openly admit that my social media game is severely lacking.
My email marketing is a disgrace.
And my YouTube account is non-existent.
Now I know you shouldn't "put all your eggs in one basket".
But, for now, I have thrown all my other baskets away, and concentrated on just this one "basket".
Remember, I've only really been working on this site for around 9 and a bit months.
There's plenty of time to get everything else up and running at some point in the future.
As many of you like to state, it's a marathon, not a sprint (but, as I like to say, you have to sprint every once in a while)
(Don't forget my 90% rule - find the ONE THING that will drive your business forward and then spend 90% of your time doing that ONE THING).
So, let's have a look at some of the keyword phrases that people are typing into Google to find my article.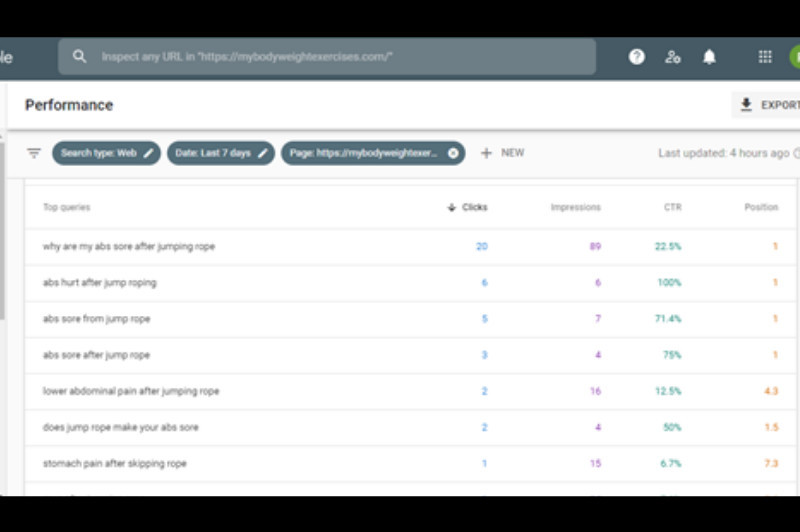 As you can see the top four phrases are all ranking at number one.
And the main phrase is bringing in the bulk of the traffic.
Don't forget, this is just one week's worth of traffic (7 days).
Now, just to prove my point, and the fact I do things a little differently (Sorry Kyle), let's plug a couple of these phrases into Jaaxy.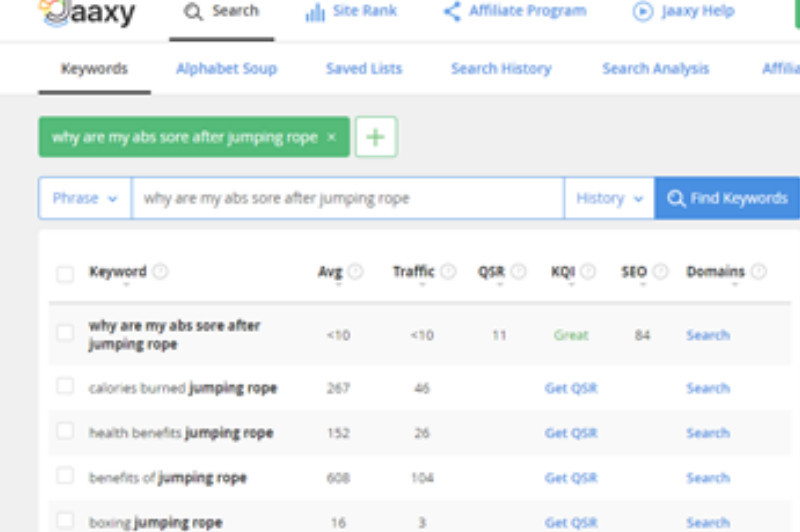 Not very impressive I'm sure you'll agree.
In fact, the vast majority of people would typically look at Jaaxy and say that the figures tell me that this isn't a phrase I should be targeting.
And yet after ONLY 3 MONTHS the article is averaging 540 visitors a month, and this will definitely go up and up and up, month-after-month.
I guess many of you know, I'm not a fan of keyword tools.
For me, everything is based on historical data.
And what was true last year, the year before, may not be true as of today.
My aim is to rank in GOOGLE and get traffic from GOOGLE, so all of my research is conducted in GOOGLE.
Why would I go anywhere else?
I have explained exactly how I do keyword research in Part 1 and Part 2 of these blogs.
Partha's Keyword Research Explained Part 1

Partha's Keyword Research Explained Part 2

So, no need for me to cover old ground.
However, for this article, I simply did the following:
Pick an exercise - Jumping Rope
Go to Google (incognito tab/private browser)
Pick a question word - Why
Go through the alphabet - a,b,c,d,e,f…x,y,z.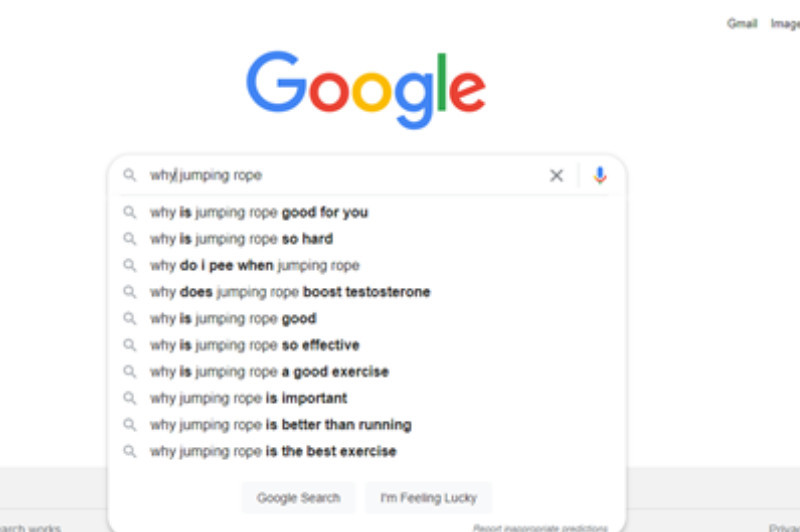 As I say, I've fully explained how I do keyword research in the above blog posts.
My simple aim is to find question-styled phrases, check Google Page One to see who my competition is.
If I find more than 2 or 3 Q&A sites, forums, or social media sites (Quora, Reddit, FitnessExchange, Facebook, Pinterest) on Page One then I write the article.
How much traffic will I get though?
I don't care…
I use Google Autosuggest to find keyword phrases.
So, Google is actually TELLING ME THAT REAL PEOPLE ARE SEARCHING FOR THE ANSWER TO THESE QUERIES
Jaaxy tells me my phrases will receive NO TRAFFIC.
And yet here I am ONLY 3 MONTHS later, already getting 127 visitors a week (and don't forget this will increase with time as the article matures)
Here's the article sitting proudly at NUMBER ONE waiting for more visitors.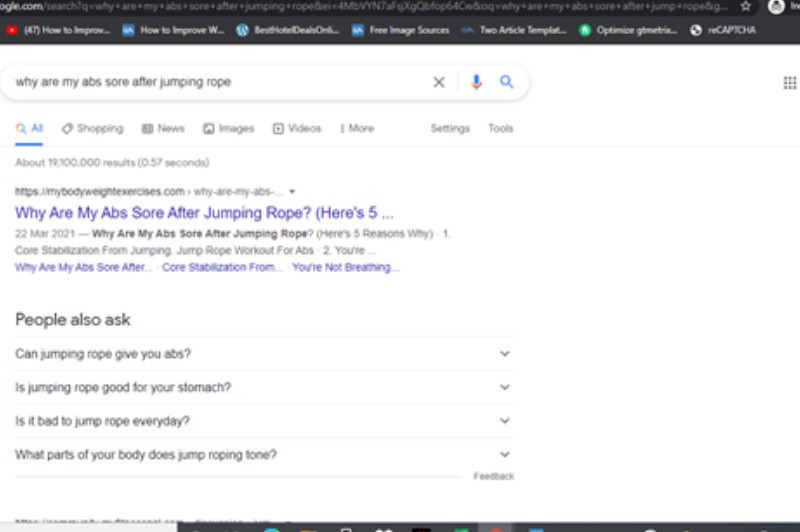 How I Structure My Articles
I also want to give you a quick insight to the article.
I typically find that "response posts" work very well using my methods.
This means the title of the article is a question.
And the content of the article is the answer.
The article doesn't need to be long.
In fact, depending on the subject matter I would say 800-1200 words would suffice.
Most of my articles now are in the 1300-1600 word range, but as you know, I like to chat.
With all my articles, I have a short introduction, no more than 100 words.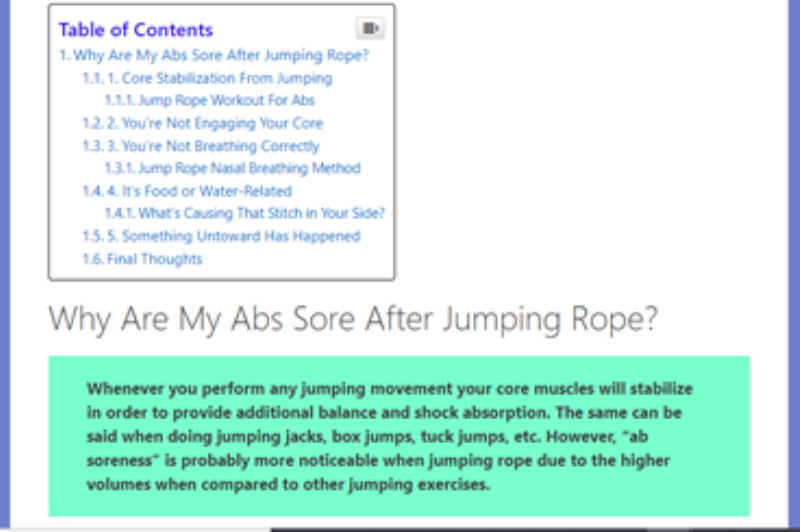 You can see that I use a Table of Contents.
This outlines the separate points to my "answer".
I then have an H2 Heading with just the "keyword phrase".
And then I immediately provide the answer to the question (although I expand on each point within my article).
And, as you can see, I highlight the "answer" in a bright-coloured block.
Why?
This is to tell Google, "Here is the Answer".
Not every time, but fairly often, this "wins" me the Featured Snippet.
Or the coveted Google Ranking Number 0 (so above no.1).
Questions, Questions, Questions
I believe it was Neil Patel who said a few years back that 14% of all Google searches are questions.
In reality, this means that 86% AREN'T.
Now, I'm not one to go up against Neil, but I think he may be a little wide of the mark.
Plus, he did say this a few years ago.
And two to three years in SEO is almost a lifetime.
I actually think question-style searches are much higher with the introduction on Alexa, voice search, etc.
Plus, I always feel that question-styled article titles seem a lot more natural.
This is what real people want to know.
As an example (and going against all the training, Sorry again Kyle).
Rather than "Wealthy Affiliate Review" (BORING… that will be the 1,056,987th "Wealthy Affiliate Review" to hit the internet in the last 2 years).
How about REAL QUESTIONS?
Questions THAT YOU PROBABLY ASKED.
"Can You Make Money as a Free Starter With Wealthy Affiliate?"
"How Long Will It Take Me to Complete the Wealthy Affiliate Training?"
"Why Does Wealthy Affiliate Have 2 Core Training Modules?"
"Has Anyone Ever Made Any Money With Wealthy Affiliates?"
"How Long Will it Take Me to Earn $1,000 per Month With Wealthy Affiliate?"
Do you get me?
These are all individual articles, but still promoting Wealthy Affiliate.
Don't be boring.
Go to Google.com
Type "Wealthy Affiliate" into the search bar.
Then put different question words before "Wealthy Affiliate", obviously one at a time.
Why, Who, Will, Can, What, Are, Could, Should, Would, etc.
See what GOOGLE comes up with (and don't forget to check page one of Google for "easy" competition).
Then place letters of the alphabet (individually) after the words "Wealthy Affiliate" and see what Google comes up with.
Trust me, it's ALL ABOUT THE QUESTIONS.
Write for REAL PEOPLE and ANSWER THEIR QUESTIONS
If you answer questions that no-one else has, you've hit GOLD.
If you answer a question better than anyone else has, you've hit GOLD.
Remember…
QUESTIONS.
Final Thoughts
This was actually quite short for me, LOL.
If you made it this far, well done.
As always, any questions, I shall try my best to ignore them for about 3 days before eventually answering.
I realise my way of "doing things" is a little different, but it definitely works.
I guess what I'm saying is, Don't Be Boring in your article writing.
Don't write the same articles that everyone else has before.
Use Google autosuggest to find REAL QUESTIONS that REAL PEOPLE are asking.
Check your competition on page one of Google.
If you find lots of "user-generated" content (Question and Answer Websites, Forums, Social Media Sites) you've hit the jackpot.
Thank you for reading
Partha
p.s. QUESTIONS, it's all about answering people's QUESTIONS.