You Kids Have It Easy. Back In My Day.
You Kids Have It Easy. Back In My Day.
Last Update:
November 09, 2020

I started out in Wealthy Affiliate in 2010 with zero experience in....anything. I didn't go to school for computer science. I didn't have a market degree. I didn't even have a Facebook account. I had never build a blog, even one of those free ones on Blogger or the WordPress free site builder.

I didn't have a smartphone. My laptop was second hand. I was working behind the great firewall of China.
Wealthy Affiliate was basically a forum. I had to manually install WordPress, and I was only allowed to have 3 WordPress websites on my Wealthy Affiliate account.
You kids these days have it EASY!

Back in my day I had to wait a day or two for a forum response (no Live Chat). I had to build my own website (no SiteManager, no SiteDomains, no SiteContent). I wasn't assigned an affiliate coach upon arrival either.

How Wealthy Affiliate Makes "Making Money" Easier
The best thing about having a Wealthy Affiliate account is that it makes making money online a LOT easier than most people realize.
The Technical Stuff Is Basically Done For You
Support Is ALWAYS Somewhere

https://my.wealthyaffiliate.com/nathaniell/blog/classrooms-v...

The NEW Wealthy Affiliate
The recent change to Wealthy Affiliate is a huge improvement to the system IMO. The wide dashboard is easier to read, and I'm digging the "block" style widgets. I hope to see more versatility there in the future, but so far it's great.
Premium+ really does a good job of providing an outlet for people who really want to take their business seriouly in 2021.

For example, with a Premium+ account you have access to so much more learning resources, specifically CLASSES. There's a new class EVERY SINGLE DAY.
The one thing I've seen over and over again during the past decade is that the people who put in more hours see more results. Simple as that. Every once in a while a big brained superstar comes along and does shockingly well, but for most of us, it's a simple formula.
More Hours = More Results
With the Premium+ classes rolling out every day, it's very cool that you can learn something new literally every day inside Wealthy Affiliate. If you learn something new every day, there's really no way you can't succeed in this business.
"Do something every day!" is a simple mantra I live by, and have lived by for the entirety of my business.
On top of that, access to Jaaxy Enterprise (usually $99/month) is a huge time saver because you can now get unlimited keyword results in a matter of seconds since it loads all the traffic & QSR data instantly.
Speaking of keyword and blog post topic ideas, I'll be live and available for questions during my first class today at 4PM Pacific for a full hour. This will be a Premium+ event, so I hope to see as many Premium+ members attend as possible!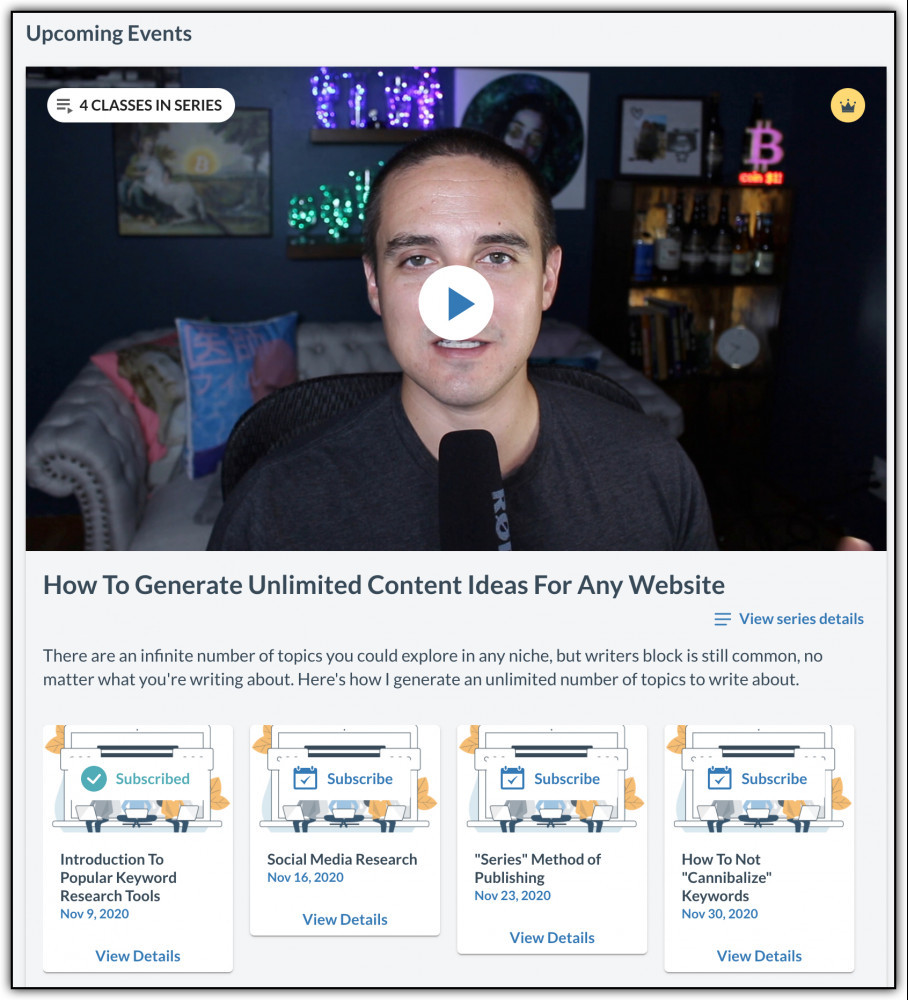 It's Easier Than Ever To Make Money Online With An Affiliate Blog
In 2017 I wrote that it was getting easier to make money online, and that we'd continue to see that trend.
Now it's 2020, and I still think the same. Technology improves. More businesses get online. More people get credit cards. More people get internet access. Shipping techniques improve and the world globalizes. Now, instead of a couple people buying a few things online, EVERYONE IS BUYING EVERYTHING ONLINE.
Not only is it getting easier to make money online with every passing year, Wealthy Affiliate is making the learning process easier and faster as well. If you're reading this message, you're in the right place!
If you could see one improvement to Wealthy Affiliate to make your online business journey easier, what would it be?
Nathaniell's Posts
296 posts