Plan For Success Part 2: How To Find Your Why
Last Update:
August 23, 2021

Introduction to chunking
Much has been written about the importance of setting SMART goals or outcomes.
Less has been written about the importance of figuring out WHY you want a particular goal or outcome.
In a nutshell, being clear about why you want to achieve a specific goal, is the main key to remaining motivated towards completing that goal. If you can't explain, even if only to yourself, why you want to achieve a specific goal, then by default, there can be no reason for working towards that goal. Understanding why you want to achieve something triggers motivational emotions in relation to the goal.
Yet, very little has been written about HOW to find your WHY...
This post covers how to find your why by chunking up,
By the by,,, 'How to chunk up' turned out to be a very poor keyword.
Then Jaaxy showed that 'How To Find Your Why', is asked 648 times each month with an SEO score of 83... very reasonable indeed... I apologise to anyone reading this who is wondering what on earth I'm banging on about. It simply means that you haven't found time to work through the free Wealthy Affiliate training, yet. If you take advantage of the free course, all will become clear ;-).
Fortunately, you don't need to have completed the free training to get the most out of this post.
I am about to outline a thinking process that we all use every day, perfectly naturally, for all kinds of purposes. It is the process of CHUNKING. In reality, we all chunk up, down and sideways. Here I focus on 'chunking up'. Although chunking is essentially natural for humans, the natural way tends to be led by the subconscious mind. By chunking with conscious awareness, the process becomes far more powerful and focused.
Chunking Up: Finding Your 'Why'
To find your why for a specific goal, the question to ask is: "What will this (goal or outcome) get for me?". Discovering what something gets for you is the same as discovering your reason 'why'.
So chunking up can be used to clarify your reasons for wanting a particular goal or outcone. Here's how to chunk up:
Write a statement of the goal at the foot of a page;
Ask: "What will achieving this goal or outcome get for me?". Write down the answer on the line above the goal;
Consider the answer you just wrote down and again ask: "What will this get for me?". Again write your answer on the next line up.
Keep repeating this process until you run out of ideas.
As you write your answers, up the page, thus refining why you want to achieve the goal, you will notice that the answers become more motivational. The following image demonstrates chunking up. Start at the foot of the image and work up the page. The numbers on the left have no relevance other than showing the order in which the question was asked, and answered.
At each level ask the full question, For example at '1*' the full question would be: "What will having $2500 left after taxes and insurance get for me?". The answer is written at '2*'.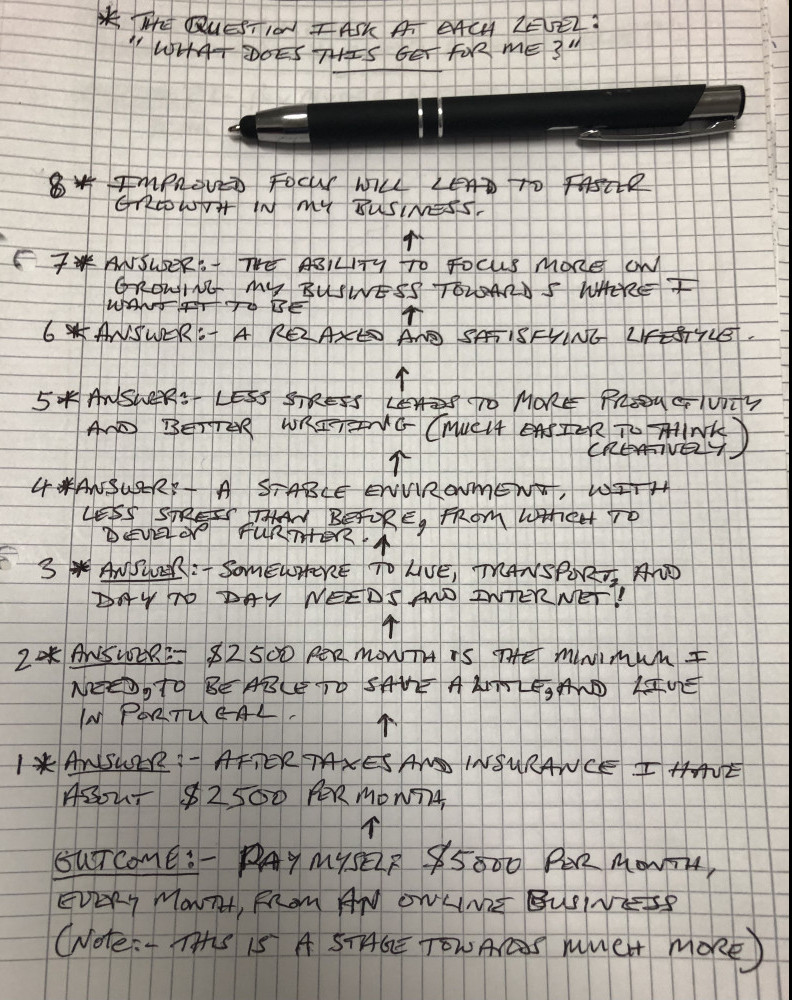 Summary
There is some repetition in this post. This is because the process of chunking up is, in essence, straightforward. Simple and effective. Don't underestimate the power of chunking.
Finding your why for any goal is key to remaining motivated when things get tough. Your why for anything triggers motivational emotions.
The main question to ask when chunking up is: "If I achieve this goal, what will it get for me".
Just try it, you might like it.
If you have any questions or comments please add them below ... also, if you want to learn more about goal setting and chunking, go to part 3.
If you like this post, please click the green button.
Richard
Richardgb's Posts
28 posts