Strange Results Comparing Free Tools for 404 Broken Links
Last Update:
September 02, 2019
Hello everybody here comes my monthly post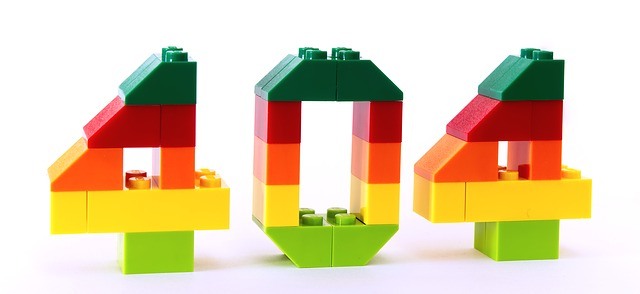 404 Broken Link Photo Pixabay
Checking for broken links
These last weeks have been interesting, to say the least, so I thought it a good idea to tell you about my findings.
It started with checking my websites to see how they rank. Luckily there was some improvement.
At the bottom of the test result, I read: Crawled Flag/False. I asked the question and was told it has to do with broken links. You will be able to find free tools on the internet to check and identify these broken links.
When a visitor clicks on a video and it is not available anymore that gives a bad impression. You can say the same about broken links. It is a good idea to regularly check your links. Obviously when your websites grow there will be a lot to check.
I have the following system. I am rotating the posts of both my websites. When I put them up for getting comments I check if all is ok. Sometimes I add something, perhaps a photo or some more text. I check if all the links work etc. Checking links is something I have added to my check up as I am now aware it is very important.
The first free link tool was Atomseo
Their website is not complicated, you type in your website URL and shortly afterward you will be presented a list of broken links. So I started to click on the posts with the bad links but it turned out this company was not correct. Most of the bad links were perfectly ok. So, I was not happy with the result.
The second free link tool was Free Broken Link Checker
Their list was completely different from Atomseo, there was not 1 bad link they agreed on. I started checking the results but still was not satisfied as they came up with things which functioned perfectly well.
The third link tool was Dr. Link
That one I did not like at all. The whole website was black, not appealing at all plus it looked more complicated than the first 2 free tools. I did not check my website with this tool.
The fourth one was Broken Link Checker, dead link checker
The first website took 4 hours to check and give the result. It checks up till 2000 URLs for free. The second website was done in 30 minutes. Why there was such a difference in the time I have no idea. as both my websites have the same content volume.The second time I checked the same website it was a lot faster. The list was rather long and came up with different links compared to the previous free tools. What this tool found was correct but I did not follow all their advice
It is not only the 404 which means = not found
There are other numbers like a 402 = payment required. That one I did not change as it was a link to a museum and somewhere on their site it tells you what the entrance fee is. It can also mean that on that website, there might be a captcha.
You might also find Time Out = too slow to open but not broken. In that case, you check if it is really that slow and weigh it against how important you think it is to keep that link.
There was one result which I did not understand and therefore cannot correct. It has to do with the font of your website = the type of letters you write with. But was is wrong with it I have no clue, perhaps somebody knows this.
404 Not Found - https://fonts.googleapis.com/ - link/href
Both my websites have the same theme and I write with the letter type it comes with.
Here is a list from their website which tells you what each number means.
https://www.deadlinkchecker.com/error-codes.asp
Personally, I liked this free tool best as what they came up with was the correct result. I also discovered that if you have a website in English it does not seem to be appreciated when you put a link to a website in Spanish or any other language. I then try to find a link to a similar source but in English.
So there you have it. Checking different free tools can be confusing but it remains a fact that a broken link is not positive for ranking.
Greetings from the south of Spain, Taetske
Photo Source : Pixabay
Laparra1's Posts
43 posts