WA Bootcamp Success! - 1.5K Visitors In One Day!
Last Update:
February 12, 2021

Hey guys and gals, I hope you're doing great!
Just wanted to share another proof that both courses here at WA work if you work hard and follow the instructions.
I started my WA Bootcamp site about 2 years ago and had my ups and downs along the way.
I'm not going to bother you with drama and all the stuff that has happened in those two years.
However, I want to motivate you and let you know that all the hard work that you're putting into your website today is going to pay off eventually.
Just a few weeks ago, I reached the all-time high in a number of unique clicks to my Bootcamp site in one day.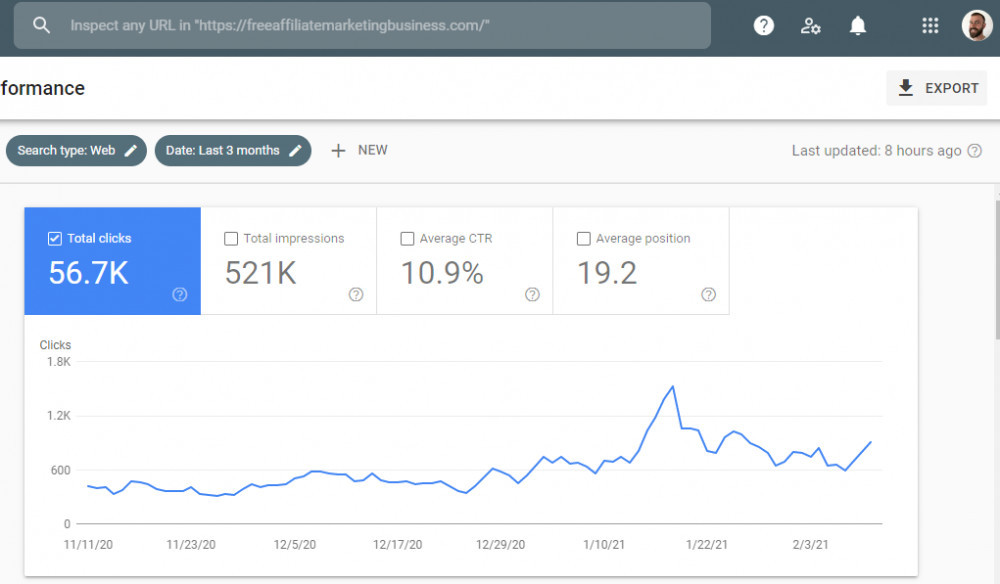 As you can see, 1,529 people visited my site in just one single day!
Not only that, but my traffic is increasing slowly but safely week by week, month by month, which means that everything you've been or will be taught here is working.
The thing is, SEO and organic search traffic is slow and takes time.
In other words, there's a gap between the time you start writing your blog posts and the time your posts reach the top of the SERP.
However, if you keep working on it every single day, your posts will get there and once they do, they will start sending free traffic to your site on autopilot!
Meaning, all the work that you do during your first 2-3 months will bring results in the next 2-3 months and so on.
And as you keep compounding posts on your blog, more and more streams of traffic will join together and soon enough, you will have a river of visitors flowing to your site day in and day out.
I found a perfect analogy in one of Kyle's posts where he compares traffic from search engines to a mountain, stream, and river.
Website Traffic is Like a Mountain, Stream and River

If you are just getting started and want to get a better picture of how free search engine traffic works, I highly suggest reading this post!
It's short but powerful, and so true!
Also, if you're blogging for about 6 to 12 months already, I would highly suggest updating your old blog posts to improve your SEO and thus, get more traffic.
I wrote this post earlier where I share my strategy for updating old blog posts.
Update Your Old Content For Better SEO - Get More Traffic!

This is something that I do every single day and ever since I started doing it, my website traffic is increasing exponentially.
And don't forget...
It takes time and effort but the stuff you learn here really works!
That's it for today, guys and gals.
Best of luck with your own websites and happy blogging!
Your friend,
Ivan :)
PS: If you're just getting started with WA and are on the fence about Premium training, don't hesitate and just go for it! Follow the instructions and don't give up until you reach your goals!
IvanBroz's Posts
33 posts