How Much Can I Earn With Wealthy Affiliate?
Last Update:
May 27, 2022

Hey guys and gals! I hope you're having a GREAT DAY!
One of the most asked questions related to WA core training and affiliate marketing is "how much can I earn with affiliate marketing and Wealthy Affiliate?"
And here is the answer...
It depends! LOL
To be honest, there is no fixed answer or a concrete number. You see, you can earn as much as you want with Wealthy Affiliate.
The best way to answer this question is to say this; how much you put in, you get out!
In other words, what you sow, so shall you reap (to be Biblical about it)…
Even Kyle (the co-founder) makes it VERY CLEAR at the beginning of the course that making money online is a process!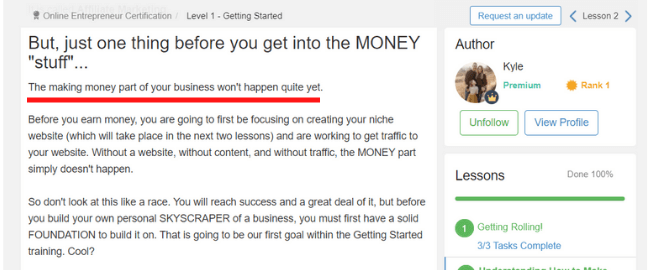 One thing is for sure, the training videos inside the platform are good enough to get you started on the right foot.
And with all the coaching and the community inside, you can easily replicate the success of the most successful members here.
https://my.wealthyaffiliate.com/ivanbroz/blog/success-is-bor...
But only under the condition that you are willing to roll up your sleeves, and hustle like there's no tomorrow!
If you are a newbie, you might get lucky and earn a few quick bucks.
However, the reality is that most people who join ANY affiliate marketing course give up only after a few short months.
This is because they don't understand that affiliate marketing is a real business…
They've been influenced by scams to think that you can make money with affiliate marketing fast and without any effort.
In other words, don't get fooled by thinking that affiliate marketing is a quick way to riches.
Wealthy Affiliate can help you to begin your journey. But it is your own responsibility to invest enough time, effort, and money into your success.
Nothing in this world comes easy…
But if you stick to this PROVEN SYSTEM for a while, you can and will make money with affiliate marketing!
Keep hustling
Keep pushing forward
And best of luck!
Ivan :)

PS. I just got a message from Kyle to let me know that they are going to run another flash sale in June! In other words, you can upgrade your membership to a Yearly plan for only $299 a few weeks from now! Best of all, if you do so, you'll get a ton of bonuses (I'll be revealing these soon!).
So if you're thinking about making money with affiliate marketing, I recommend taking action with Premium membership ASAP! Then, just focus on your business for a while and reap the results later!

IvanBroz's Posts
53 posts