Attacking Facebook - the Mastodont of Social Media
Attacking Facebook - the Mastodont of Social Media
Last Update:
May 05, 2021

If you remember from some of my earlier posts this year on my Wealthy Affiliate blog roll, I have committed to using Facebook as my primary social media platform in addition to TikTok.
Having fiddled with Pinterest, Instagram, and more, to get to know the platform, I have come to the understanding that for organic traffic, and when used correctly Facebook is the place to be.
So the month of May is the Month to conquer FaceBook. And to say that I am overwhelmed by the amount of change in traffic is an understatement. The month of may has seen a huge rise in traffic on my FaceBook page for my brand.
The activity has resulted in new connections, commissions, and referral sign-ups. Great stuff, but I am just beginning to scratch the surface of the FaceBook giant. The Month Of May has started well and as of now has good promise for the rest of the month.
The last day has seen an increase in reach on Facebook more than 90%, and just the last 7 days the reach has been at more than 600!
Reach last 28 days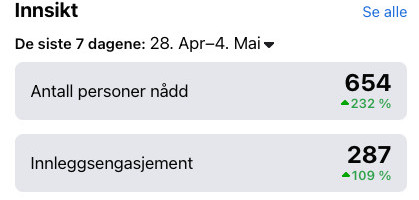 The last 7 days- - the upper number is my reach on FB and the second number is engagement on posts.
So from negligible engagement, I have gotten a huge increase in engagement from organic traffic.
What have I done to achieve this? It is not magic, but focus on hanging out within the groups that are relevant to my niche, engaging in discussions, comments, and live training, helping out, and further connecting with the same people on Messenger, has given good results. Messenger should not be forgotten.
Keeping in line with my plan to keep TikTok engagement going and focusing on Facebook has almost immediately come to fruition. As Instagram is a baby of FaceBook, I will leverage the connection accordingly.
Have a fantastic day!
Roy
RoysinOnline's Posts
218 posts