1,000,000+ Keywords - Your Mind Blown Like NEVER Before?
Last Update:
April 07, 2022

Let's get to it, no mucking about, loads to cover.
So, I will refrain from any sarcasm and funnies, just pure business.
Wait…
Nope…
I can't do it!!
Okay, just one funny then.
As I was out on my morning run, and then accosted by a dog, something occurred to me.
A dog humps your leg and sniffs his own butt and no-one bats an eyelid.
I do the same thing and ALL HELL BREAKS LOOSE.
Anyway, suffice to say, I won't be visiting that park again!!
Right, let's do this.
"People Also Ask" Research on Steroids
Okay, I have to give a shoutout to Shaun Marrs.
Shaun is someone I've followed for a while now and he always comes up with some great stuff.
It just so happens that I have all the extensions mentioned, but have never quite used them in this way.
So, for that, I thank you Shaun (not that he will ever read this).
I hope you all remember my recent blog post - I Want You to Break All the SEO Rules
Basically, this was about writing the most authoritative article in your niche.
You would do this by simply typing your broad niche name into Google, scroll down to the People Also Ask (PAA) section and simply click on the various questions to reveal more questions.
However, there is actually a chrome extension that opens all the People Also Ask questions for you, and then puts them into a handy Excel document once completed.
I'm now going to go through how to install and use the tool.
Plus, I'm even going to show you how to use the results to find "user-generated content" (Quora, Reddit, Forums) for specific keywords (remember, this means EASY rankings).
The Power of SEO Minion

Okay, you're going to need Google Chrome…
What?
What do you mean you don't use Google Chrome?
You use Microsoft Edge or Safari?
You do realise it's 2022 don't you?
Go and download Google Chrome right now, I promise it won't kill you.
Right, all done, you're now going to download 2 chrome extensions.
The main one, which we're going to use, is SEO MINION.
You will also need to download the chrome extension Keywords Everywhere.
For some reason SEO Minion doesn't seem to work unless you also have Keywords Everywhere downloaded too.
However, you don't have to purchase any credits for Keywords Everywhere, it simply needs to be downloaded to your desktop.
So, this is all FREE.
Now, for once, I DON'T want you to open an incognito tab, so just open a normal Google tab on your desktop.
Obviously, incognito is private browsing, which means that any tools, extensions, and downloads you have WON'T show up.
So, just open a normal Google tab.
For this example I'm going to type Build Muscle into the Google Search Bar.
Now, you'll want the search term to be as broad as possible because you are literally going to get hundreds and thousands of People Also Ask Questions.
So, I am talking about typing:
Dogs
Cats
Lose Weight
Affiliate Marketing
Drones
Golf
Cooking
Recipes
Make Money Online
Old Fluff (oops, sorry, not sure how this one got in here)
Into the Google Search Bar.
You'll then need to find SEO Minion on the search results page (usually over on the right-hand side)
This is what SEO Minion looks like in Google (you can ignore all the figures, as I've just used it in order to write this blog post, plus I have a lot of SEO/Keywords Chrome Extensions Added).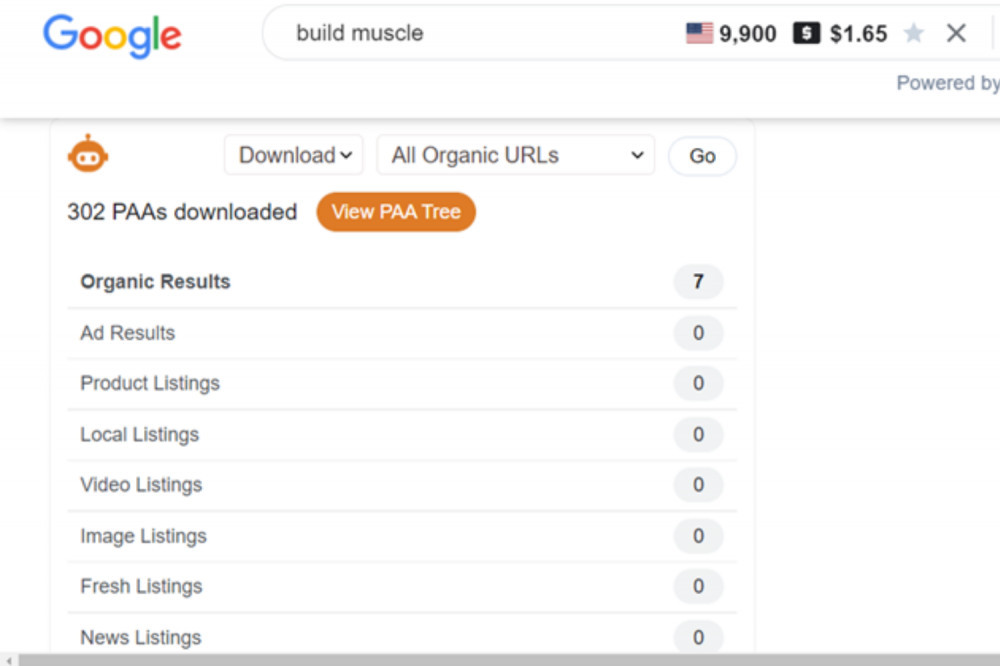 You'll notice a couple of dropdown menus at the top, I want you to click on the one that says "All Organic URLs".
As you can see there is a lot of data you can actually use SEO Minion for.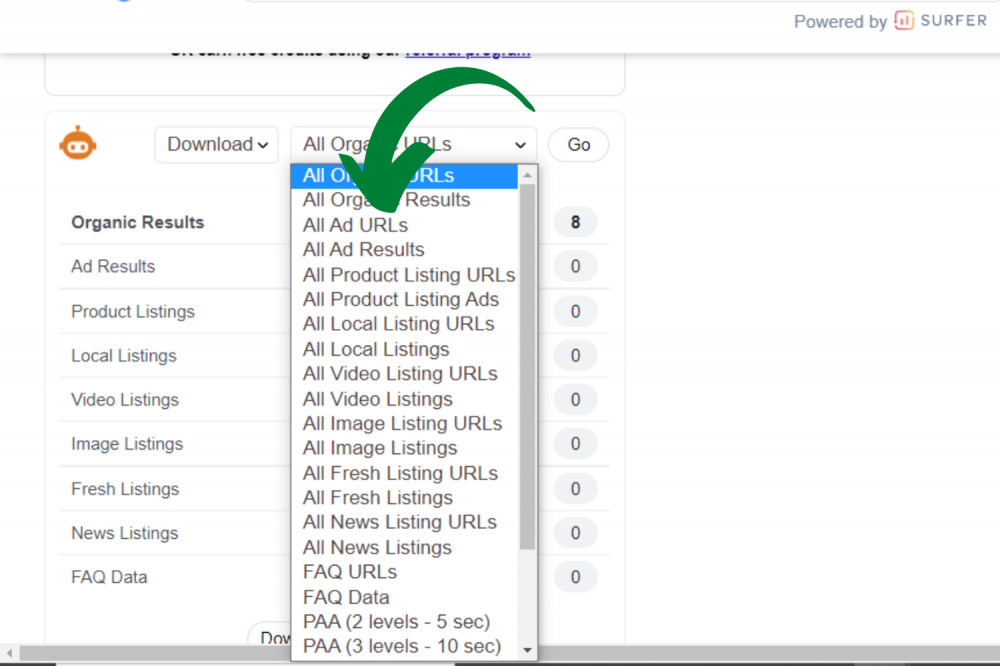 However, I'm only going to teach you the People Also Ask method.
If you want to learn more about how to use SEO Minion, I'll leave you to play with it in your own time (don't end up spending 8 hours playing about, searching for immature and silly phrases to see what it comes up with… been there, done that!)
Okay, once you've clicked on the "All Organic URLs" dropdown menu scroll to the bottom until you see all the "PAA" listings (People Also Ask).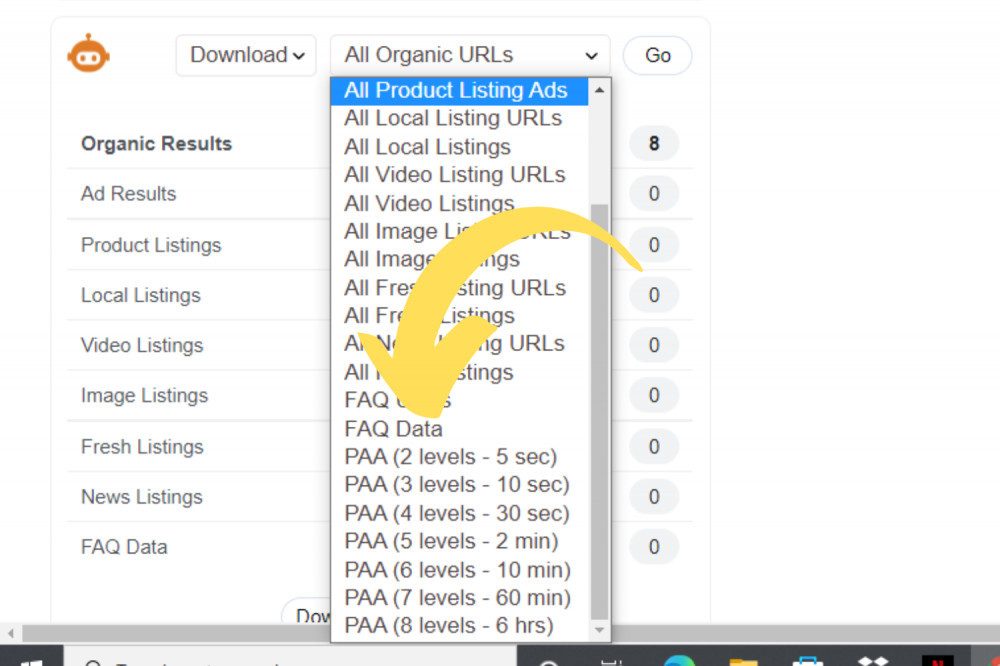 As you can see there are quite a few options.
For this blog post I chose "Build Muscle" as my seed keyword and then chose "5 levels - 2 mins).
And in that 2 minutes SEO Minion gave me 302 PAA questions, as well as putting everything into an Excel document.
In fact, I just sat back, drank my coffee, and scoured some Wacky Affiliate Blog Posts.
Now, I would actually suggest that you set this up overnight and go with the PAA 8 levels - 6 hours.
So, SEO MINION will run for 6 hours (while you're asleep) and you'll wake up in the morning with literally THOUSANDS of People Also Ask Questions in a nice Excel document for you.
You can see that I got 302 questions in just 2 minutes, so imagine how many you're going to get in 6 hours.
You can also slightly broaden your seed keyword and do this over-and-over again.
Dog Food
Dog Training
Dog Leads
Dog Toys
You get me?
You could actually get over 1,000,000 keyword phrases/questions.
I'm not entirely sure what you're going to do with all that information

BUT
I NEVER
WANT
TO HEAR
THOSE WORDS
THAT SEND A SHIVER DOWN MY SPINE
EVER AGAIN
"I don't know what to write about" (I said that while screwing up my face and whining like my daughter - try it, it's fun!!)
What Can You Do With All This Information?
Okay, you now hopefully have an Excel document with thousands of potential keywords/questions to target.
In fact, depending on how many searches you did this for, you could have MILLIONS.
So, what now?
You can of course go through each question individually, or simply choose the ones that catch your eye.
You simply copy and paste or type the question into Google and then you check your page one competition.
However, I'm about to introduce you to a little trick to find keywords/questions that you can easily rank for.
Let's go to our Excel document.
I want you to press CTRL and F at the same time on your keyword and the following search box will appear.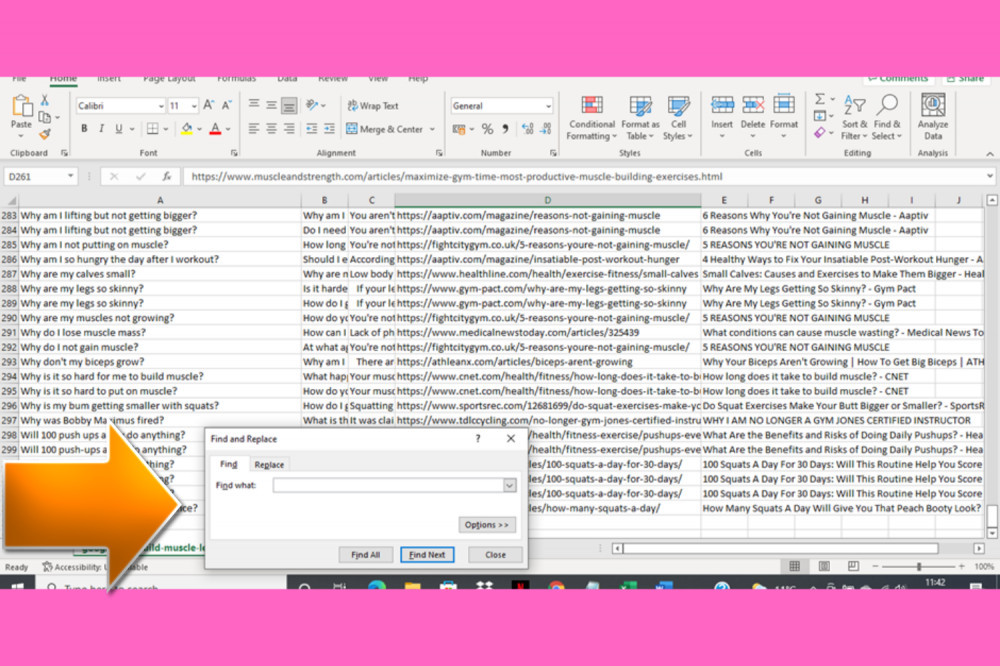 Type Quora into the search box and press enter.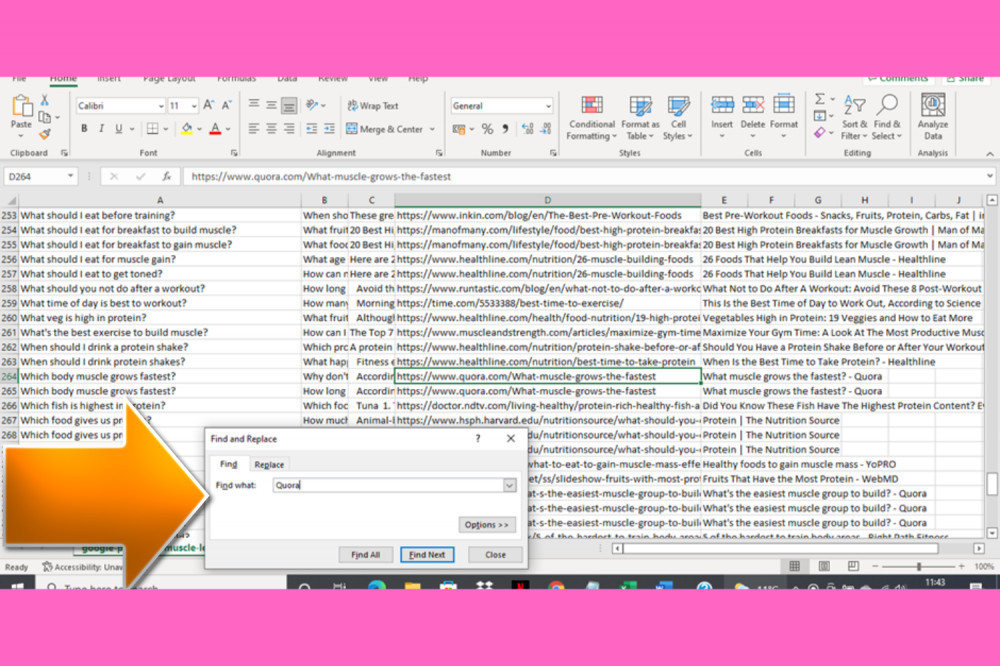 This will then give you all the questions that have a Quora result ranking on page one of Google.
You can do this for Reddit - simply type Reddit into the search box and press enter.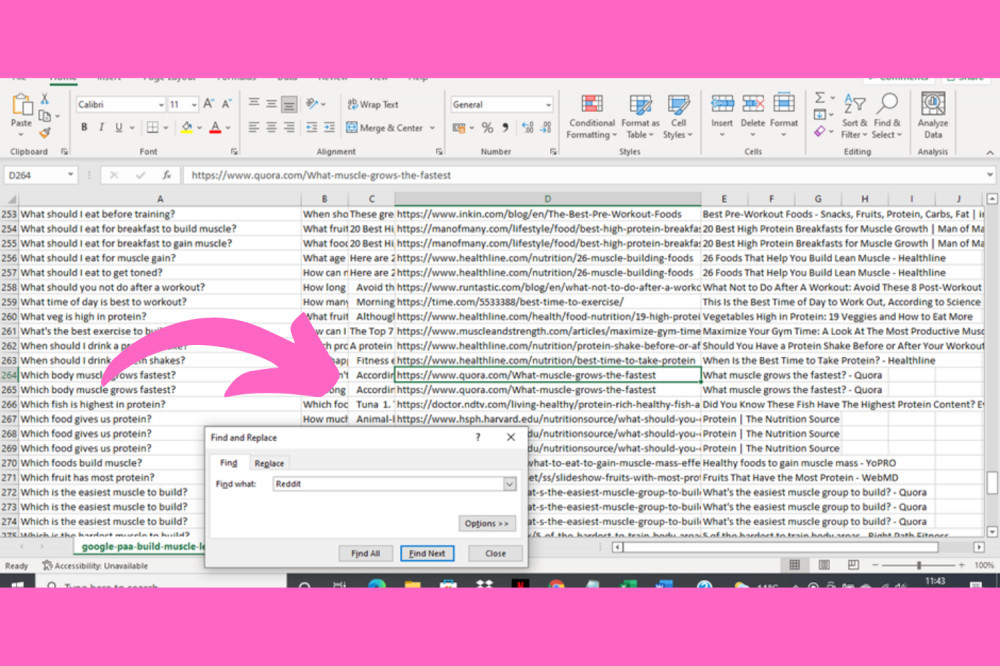 Finally, you can also find forums by typing Thread into the search box and pressing enter.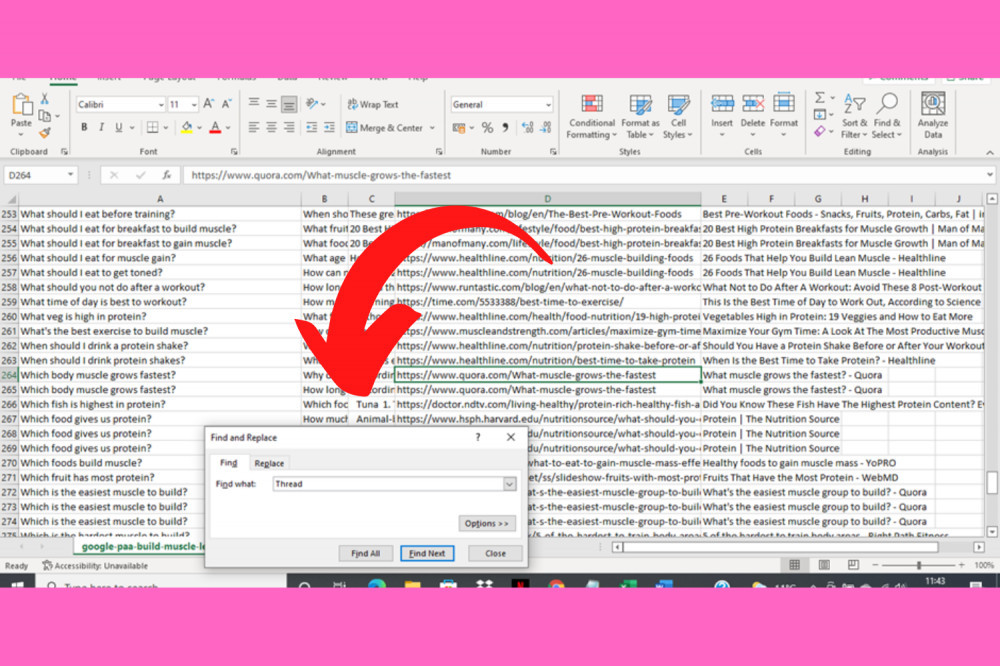 So, individually (one at a time) type the words:
QUORA

REDDIT

THREAD

Then press enter and see if it gives you any results.

Remember, when you find user-generated content (Quora, Reddit, Forums) on page one of Google it is much easier to rank your articles.
Unfortunately, for my "Build Muscle" Excel results it appears I have 5 questions that have a Quora result ranking on page one, but NO Reddit and NO Forums.
However, don't forget that I only ran SEO Minion for 2 minutes for 302 results.
Just imagine how many Quora, Reddit, and Forum results I would've found if I ran SEO Minion for 6 hours!
That said, from about 2 minutes of work I have found 5 new keywords/questions that I know I can rank for.
Therefore, you could say that 6 hours of "work" (SEO Minion is doing all the work while you sleep) you could potentially find a few hundred new keywords/questions that you know you can rank for.
You do this every night for a week and you'll never have to worry about finding "easy to rank" keywords/questions for the rest of your life.
Admittedly, you may find no Quora, Reddit, or Forums on page one for any of these People Also Ask queries.
However, this is a very easy and quick way to search for them.
Just keep using different seed keyword phrases in Google (keep them broad) and I guarantee that you'll have more keywords/questions than you know what to do with.
Final Thoughts
So, there you have it, how to use SEO Minion (and Keywords Everywhere) to produce literally thousands and millions of potential keywords.
Plus, this will also help to get those creative juices flowing.
You'll find questions that have never occurred to you before.
This could open a world of endless possibilities for your content.
And of course, this is a fantastic way to come up with more "Authoritative Articles That Break All the SEO Rules".
I look forward to the 17,953 questions and 63,997 PMs.
Thank You For Reading
Partha