WA Bootcamp Success! - Six New Commissions in One Day! New Record!
Last Update:
February 26, 2021

Hey there guys and gals, I hope you're having a great day :)
To those of you who are working on your websites (both niche and Bootcamp sites), I just want to say, keep hustling! It will pay off!
My Bootcamp site has gone through a lot of ups and downs so far.
Not to mention, I've invested countless hours in content creation, updating posts, promoting my content, getting comments, etc.
Moreover, I lost hours of sleep worrying whether or not this affiliate marketing thing will ever work...I know some of you can relate.
But it all becomes worth it when you start seeing results.
And you will see results, just keep on hustling!
The progress may be slow at the beginning, especially in the first year, but even slow progress is still progress!

Anyways, I wanted to share some good news with you guys related to my own progress.
Yesterday, I had a record day. I received six new commission notification from WA! So far, my best day was four new commissions :)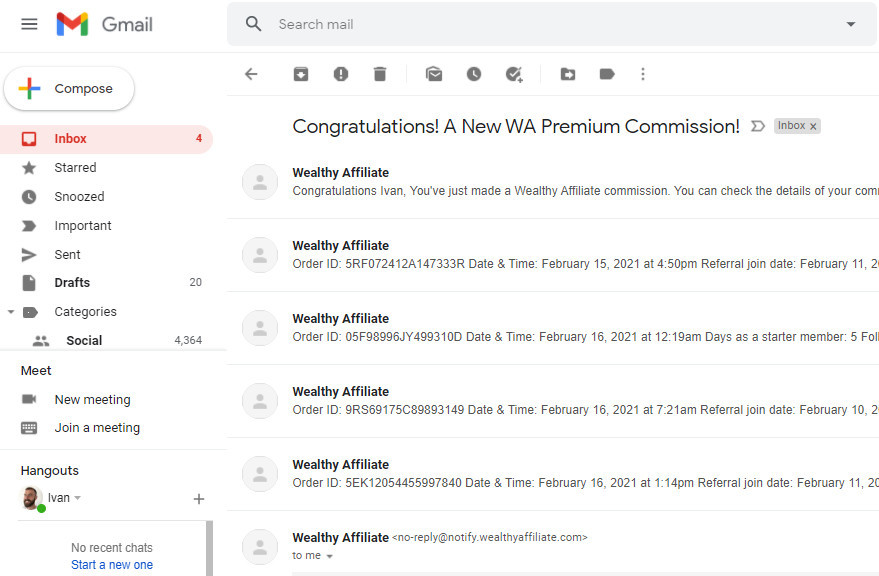 It's an awesome feeling to see all your hard work finally paying off. :)
So if you're in doubt about WA or you may have doubts that this is not going to work...let me tell you...it's GOING TO WORK!
The only scenario where this system is going to fail is if you give up.
See, the four-step formula that you've been taught here really works, but it's no some magic thing that is going to make you money just because others or even I say it will.
The formula requires a lot of work, effort, time, and persistence. It requires your best and you must never give up no matter what.
As the saying goes, winners never quit and quitters never win! :)
And no matter whether you're promoting doggy products, lawnmowers, refrigerators, shoes, snorkelling equipment, or even Wealthy Affiliate like me, it works and you too can make six, seven, eight, nine, ten, twenty, thirty sales in one day!
There are no limits, really!
As one of my favourite people of all time, Michael Jordan, once said, "Limits, like fears, are often just an illusion."
Just look at what he has achieved driven by this way of thinking :)
Stay positive, stay hungry, stay on track, keep hustling, and no matter what, do not give up!
Have a great day!
Your friend,
Ivan :)

PS: If you haven't upgraded to Premium yet, do it right now! You will not regret this decision. In fact, it was one of the best decisions I've ever made!
WA training really works! Moreover, you've got all the tools, coaching and support available 24/7. You can't bu succeed! :)
IvanBroz's Posts
39 posts