From $14 to $48,550 In Two Years! You're Sitting On a Gold Mine!
Last Update:
September 16, 2021

Imagine you buy a piece of property in the real world for only $14. You spend two years working on the property and now, the property is worth $40K+!
Can you imagine this?
Well, it's hard to imagine this happening in the "real" world. However, it's more than possible in the online world!
So how can you accomplish this in the online world?
Buy your own DOMAIN and follow the instructions from the Online Entrepreneur Certification!
A new domain is only $15 (new price), but it could be worth much more in a few years from now.
How do I know this?
Well, I purchased a domain here at WA three years ago for only $14 (old price). The domain was sitting and collecting dust for an entire year.
Then, I started working on it as per the instructions from the training, and two years later, I realized that my website is worth a LOT MORE now!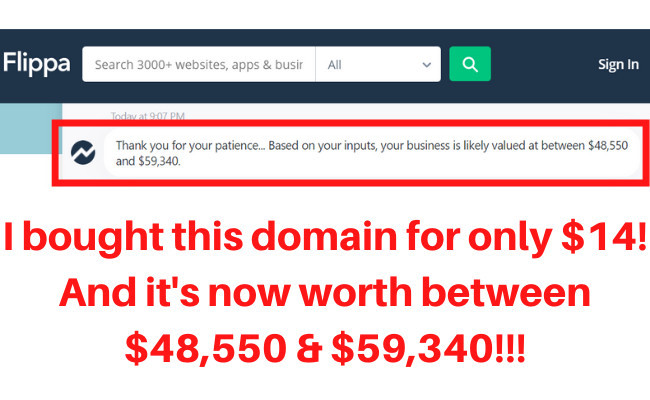 As you can see from the image above, I submitted my website to Flippa (a popular domain marketplace) for an appraisal a few days ago.
Based on the current traffic volume, domain age, and the monthly income that my domain is getting today, they calculated that it is worth between $48K and $59K!
Fascinating, right?
This means that if I were to sell my site today, I can easily get somewhere in the neighborhood of $50,000.
But I'm not selling because...well because I invested a lot of blood, sweat, and tears into this website and it's not time. Maybe it never will be time to sell it.
However, it's sweet to know that I have $50K worth of online property, and it will only increase in value as I increase the "size" of the website.
Two years from now, it could easily be worth $100K+!

That said, a lot of people ask me whether to buy a domain or not?
My answer is always the same.
Buy your OWN DOMAIN, follow the instructions from the Online Entrepreneur Certification Course, and devote all your free time to building your website.
Not only that your site will start earning passive income every day, month, and week but also, a few years from today, you might be sitting on a pure goldmine!
That's right!
A few years of hard work and effort could be worth a lot more than you think.
And why stop at one website? Why not build two, three, or four!
It's a lot of hard work indeed.
However, it's much easier to accomplish this feat when you have access to a PROVEN BLUEPRINT here at Wealthy Affiliate, all the best tools, and amazing help from a super-helpful community.
So if you are on the fence about whether to buy your own domain or not or even whether or not should you take action with WA Premium, just go for it!
You will thank yourself later :)
$15 spent today could increase in value dramatically in just a few years!
Thanks for your attention and best of luck!
Ivan :)
IvanBroz's Posts
39 posts