Google Link Spam Algorithm Update
Google Link Spam Algorithm Update
Last Update:
July 28, 2021

So, this is important, please pay attention. As of yesterday, Google began rolling out its newest update, known as the link spam algorithm and it affects every one of us as affiliate marketers!
For the next two weeks, Google will be trying to identify what it calls link spam, and possibly impose manual penalties and a drop in ranking. This includes looking particularly at guest posts, and affiliate links.
What is Google Looking For?
We are talking about marking your affiliate links as being "sponsored" using the rel value in WordPress. Let's have a couple of screenshots so you can see what I am talking about.
Here, you can see that I want to add a link to the words memory foam. Once added, I will then click on the cogwheel to go to the settings.

Here you can see the settings options, and because I want to add an affiliate link, I should check the sponsored box.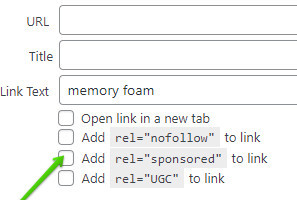 This option was recommended by Google at least a year ago, but if it wasn't done, there were no penalties, Now it appears that it is mandatory.
I have yet to find out how we do this with Amazon products, as I assume we have to add extra HTML code ourselves. So, unfortunately, I am only telling as much as I know right now, without delving further into the information. Still, I thought it important to give you a warning of this, as clearly, it could be a time-consuming task.
Obviously, I won't be able to answer your questions, but hope to study this further and provide training. As far as I can see, there is very little on WA that covers this, but if anybody knows of anything to help, please let me know and I will add the link.
Here is a link to the article I have summarised.
https://www.searchenginejournal.com/google-link-spam-update/...
UPDATE: If your affiliate links are already marked as "nofollow" there is no need to change them to "sponsored". Thank you to @MikaelM for this information.
DianeScorpio's Posts
155 posts