How Do You ORGANISE Effectively In Wealthy Affiliate?
How Do You ORGANISE Effectively In Wealthy Affiliate?
Last Update:
January 18, 2022

One Big Jigsaw Puzzle!
---
That's life, isn't it? So, how do you organise effectively? As you do your best to navigate it, pieces are moved around. Some are pulled away right in front of you and then new ones are thrown your way.
Sometimes, even the picture that you are trying to create changes and no one tells you.
That's life though. It is a chain of events, bends, twists and mess. What will set you apart from the rest is how you steer yourself along and use the mess and disorganization to thrive and rise.
It is not at all easy but there is one skill that will help you to move along a little more effortlessly and this is, (drum roll, please), organisation.
1. Find Your Corners First
---
When you are building a puzzle, the very first thing that you do is set your corners. Working in Wealthy Affiliate (WA) and on your website is no different. This is an important step because it starts to frame your end game in your mind.
My "corners" are the primary things that I will need to complete my task(s). Today, my taskbar looks like this: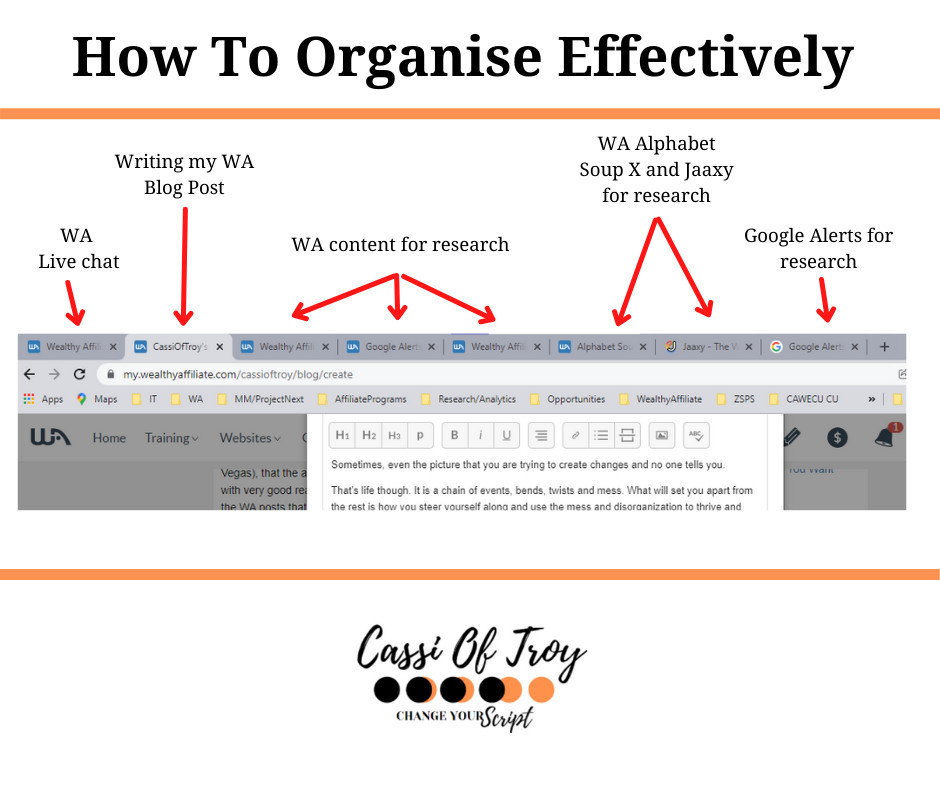 The only other site that I have opened is Canva to do create my customised designs for my website and blog posts. There is nothing else to distract me.
2. Complete Your Edges
---
Next, I complete my edges. This gets my frame up and ensures that I have all my markers to guide me as I fill in the middle pieces and complete my puzzle.
Thanks to Prince Partha, I now have a series of templates for my edges and a printed reference guide that rests next to my laptop.
3. Fill In The Belly
---
Now that the most important elements are taken care of, I zero in on the easiest part - writing my content. Prior to mid-2021, I found all of this to be laborious and time-consuming. Back then, I was writing mainly for Clients and not so much for my websites.
Today, once steps 1 and 2 are completed, it is so easy for me to simply write. I find a quiet space - rooftop, hilltop, beach, bedroom - wherever tickles my fancy and I simply write.
The new template we have in SiteContent for niche research is also very effective. No longer do I have to work in Excel or Word and keep going back and forth. It was such an easy fix that I wondered why I didn't think of it.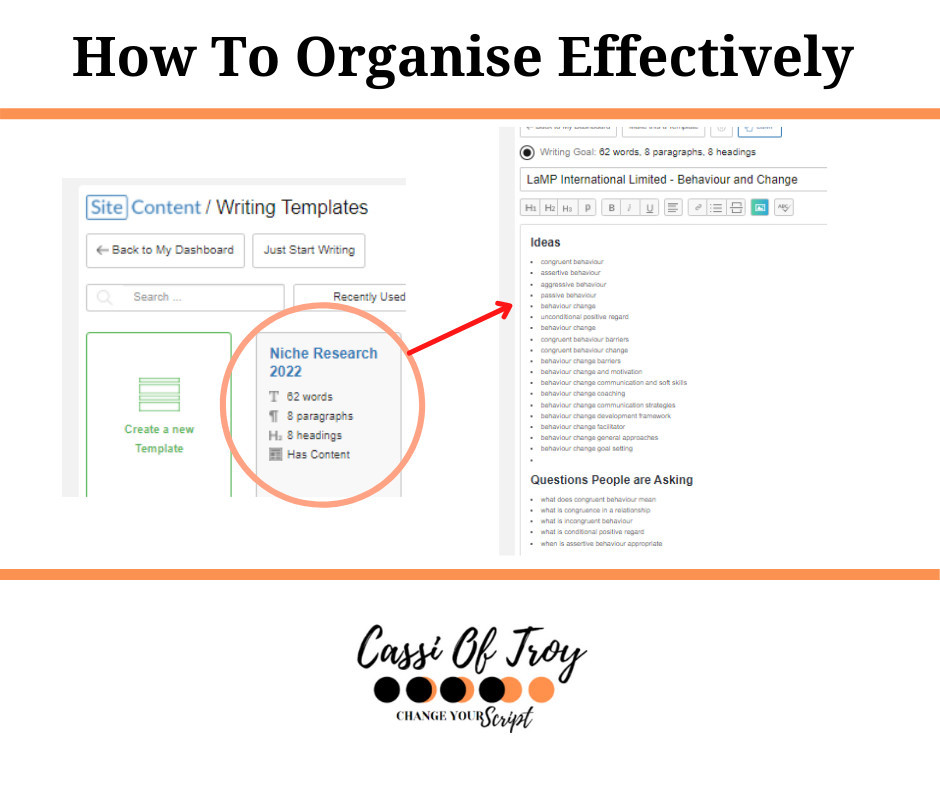 That is why we are members in WA though, right? For all these bonus tips and tricks to make our lives easier.
What Helps You To Organise More Effectively?
---
Becoming more effective should be everyone's goal. Time is your number 1 asset but it will only be an asset if you gain solid and consistent ROI from it. That means you must use it wisely.
So, what works for you? How do you organise effectively in Wealthy Affiliate? Let us know.
And remember, if what you are doing now is not working for you, you can always Change Your Script!
Here's to a productive week!
Cassi
CassiOfTroy's Posts
325 posts