Google Number 1 Plus Featured Snippet
Last Update:
February 04, 2021
Google Number 1 Plus Featured Snippet


Guess what another day with good results using Jaaxy

Earlier today I decided to check with Jaaxy on some Posts so I can see what may need improving to boost ranking on the search engines.
Some I found on Page 1 which was pleasing to know some nowhere around then I checked this post and WOW
The post below not only gave me a Position 1 on Page 1 on both Yahoo and Google but to top it off it is also a featured snippet.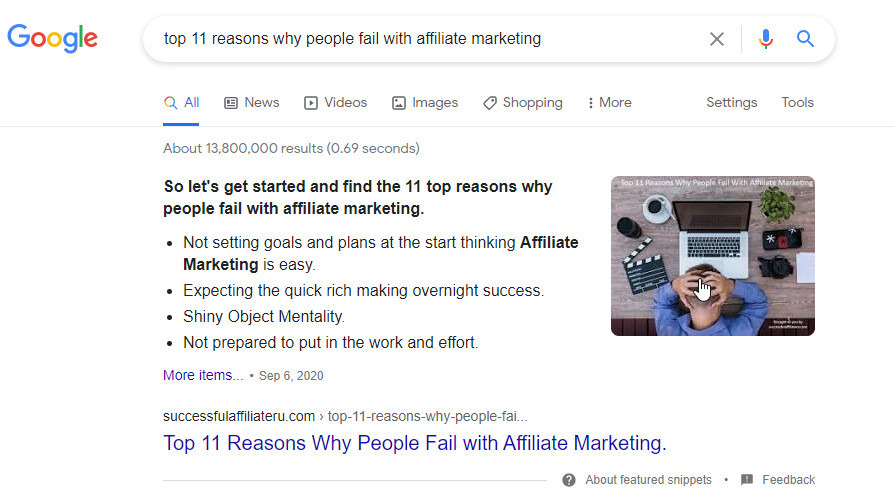 SEO
Now this post was originally published on the 5th Sept 2020 I just search my blogs and found this post was the one that went no 1 in Google 5 mins after submitting it to the Search Console
https://my.wealthyaffiliate.com/apache1/blog/ranked-no-1-in-...
However recently when the AIO SEO changed its look I went through some posts (still more to do eventually) and after a few tweaks my AIO SEO score for this post went to 100/100 I think it was about 80 before can't be fully certain.
So I guess I did something right to get at the top
Want to get a featured Snippet with Google
Choose the right Keyword
Place it in your title and first Paragraph
Write naturally
Place your keyword in the post title and Meta description as shown below
Get your post indexed with Google Search Console and Bing Webmaster too don't wait for them but go to them first.
Now I believe this part is important regarding your Post title and Meta description
I never leave my Post title and Meta description to auto-generate, instead, I always write my own description as shown below.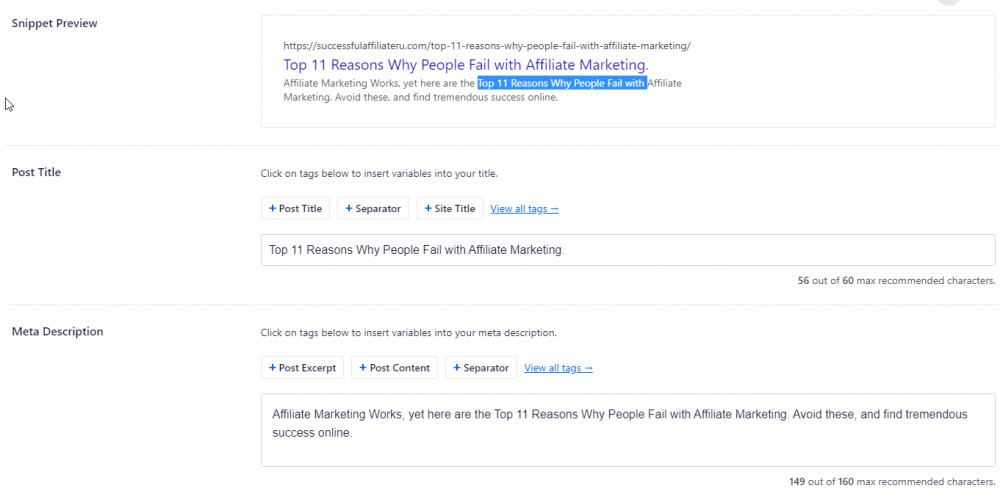 Nice way to my evening, some of you known I recently got a new post ranked within an hour still Google doesn't want to play ball on that so I guess I will forgive them with this result (for now ).
WEALTHY AFFILIATE WORKS
Remember WA Training works but only if you apply what is taught and more importantly take action to get the results.
As Kyle once stated:
" Take action on what you learn! Action leads to success. You could read and watch the training until you are blue in the face, but if you never take action on it you won't achieve any success."


This is so true but not only take action also believe in yourself never doubt.
Wishing you all well
Continue to believe in yourself and in all you do and always keep moving forward.
The results will come
Andre
Update"
Just found out I have a second featured snippet on my other website.
https://my.wealthyaffiliate.com/apache1/blog/second-featured...
Apache1's Posts
163 posts