Hey WordPress, What's on the Menu?
Hey WordPress, What's on the Menu?
Creating the Pages
The Home Page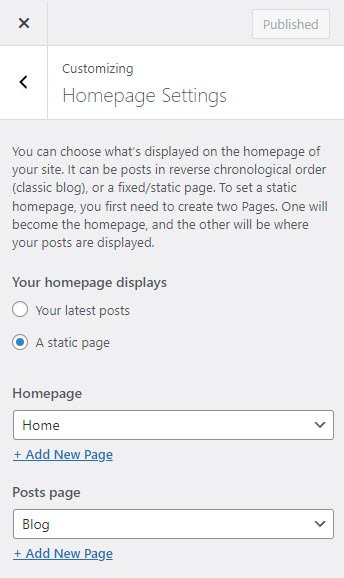 Let's look at the home page first.
Your home page can be set to a specific page or you can elect to display your blog roll.
You set this up in Appearance >> Customize >> Home Page Settings. See the accompanying image.
There are plugins that will generate some or all of the necessary footer pages.
Assuming your template allows more than one menu, in your WordPress back office menu, click on Appearances >> Menus.
If you select Your Latest Posts, you don't have to do anything else. Your home page, that shows up when anyone goes directly to your site, will display your blog posts in descending chronological order (i.e., latest first). This can be a great option for someone starting out, as it makes your site look interesting right from the start, changes every time you publish a new blog post and showcases them prominently.
But as you develop your brand, you may want to develop a static home page that tells your visitors what you are all about and builds trust. One of the best ways to do that is with a video. Also, the word "static" doesn't mean that you can't change it. For example, on one of my websites, I feature a Product of the Week on my Home page, directly under the video. It is accompanied by a countdown timer and is, of course, changed weekly.