$874 In Sales The Last Couple Of Weeks
Last Update:
December 24, 2020

The beauty of online marketing is that the previous month I had no sales from this particular website from which the sales are listed below, but was making quite a bit of money from my other website and YouTube videos.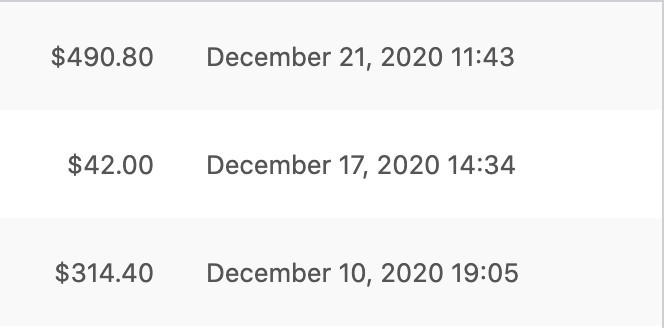 I got a bit busy and the reason I have not done much in regards to my other website and YouTube videos this month that usually brings in some money and it seems that income from my other website and YouTube videos atm is more dependent on sharing in social media than enjoying much organic traffic unfortunately. So when the work stops, the money stops for that particular site it seems. My other site has only generated a sale of $27 this month thus far which resulted in a $13.50 commission, which I have not listed here.
All in all I am very happy that it seems that when one site does not generate any money, the other site seems to generate money and I think is exactly the idea of scaling your online marketing business.
I will be working hard to generate more organic traffic for my website that seems to only generate money from social sharing, instead of from organic traffic.
I hope that some of you may be able to draw some inspiration from my slow process of starting to earn money online. Although it may be a slow gradual process I can certainly see it keep moving in the right direction. All that is required is to keep working hard and keep on scaling scaling scaling.
Wishing you all a Merry Merrry Christmas and a very prosperous New Year and may 2021 be a super successful year in regards to your online marketing endeavours!
Best Wishes
Schalk

Ps. Oh and so by the way before someone asks lol. No, unfortunately the sales from this partiuclar website is not pure profit. Only between 20 - 35% commission on these sales depending on what in particular it is I sell.