Verify Your YouTube Channel (2 Things to Do!)
Verify Your YouTube Channel (2 Things to Do!)
Last Update:
July 19, 2021

If you have a YouTube channel, there are 2 different verifications that you'll want to do.
Verify Your Phone Number
Get a Verification Badge
Both of them have significant benefits for your channel. In this post, I'll show and teach you CLICK-BY-CLICK how to do both of them.
1) Verify Your Phone Number
I recommend that every single YouTube channel verifies the phone number because it gives immediate benefits.

Benefits:
Videos longer than 15 minutes
Custom thumbnails
Live streaming
Appealing Content ID claims
As you can see, building a channel without a verified phone number doesn't really make sense. It brings so obvious benefits that you must verify your phone number if you're even a little bit serious about YouTube.

How to Verify Your Phone Number?
Step 1: Go to YouTube Studio
Step 2: Click "Settings"
Step 3: Click "Channel"
Step 4: Click "Feature Eligibility"
Step 5: Click "VERIFY PHONE NUMBER" (See below)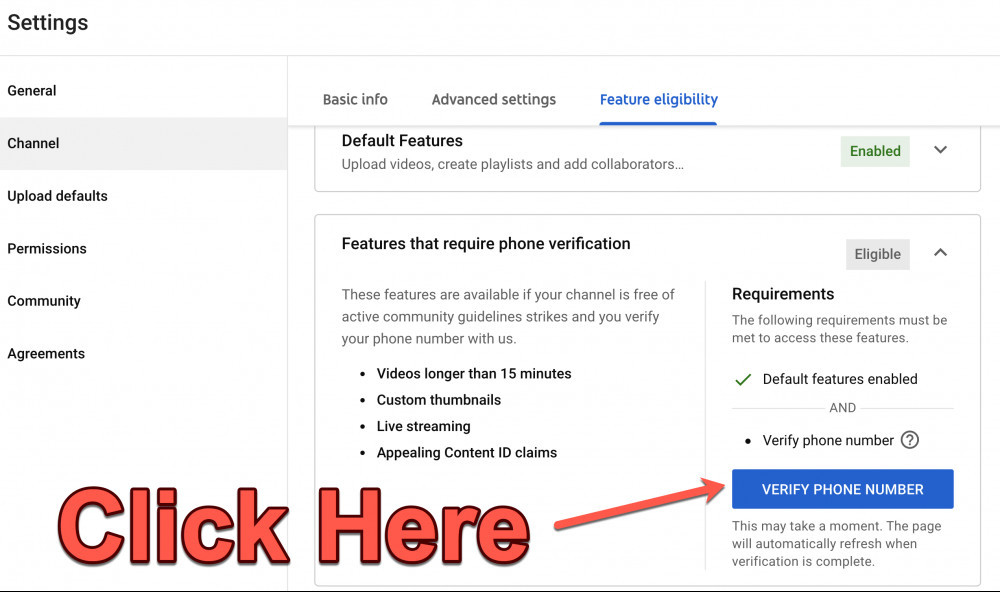 Then you just follow YouTube's steps on the screen to verify your phone number.
You'll just submit your phone number and receive a verification code.
Then you submit the verification code on the screen and you're done!
Once you've done that, you have all the benefits immediately enabled on your channel.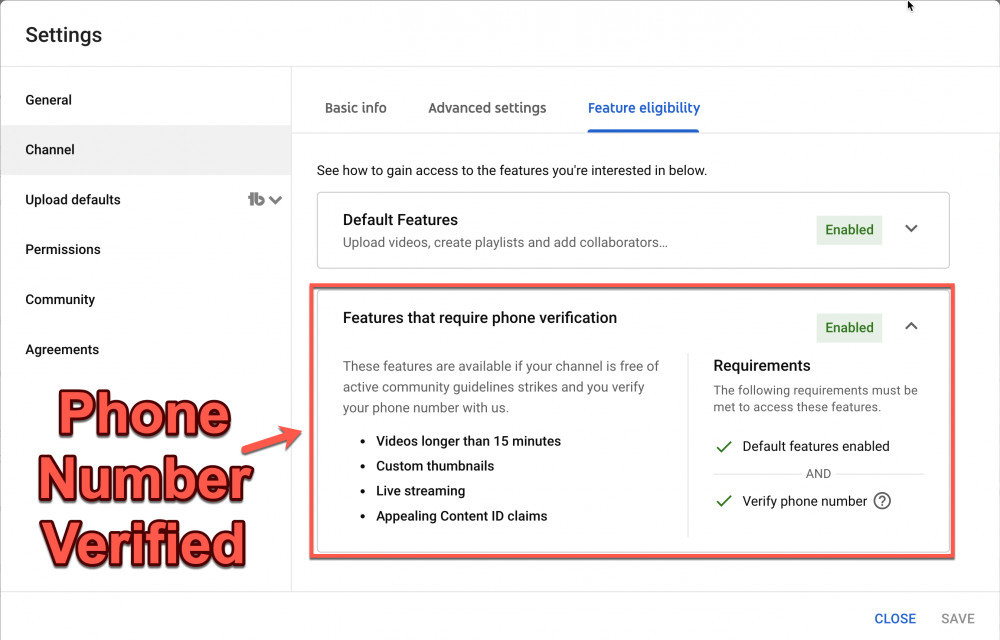 Another verification that you'll wanna aim for is having a verification badge.
I just received it myself recently.
2) YouTube Channel Verification Badge
A verification badge isn't so easy to get but it brings you many benefits. It shows up EVERYWHERE next to your channel name on YouTube.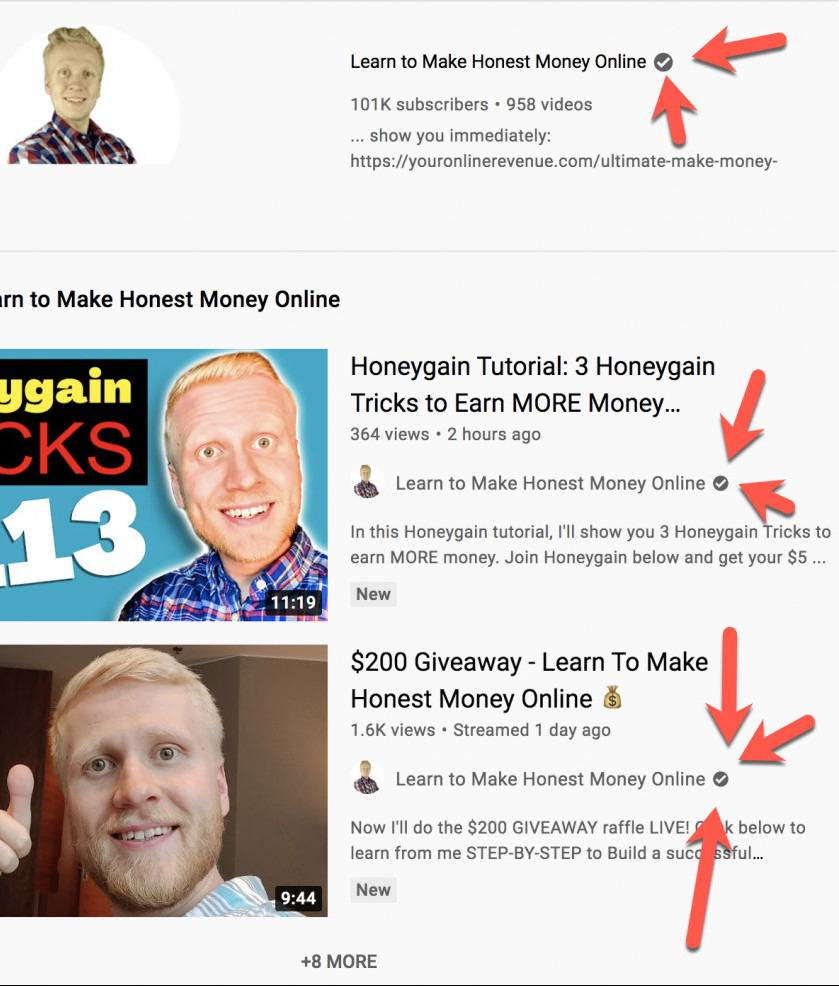 Benefits:
Immediate Trust & Credibility
Helps Your Followers to Be Safe from Impersonators
Prevents Stolen Traffic
Once you get more views & followers, many people may start to impersonate you. I've seen numerous people and bots creating fake channels of me.
When you get a verification badge, people will immediately recognize which one is the right channel.
In addition, those fake channels may be stealing your traffic. Verification badge helps to prevent that because fewer people will start engaging with fake channels.
Last, but definitely not least, having a verification badge gives immediate trust and credibility.
Whenever I see a verified channel on YouTube, the following thoughts come to my mind:

For 100% sure a real person is behind the channel.
That channel has put a lot of effort into building its audience.
Many people follow him already so the chances are it provides something valuable.
How to Get a YouTube Verification Badge?
You'll either need to get 100,000 YouTube subscribers or you need to be an already famous person that people recognize.
I believe that most of us will need to get that 100,000 subs because we're not famous when starting on YouTube.
Once you'll get 100k subs, follow the steps below:
Step 1: Wait a few days and YouTube opens an application form.
Step 2: Open and fill out the verification badge application. It takes only around 1-3 minutes.
Step 3: Wait until YouTube reviews your channel.
=> You'll have a verification badge!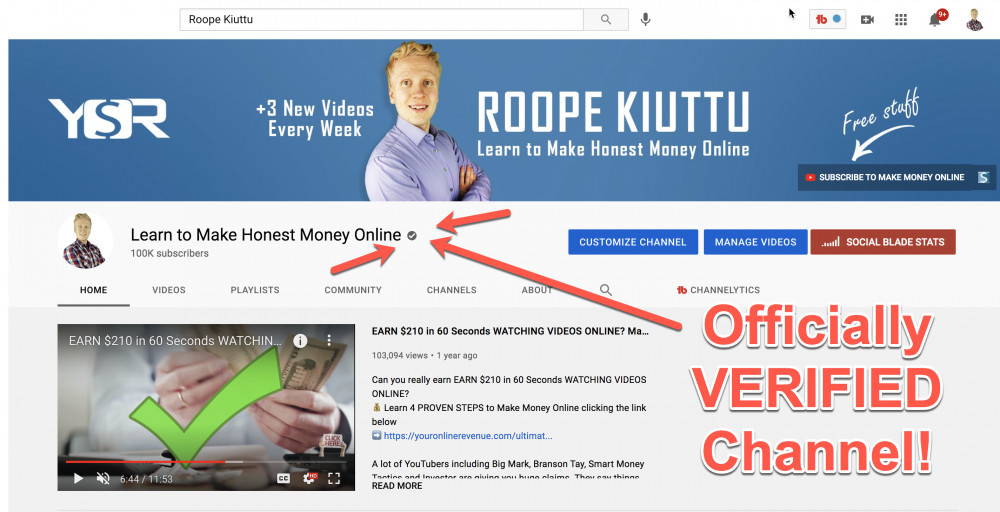 How long does it take that YouTube reviews your channel?

On the official YouTube website, they said it may take a few weeks but for my channel, it took only around 24 hours. So, I believe the time varies.
I hope you found this helpful.
- Roope "Helping you to succeed online" Kiuttu
PS. If you have any questions or comments about YouTube, tell us in the comments below!
Did you know this about YouTube verifications?
What questions do you have about building a successful YouTube channel?
Looking forward to hearing your comments about YouTube below!

RoopeKiuttu's Posts
283 posts