Why Do People Help Others At Wealthy Affiliate?
Why Do People Help Others At Wealthy Affiliate?
Last Update:
July 14, 2019

Why do people help others? and why is that so an important factor here at Wealthy Affiliate? This is a fascinating question to me. When you get right down to it people are very good-natured and helpful.
You wouldn't necessarily know it if you only pay attention to the mainstream media. All you get is one negative story after another all day long.
In researching this article I came up with several reasons people help each other. I found the people doing the helping were receiving as much benefit as the people being helped.
Let's look at some of these reasons.
Helper's High
Have you ever given money to your church or a charity? It feels pretty good, doesn't it?
Scientists would call this a "helper's high". This is where the person doing the giving is feeling fantastic just from the act of giving.
You do not even need to see the end result. Although when giving to your church you will see the end result, not so in other types of giving.
Sarah McLachlan does those infomercials or tv commercials for abused pets. You will definitely get helpers high donating after watching one of those.
Building A Connection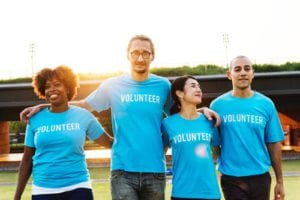 There is a bonding experience that comes from building a connection by helping others. You might get it from volunteering to a local charity.
People who are involved in their community get it from making it a great community. Small towns in rural areas provide this and are one of the reasons people come back and live there after college.
Manage Stress
Life is stressful. That is often a perspective, but there are so many demands on our time it is almost impossible not to get a little stressed at one time or another.
When you help others your stress seems to go away. This is really true when you help people less fortunate than yourself.
Suddenly your problems don't seem so big. The stress from your own life seems to go away.
Career Building
Are you lucky enough to be in a career where you are helping people? If you are, you know how that can have a positive impact on what you do and where you work.
This can be in helping your co-workers. It can also be from helping your customer base or clientele.
Improved Health
Here is a link to a study on the impact on your help from doing volunteer work. The idea is you can improve your health from eating more fruits and vegetables, but how about improving your health from giving?
https://www.psychologytoday.com/us/blog/the-empathy-gap/2013...
They summarize this in 3 ways your health improves.
1. Increases activity. When you get up and move around it is a physically good thing to do.
2. Making more connections. This releases a hormone called oxytocin.
3. You feel happier. Sometimes helping others is not always scientific.
Add Meaning To Your Life
Helping others has proven to be a way to create a sense of meaning for the people doing the giving. Many people do not have a sense of meaning in their lives at work or home.
Finding that purpose away from your current circumstances puts you in control. You are creating a sense of meaning and not waiting for it to happen
It's Good For Online Business
Famous salesperson and motivational speaker Zig Ziglar once said: "You can have everything in life you want if you will just help other people get what they want."
I am finding this to be very true in the world of Internet marketing and money making tips. My blog here is built around a very simple idea.
Provide answers to questions people have. Be a problem solver in the world of making more money.
I know there are millions of people all over the world who need or want to make more money. The World Wide Web is full of these people coming online every day.
Google tells us millions search for keywords such as make money, earn more money, part-time income. start a business at home and many more. This has made it possible for me to create the perfect storm so to speak.
Why do I help people?
Because this is my niche, and I admit I get that helper high that comes from helping people as I described at the beginning of this article. I am able to interact with my readers in various ways.
One is from people who are on my free email list. I send out emails all the time that are full of nothing more than a tip that I've just come across and want to share with my list.
Some of these are set up in pre-arranged emails and go out automatically. Others are something I've come across, and feel like it's worth sharing.
It makes me feel good to send these emails out because I know there are people I am helping.
Another way I do this is from the literally hundreds of blog posts that I've made over the years. People come to my blog and spend a lot of time reading these various articles.
Google likes them as well and ranks them for various keywords on its search engine. I know I'm helping people when I spend the time creating these articles because I know they're going to have a long term effect on my readers.
I encourage you to take the same approach with your blog. Focus on giving and helping people first.
Then you can monetize your efforts in various ways. Affiliate marketing is a great way to make money online because you can find products that solve problems and help your target market.
Don't Know Where To Start?
Ask For Help Here At WA.
https://my.wealthyaffiliate.com/lazyblogger/blog/asking-for-help
Cheers!
Bishop
Lazyblogger's Posts
27 posts