One Month Since First YouTube Video
One Month Since First YouTube Video
Last Update:
May 20, 2021

Hi Everyone!
I just wanted to give an update since I uploaded my first YouTube video. I am really enjoying making videos but there is a lot to learn. I have been studying on how to start a YouTube channel and Grow a YouTube channel.

Like I posted before there are struggles with creating YouTube videos more than creating content on your website. It's easier to correct things or make them better before publishing than with a YouTube video.

Making sure the AVLS (Audio, Video, Lighting and Stabilization). Make sure your audio is top-notch. Even if your video isn't the greatest, if your audio is great and understandable with great content, people will still watch or listen to your video. Video can be done with your SmartPhone. Have good lighting, you don't need expensive lighting, open the curtains, turn on some lights. Stabilization, make sure your videos are not moving to fast or jittery. You don't want to make your viewers feel sea sick watching your videos.
There are 5 top mistakes that beginner YouTubers make
1. Being to broad - narrow your niche, just like we do here at WA Don't video about everything. You will lose subscribers. Stay true to your statement on your channel.
2. Making Repetitive videos. - Some people think if you did well on a certain video they keep doing the same video 10 different ways. Don't do that.
3. Not planning the video before filming. Make a plan, what do you want to begin with, what the video is about, before letting your viewer know you're ending the video, do a CTA (Call to Action) to a different video.
4. Not Monetizing - I am hearing differences on this but the latest teaching is to monetize early. This is a business and if you want to do this full time, you need to monetize. To start monetizing you need 4,000 watch hours and 1,000 subscribers for this to happen.
5. Not building a relationship with your subscribers. This is important to keep people watching your channel and stick to the description you put in your YouTube Channel. Don't be all over the place. Comment with detailed information on other channels or Facebook groups and on your channel.

Since I started here is my stats as of one month since I uploaded my first video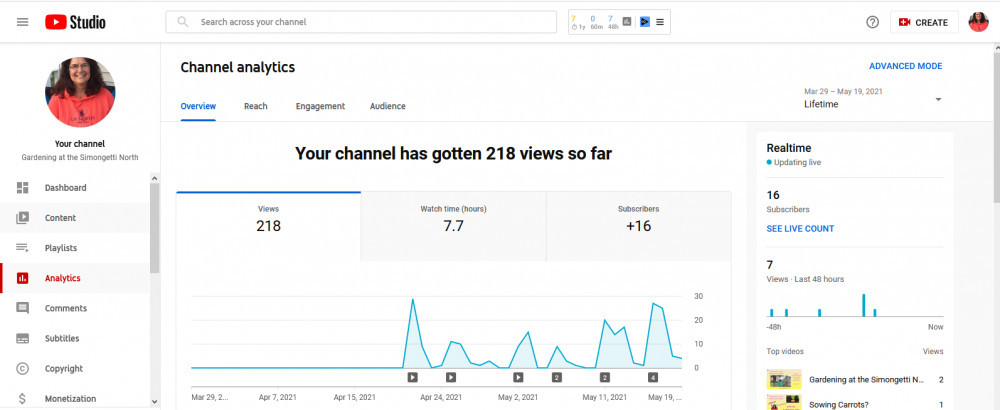 The analytics for Reach


The analytics for Engagement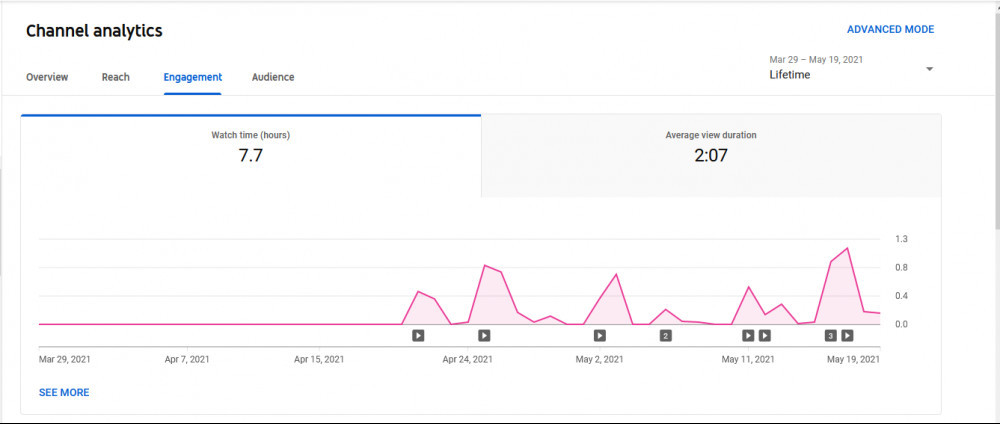 The analytics for Audience

I think this is pretty good for my first month. I have a total of 11 video all under 16 minutes and mostly under 5 minutes. I am trying to keep my videos short and to the point which helps me get out more videos. I am experimenting with YouTube Shorts, that is fairly new as well. They are videos under 60 seconds. If you make the short using the YouTube Shorts creator they are 15 seconds and that is it.
I read YouTube #Shorts can help small YouTubers get noticed sooner and it's also easier to get more videos out.
Being consistent with your videos. Do at least one a week to keep your subscribers interested.

My Stats in the last 7 days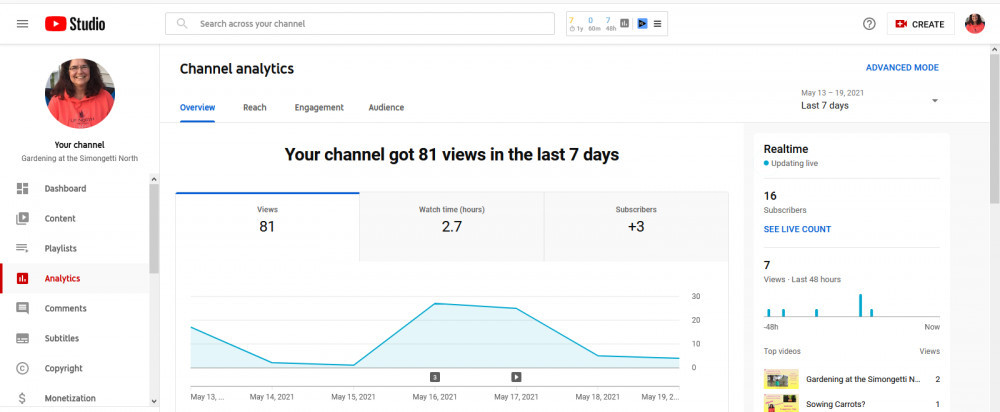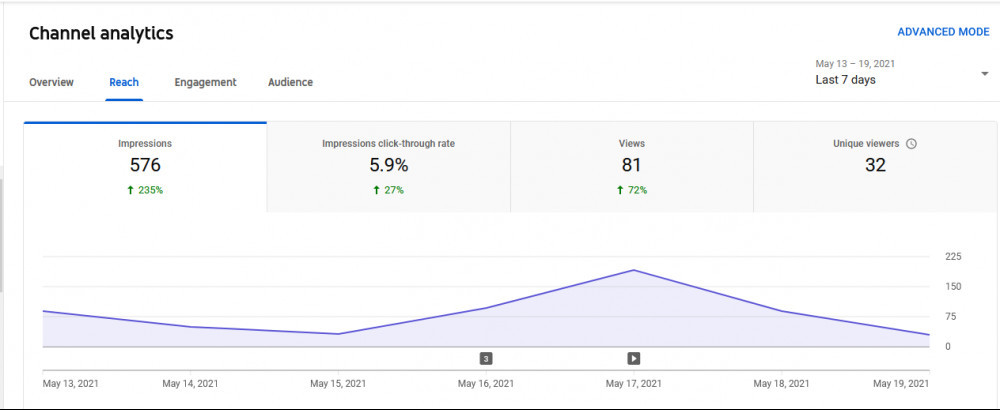 Making a plan for each video will help you be successful.
How to create a simple success plan, some things to consider
1. Channel - Who is your audience?, What problem will it solve, how is my channel different from your competition and why should someone subscribe to your channel.
2. Video - What is the goal of the video? Who is the video for? What problem will it solve? Am I answering a specific question?
3. Money - How will your channel make money? How will your video make money? Find out the best ways to make money with your niche. I will be using affiliate marketing and AdSense once able to monetize.
4 Tips for getting started if you are thinking about starting a YouTube Channel
1. Start before you're ready. Everyone's first videos will not be the greatest but try to make each video 1% better each time.
2. Commit to the Journey - if your heart isn't in it then it probably won't be successful unless you are just doing a channel for Hobby reasons.
3. Start with an end in Mind. What problems will my channel solve
4. Start with Why. What is your motivation for starting a channel. To be financially independent, retirement income, or a hobby.
This is what I have been learning for the past month. I found a group call Think Media and I am doing their YouTube 5 Day challenge this week. This is to help people start or grow their YouTube channel. I found Think Media to be similar to the Wealthy Affiliate community but they specialize with YouTube.
The biggest thing I keep hearing in the teachings for creating videos is "Answer a Specific Question".

Other great tips!
You need a Hook in the first 10 seconds of your video. Most important, how are you going to grab your audience attention? Be clear in your statement about the video problem/solution.
Script an outline of the points you want to hit in the video. Make videos as long as it needs to be but short as possible. If the video needs to be long, then make sure it is with informative content and remove the fluff.

Before you let your audience know that you are wrapping up the video, do a call to action - CTA. Point them to another video or playlist.
If you are considering starting a YouTube channel but are fearful, actions overcome fear. Practice talking on camera, get comfortable how you look and sound on camera. You don't need expensive equipment, most people starting out use their smartphones and have become successful using them and eventually upgraded to different equipment.
Here is a quote from Think Media team, "Start messy, punch fear in the face and press record!"
If there is anyone still on the fence about starting a channel, I hope this helped you.
Thank you for reading my blog!
Thank you to the Wealthy Affiliate community who have subscribed to my channel.

Any other Gardeners out there? Check out my channel and Website - Gardening at the Simongetti North.
Christine

Christine164
Premium Plus
Christine164's Posts
9 posts