A Successful YouTube Launch! Take The Plunge!
A Successful YouTube Launch! Take The Plunge!
Last Update:
April 26, 2021

As many of you may know, I launched my YouTube Channel, Cassi Of Troy, on Thursday 22 April 2021.
It took A LOT to push past my fears and just get it done. I must thank you for your support, encouragement and the confidence that you expressed in me. I may have done this alone but knowing that I have our Wealthy Affiliate (WA) community surrounding me, makes it all so much easier.
Some Quick Stats
---
Just a few quick stats to share as I kick off my week.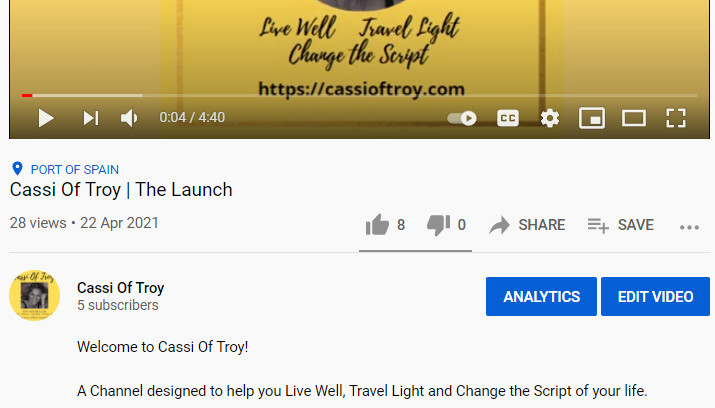 Not bad, in my humble opinion, for a complete Newbie.
As I write, views have moved from 28 to 33. That's an 18% increase in less than 30 minutes!
Not bad at all.
Thank you to Hugh, Andre and Hilde for your comments and support and any of our other WA members who may have viewed.
Enjoying YouTube's Analytics
---
YouTube has great analytics. Of course, as my Channel is new, I do not yet have a lot of data but I can see how their analytics set up can help me zero into what works.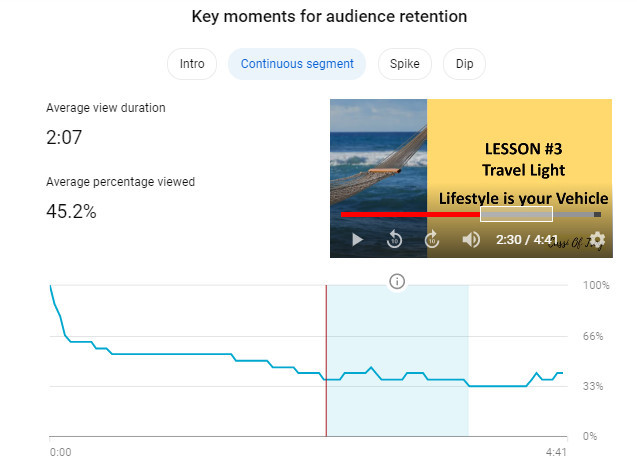 Data like Spikes and Dips really help you to understand what keeps your audience engaged and what they like.
As you can see, I had an over 50% drop from the introduction to the final view. That's fine as my launch video was a very simple PowerPoint with a voice-over.
My videos will get better in time.
Next Steps
---
I have hired a YouTube Assistant, Zafirah. Yes, she will receive earnings for directing and editing. She is excellent at both.
Over the weekend we invested in a tripod, did some research on phones and cameras and practised shooting some raw footage.
We love working together and it gives her an opportunity to get involved.
So, who knows? You may just get a glimpse of us in the next video, following our every Thursday publishing schedule.
Go on!
Take the plunge!
Cassi
CassiOfTroy's Posts
258 posts