Goya Helped me "GOYA"!
Last Update:
November 10, 2021

Hello fellow WA Journeymen!
Whether you're new or old to WA, we all feel at times like we're stumped and lacking direction or motivation.

This was ME, last May!

2020, was very difficult with the loss of first, my precious, Michi, and later on my sons' father. For 6 months, I was a creative dud!

I did NO stained glass, or writing.


Thankfully, I kept my outside commitments, so I wasn't completely isolated.
I listened to many motivational speakers and how to YouTube, Podcast, and WA Trainings!
All these great ideas, but where to start?
Take small ACTIONS!
Before, I could begin, I needed to clear away some clutter from my mind.
I used my "Brain Dump" technique.

Pulling out my notebook, in 5 minutes time, I wrote all the things on my mind.

Household, financial, personal, relationships, you name it, ...if it was in my head it went down on paper.

Once down on paper, I could sort each into a bucket of to-dos.

Taking care of this Goya, was on my list!

Goya! "Get Off Your Arse", Barb!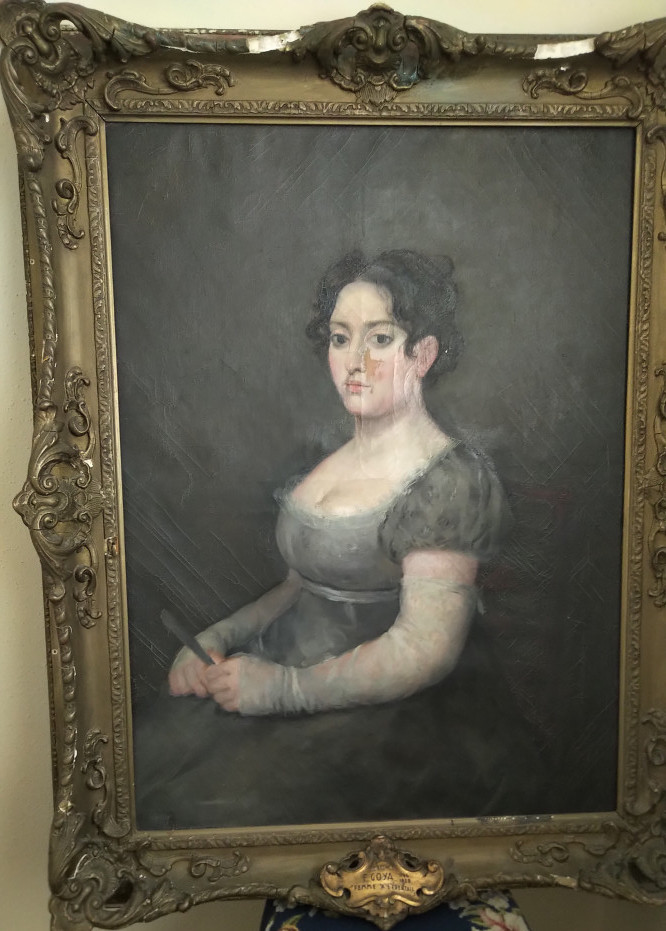 "The Lady With the Fan"
The Story...

This painting always hung in my Grandparents' home, and eventually in my Mom's.

When she passed away in 2013, my sister didn't want her, so I took her with me.

She went down to Texas and then back up to Michigan and in my condo. Sadly, she slipped from the wall, and the frame was damaged.

She's back down in Texas, and sits neglected in the guest bedroom.

As I approach my older years, I'm trying to unload some things, and this mystery Goya is one.

Her story before...

Back in the depression era, my grandfather, had a food business like Sam Walton. He offered cases of canned goods at discount prices, so as a family, they always had the basics, and money to go around.

Grandma, came from Serbia, and Grandpa from Greece, and they both embraced the American dream.

Grandma stayed close to the Serbian community, and knew the Ambassodor to the US from Serbia.

Evidently, the ambassodor had some major gambling debts, which put him in a bind.

He asked for my Grandpa's help. With no means to repay, he offered a painting of my Grandmother's choice, and so "The Lady With the Fan", by Goya, became a permanent fixture in their home.

For years, we have been unable to find out much information about her.

Using Goya to GOYA!

I decided to reach out to Christies, in New York, and see what they had to say, if anything.
I needed to submit pictures and a history!

Small steps started with my computer and WRITING!

Just that need to express in written word, was enough to get me back to writing!

I submitted the information, and waited.
4-6 weeks later, my reply from Christies, "Not in the price range for our auction house".

Okay, with a WT??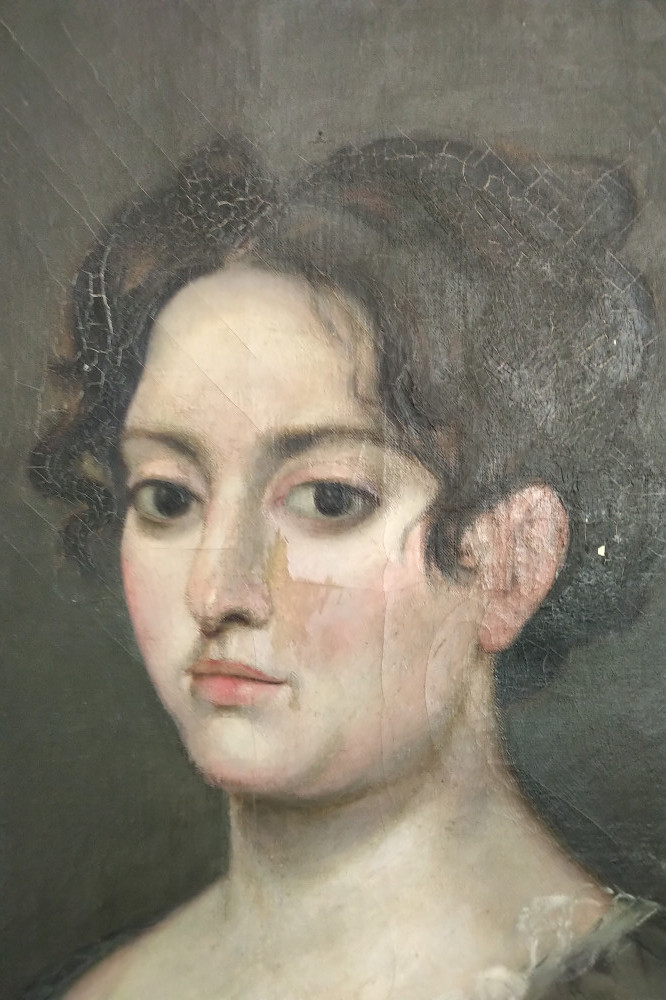 It's better to know, then continue to speculate.
Since the rejection from Christies, through a friend, I've had her assessed.
I'm not sitting on a priceless painting!
What I do have is called a "Goya Follower".

Looking at the detail in the face compared to the body and the hands, I thought perhaps, Goya may have started this and a student finished her.

Regardless, she's not 100 percent Goya.

She is NOT worthless!

With frame repair and a good cleaning, she is worth several, thousand dollars.
Seeds are now planted to get her into a good home, and save her from being parked by the trash. Knowing what will happen to my estate, when I'm gone, this would surely have been her fate.

I have 2 Texas auction houses to check into, but if they don't want her, shipping or driving her back to Michigan, is a viable option.
Shipping costs are not nearly, what I expected.
For around a hundred dollars, she can go safely to be restored and marketed.


Projects take time!

My responsibility, is to do the things needed, at the right time.
Step by step, we get the answers and when we take ACTION, things begin to happen.

The main idea is to make progress!

Here at WA we all have our visions, and sometimes, we get stuck.

Whether we stay stuck, is our own problem.

"Knock and the door will open! Seek and Ye shall find."


I've not been stuck for awhile.
I began to have momentum and have made a daily effort the "Go with the flow".
Reading about our fellow "Journeymen", and their successes and failures, show me that I'm never alone on this WA adventure!
Today Matters! Make the most of it!

Closing song...
"Today" - Brad Paisley
"...well I'm feelin' like the luckiest
man alive today.
And I don't know about tomorrow
But right now the world feels right
and the memory of a Day like today
can get you through the rest of your life..."
Thank you all, WA community for being here everyday!
Off to do my Wednesday biddings, with this successful post out of my way!
"Each day is a brand new slate!" Create your masterpieces on step at a time.
Best success to all!
Barb

Brichnow21's Posts
104 posts