Athletes VS Affiliate Marketers Differences and Similarities
Last Update:
April 12, 2021
Athletes VS Affiliate Marketers? What differences and similarities can they possibly have between each other? They are closer than you think after reading this.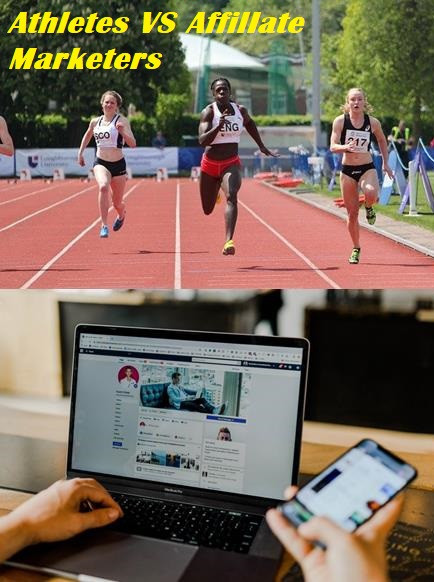 When you start to think of this more you will realize some startling things between Athletes and yourself as an Affiliate Marketer.
You will find that both of you have very similar differences and similarities more than you may have realized.
Have you ever watched a sporting competition especially at World Titles or Olympics?
In fact, any competition for that matter at all levels be it local or otherwise.
All the athletes have a similar goal as affiliate marketers.
For athletes, it is to win the race, be in a qualifying race, the final at whatever level they are at.
As an affiliate marketing, your goal is to make money online and be successful as a result.
You could be a starter member or one that has continued to progress yet still working to achieve that final result.
So let's look at the differences first then we will look together at the similarities you have with Athletes.
Also, note when I mention the word Athletes I am covering all the sportspeople overall not just in a general or particular field.
Differences
Athletes:
Each competition they are in is a race against time in order to achieve their goals set.
Affiliate Marketers:
You are not in a race in order to achieve your goals nor are you within a certain time frame to complete.
In fact, affiliate marketing is a steady long-term online business as you can give as much time to yourself to be successful online.
Athletes:
The aim of their race is to be quick as possible to win
Affiliate Marketers:
Affiliate Marketing is not a quick money-making scheme but long-term steady progress where you can give as much time to yourself to be successful online.
Athletes:
The competing lifespan of an Athlete is limited to a certain number of years before the body slows down from their peak to the time they retire.
Affiliate Marketer:
You can continue to do affiliate marketing before and after retirement.
This is your online business that will continue long before the lifetime of an athlete ends
Athletes:
Prone to injuries that can delay or even halt their career in sport.
Affiliate Marketer:
Unless you are on life support or confined to bed for severe health issues you can continue to work online even with a broken leg.
Athletes:
To compete, Athletes need to compete themselves.
They can't have someone compete in their place.
Affiliate Marketers:
You are not restricted to do everything yourself as there are freelance writers you can have should you have the opportunity to do so.
You can, if you are able to have someone helping you along the way for example a partner who is willing to work with you to achieve the results you are both wanting and seeking.
These are just some of the differences.
As you can see, the main part that is of benefit for Affiliate marketers with the differences is that you can continue to move forward as long as you wish to reach your desired results.
Now let's look at the similarities
Athletes:
To be successful in any sporting competition regardless of the type of sport, training is of paramount importance.
Athletes will learn various techniques to hone their skills and talents in order to get when they want to be.
Affiliate Marketers:
The training at Wealthy Affiliate is designed to help you learn how to build a business online based on your niche and learn to build a website from that.
As Premium members you have over 120 lessons plus the weekly webinars along with all the additional resources and trading from other members to help you.
You learn all the added techniques to hone your online marketing skills be it a beginner to a more experienced marketer.
Athletes only have a small certain group of support you have thousands of members to help you at any given time 24/7.
Athletes and Affiliate Marketers
To be successful in the sporting field or within the field of Affiliate Marketing you require certain attributes.
Here are some of the attributes both required to go forward in their fields of choice.
Athletes:
To be the best Training is required to achieve the best scenario they can have to succeed.
An Athlete will do various forms of training both physically and mentally.
They want to train as they know it is the best and most efficient way to go forward.
They will continue with the training and as new techniques develop, they will learn these as they can see the added benefits that can and will improve their skill levels to a higher standard than those who just do the basic training.
When they do, their personal achievements will be higher.
It will help them want to do more as they can see their success moving forward.
Affiliate Marketers:
To be able to be successful online you will also need to learn how to build a solid foundation for your online business.
The best and really only way is to have the right training available to you.
One that will add more new features to give you that added edge over others in your field (think of the outside competition in Affiliate Marketing from what you have here within Wealthy Affiliate training)
To be successful online you have the want to be successful and as you go forward you feel the personal success at each win when you achieve certain tasks and goals set.
Such as completing a training lesson, completing the tasks given, writing content, and having it published.
Athletes:
Athletes have the determination, drive along with having the right attitude.
As a result, they are willing to put in the hard work and effort to be the best in their field.
Affiliate Marketers:
As you want to be successful online you also will have the right attitude, determination, and drive.
Don't you want to be the best in your field?
Athletes:
Athletes also have a Niche.
The sport they have chosen be it Swimming, Athletics, Skiing, or what other sporting fields.
Regardless if it is a Winter or Summer sport.
This might be known in the Affiliate world and a very broad-based Niche.
Yet like Affiliate Marketers athletes select a more specific niche that is more focused not just for them but also for that certain group of people who loves that particular sporting event.
For Example, the 100 M Sprint, 100 m Swimming, Team events for a particular length of the race.
They are all specific fields they have chosen and some who know more and are capable of more as they develop can add more events to their skill levels.
Affiliate Marketers:
You too have a broad niche but here you are also focusing on a particular niche that is also focused on their specific group of people the only difference between the two is you are helping your readers to find a solution to their needs.
Your example can be Health which we know is far too broad but you can bring this down to say keeping healthy with using weights for those over 50 and even then you hone deeper within that.
Just like the athletes who have already developed further along their sporting journey so can you as an affiliate expand more within your selected health niche as you become more authoritative in your field.
Whereas the Athlete will tend to focus more on themselves as individuals or as a team but as a sidenote will please their particular specific group of people to be happy with want they are looking for along the way.
This specific group of people could be enjoying the entertainment, the excitement of being able to see their favorite sporting stars and enjoy their love for the sport.
For the Affiliate Marketers, there is a slight variation compared to the Athlete who may be more focused on themselves.
Here the Marketer is not focused on themselves but more on the readers that come to their website to find a solution to their needs.
Think of "Helping not Selling" with this part.
As you can see both Athletes and Affiliate Marketers need to have the same attributes.
This is having the right determination, putting in the hard work, effort, and drive to be the best in the field.
This one I left for last as I feel is the most important attribute that both the Athlete and Affiliate Marketers have a need in order to be successful in their own fields chosen.
FOCUS


The Key to Success as an Affiliate Marketer or as an Athlete is to Focus on the task before them.
Without focus, regardless of what you do it will only delay, hinder and even create failure along the way.
Affiliate marketers need to be able to focus on the specific task at hand just like an athlete needs to focus not only on training but also when they start their race.
Usain Bolt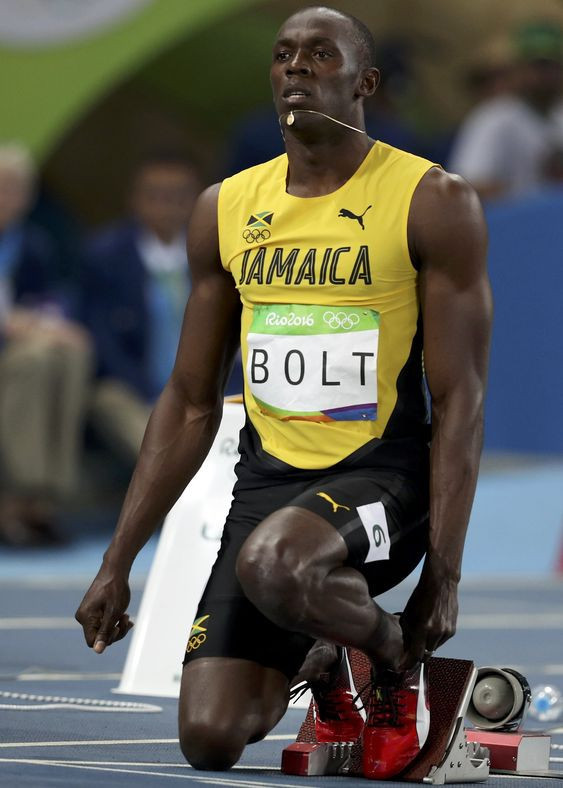 Look at Usain Bolt who I am sure everyone has heard of within the Athletes field.
The same with other athletes,
During training, they are only focused on the training at hand when they are about to start the race, and even before they start there are only two things in mind.
That starting gun, and then move into final mode the final end that finish line.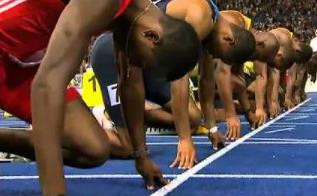 There is nothing else that matters to them.
They may look at the competition before the race to study them but when it comes down to the wire they don't exist even though there are right next to them.
Their Heads are down and only focus on the starting gun and when they look up only look at the end goal in their life that Finish Line.


Nothing else matters apart from the start and the finish.


When their task is done then they can look around and rest and relax and either celebrate their success or go back to the drawing board and re-think their strategies.
Affiliate marketers:
We know you are not in a race but do you have the determination, willingness to work hard, and have the right attitude and ethics?
And most of all attributes do you have the right focus to achieve what you set out to do.
That is to build a solid foundation for your website online with your specific selected Niche in order to help your readers achieve what they are seeking to solve their problems or find a solution they need.
However, there is one thing that can either separate the athletes from attaining that goal compared to many affiliate marketers and that is the focus.
Like Athletes as Affiliate Marketers, you don't rest when that particular piece of content is done and publish you continue to strive to achieve more and continually write those awesome posts you are very capable of.
We all came to Wealthy Affiliate in order to learn the best way to earn money online.
How many are still focused on becoming successful online or are you hindering your opportunities.
I would love to hear your comments below along with what is hindering you from being focused to achieve your desired goals in life with Affiliate Marketing.

Apache1's Posts
163 posts