Readability is The Key to Success Both Here and In The Wider Internet
Last Update:
June 19, 2021

What defines good content.
It depends on who is asking and what they want. If, for example, sake, we asked Google, they will unanimously say that they are looking for;
Long-form 1000 word plus posts
original material.
In-depth,well-researched, and presented topics.
Audience first focused content.
No spam or duplicate content.
The average user ( that's you and me ) is looking for something completely different.
Please take me to the punch line ( answer my question ) without me having to wade through screeds of content.
Shortform content that I can consume on my phone.
Easy to read and understand content.
I don't really care if it's copied or duplicate content as long as it provides me with what I am looking for.
Not too concerned about grammar, punctuation, or spelling as long as I understand.
It appears that there is a canyon between the expectations of the controlling platforms and the users. Who wins? In the current ecosystems of the internet, it is the ones that control the flow of information that win hands down!
As users, we are looking for information delivered in the best form, the best resonance, via the best channels so we can use it to create outcomes and benefits.
What is the best content, and what defines it.?
I started my search in Wealthy Affiliate, looking at the top ten posts, which are a rolling snapshot of content posted on the platform by members. Posts enter and leave the top ten roughly on a 24 hour period, depending on the level of engagement ( some stay longer, some dissipate ). The table below may raise a few eyebrows! It perhaps flies in the front of expectations and perceptions. They are the average of a two-week period; like all averages, they give a snapshot. By removing the outriders ( the high and low counts), we get a view of content that is being shared on the platform.

I know what you are thinking; way north of total nerd geek Alex, get a life, you need help, poor chap, do you have any friends at all.
In reply, Excel can be a nerd's best friend, lol.
For posts in the WA top ten, the average word count is 235 words, the average number of people engaging is 15, average comments 34, and likes 21. just let that soak in. These figures were derived by taking the top ten stat's and running them through a spreadsheet, which was then averaged, to give the figures.
I know what you are thinking, but hey Alex, some posts get way more comments, likes, and engagement; I know, for example, one post had 29 people turn up to the show and received 86 comments and 31 likes; if we observe the stat's remain relevant. The outrider is due to the comment trail out, where a mini conversation starts within a comment thread; they don't add value but are more a sharing between individual members, so were not included in the results. We can observe that effect without having to go into in-depth.
Some members are challenged by their perceived lack of ability to create results; if you can't make it in a closed ecosystem, what hope is there for me in the wider internet. One of the keys is observing and analyzing what's happening without getting a dose of " they can do it. What's wrong with me syndrome"; I digress.
Different platforms, different strokes.
There is a huge step up from short-form to long-form content; some platforms are suited to short-form and others to long-form. Google and its supporters will be screaming long-form is king there is no other way success is determined by your ability to create content in long-form. Currently, I am exploring a niche where the average post length is 300 to 400 words; they are canning it. Long-form on some platforms is not a runner.
I follow a number of content creators, some internet gurus, wildly successful entrepreneurs who create content right down to folks who are just starting their online careers. There seem to be three aspects that affect engagement and creating a successful presence. These are directly related to the ability of the creator to deliver these consistently. Most create deliver using a mix of the three.
Readability.
Viewability.
Hearability.
Part of the gig was looking at content from the wider internet and internet communities. There had to be a point of linkage, one variable that stayed true and constant. It can be hard to draw definitions. We have content from the top creators right through to posts on Facebook and their ensuing comment threads. ( some of those can be downright scary). With WordPress, there is a communal linkage in that readers can, in most cases, post comments on the content that they consume. Some threads add real value to the content; here again, if we omit the outriders that comment on a post about coffee machines that are from someone in the MMO niche extolling the virtues of their latest make money by lunchtime program; we can get an average. WordPress is the center of the blogging universe for a good reason and continues to be so.
When we observe all content, one of the interrelated values is readability. For content creators, this can be the key that not only gets your foot in the door but also creates engagement, trust, loyalty, and, most importantly, conversions. It is the one thing that can skyrocket your online endeavors.

What is readability in laymen's terms;
I have just read your piece of content, and I don't get what you are trying to say. I understand the topic because I am interested in it, I understand the terminology. To counter, I re-read some of the sentences and, halfway through, lose my way. Reading the text is hard work; I spend a lot of energy reading the text; this is low readability.
One of the best ways to counter overcomplicating your writing is to remember that saying, "write like you are having a conversation with one of your best friends," we are writing to communicate ideas, opinions, and advice, to teach, to express, and describe. We want to do it in such a way that we are understood. A low readability score could be like having that conversation, and then halfway through, your friend starts speaking a different language; say what, friend. Or closer to home; "hubby is explaining to wifie how he's going to fix her problems," neither are on the same page.
The above are examples of low readability; on the flip side, content across the board can have high readability. The readability score; is a measurement of the ease or not of reading or consuming content. The score is calculated on a scale from 0 to 100, using the Flesch reading ease test. It is one of the most common grading scales. The scores are calculated using formulas. ( there are numerous readability score scales and checkers, this is one of the more widely used).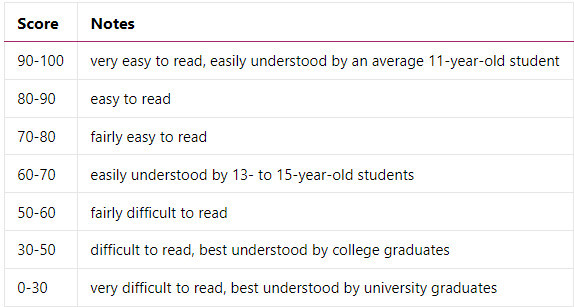 If we go back to the stats observed in WA, we see that the average score, using an average of top ten posts for a period, is 79, and on this scale, we would put the text at " fairly easy or easy to read."
Does this mean that easy to read text generates more engagement?
Looking from the sidelines, one could conclude that it does. Answering the question may not be so simple. There are many aspects to consider; when we look at Wealthy Affiliate, it is a closed ecosystem, so perhaps the same values can not be applied. We have to look at our own experiences, observations, and actions when looking at the wider internet regarding our engagement.
There is one leveler when making and forming an opinion; if it's hard to read, hard to view, or hard to listen to, what do we do; vote with the click of a mouse commonly expressed as bounce, and the number of folks that do the same compile the bounce rate. High bounce rate and the station master concludes that the content generated is subpar and that, in turn, this affects the ranking and otherwise of the content being presented.
If the content is hard to consume, I am quicker than jumping jack flash when leaving said content. We want to achieve the widest appeal possible with the content that we are generating. As we know, for content creators, it is a numbers game; the more folks that consume your content, the higher the probability that people will follow through with actions.
The apex positions are created via ;
The two go hand in hand and are great chums; the signature dish is quality content. Going back to the start of this post, what does Google want, and what do internet users want?
I think we have the answer for all concerned.
Thank you for reading this far and staying with me ( I have skewed the stats with this post; 1533 words; back to the drawing and conclusion board, lol ); what are your thoughts? Please feel free to share your thoughts and insights.
Alex Evans
AlexEvans's Posts
579 posts