Don't Fear The Fail!
Last Update:
September 11, 2021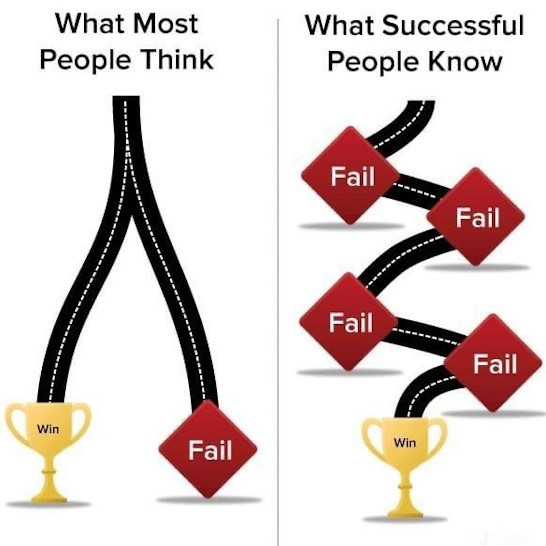 Don't Fear The Fail
First off, I'll tell you a little bit about what has been going on with me the last week or so.
I have been spending most of my time working on content and my site.
The last couple of days I've had a little glitch going on with my website.
So, I reached out to support and they suggested that I change themes to see if that would solve it.
I was hesitant, however, last night I bit the bullet, backed up my site, and switched themes.
I found one that was really customizable, which I was looking forward to.
In saying that, I worked most of the night learning the new theme and customizing it.
Everything was going really smooth, right up until I was about to be finished. (about 7 am by the way)
That's when it happened, I decide to see what it would look like with the content background being very very light grey.
Then when I went to the block editor, everything was black.
Mistakenly, I thought that I could just go change it back to clear and it would go back to normal.
All be it, that was not the case.
Somehow changing the content background, altered the CSS code of the theme. (By the way, I don't know why that option was offered, since it seems to cause this)
I tried to figure out how to fix it for a while.
Nonetheless, I don't really know CSS and I had been up all night, so I decided to go the start over route.
I got my backup file uploaded to the theme again, and to make a long story short, I accidentally caused it to happen all over again!
So being new, I thought I could just redo it all over again, boy I was wrong.
When I got to the point of logging into my website, I got the error message "access denied."
I contacted support again and found out that since I deleted the site more than once, I have to wait 24 to 48 hours before I can log back in.
At first, I was tempted to get discouraged.
Then after stepping back and thinking about it for a little while, I looked at it as an opportunity to write more content and get some more of the training done (maybe I should learn some CSS?).
To get back to the point of failure and not fearing to do so.
It made me think of the story I heard, from what I thought was Edison.
So just to be sure I looked it up, and here is what I found at (Quote Investigator).
Quote Investigator: The earliest evidence QI has located for this tale was written in 1910 in a comprehensive two-volume biography called "Edison: His Life and Inventions". The anecdote was told by a long-time associate of Edison's named Walter S. Mallory. Edison and his researchers had been working on the development of a nickel-iron battery for more than five months when Mallory visited Edison in his laboratory. The key dialog below has been highlighted with boldface [WMTE]:
I found him at a bench about three feet wide and twelve to fifteen feet long, on which there were hundreds of little test cells that had been made up by his corps of chemists and experimenters. He was seated at this bench testing, figuring, and planning. I then learned that he had thus made over nine thousand experiments in trying to devise this new type of storage battery, but had not produced a single thing that promised to solve the question. In view of this immense amount of thought and labor, my sympathy got the better of my judgment, and I said: 'Isn't it a shame that with the tremendous amount of work you have done you haven't been able to get any results?' Edison turned on me like a flash, and with a smile replied: 'Results! Why, man, I have gotten a lot of results! I know several thousand things that won't work.

So, to sum it all up.

Failure shouldn't be looked on as a bad thing.

It is actually the best way to learn.

A lot of the most successful people have failed many many times before the finally succeeded.

For example "Babe Ruth" who some people consider to be one of the greatest baseball players of all time, was also known as "the king of strikeouts" for many years.

In 1923, he struck out 93 times, however he still hit 41 Home Runs.

So again I say, "Don't Fear The Fail" learn from it and keep moving forward!

Here's To Everyone's Success :)

Zach