The WA Credit System – How to learn and earn with Wealthy Affiliate
The WA Credit System – How to learn and earn with Wealthy Affiliate
1. Cash Credits:
Cash credits carry a value of $0.50 USD each. Wealthy Affiliate uses Cash Credits in their Affiliate Program and pays content creators that publish inside the platform.
So, Wealthy Affiliate teaches you about affiliate marketing in your initial stages and enables you to earn as you progress as a marketer.
There are at least four ways in which you can obtain Cash Credits.
1.1. Ways in which you can obtain Cash Credits:
Here you will learn everything involved in the process of obtaining these Cash Credits.
First, there is a distinction made of the earnings that come from referring others to Wealthy Affiliate. They are called Affiliate Credits. However, they are exactly the same as Cash Credits. So, having said this, from here on, they will be treated as Cash Credits.
So, let us dive into these four ways you can earn Cash Credits:
1.1.1. By refereeing others to WA:
When you promote Wealthy Affiliate on your site, and somebody signs up through your link, they become your referral.
What does it mean to sign up through your link? Wealthy Affiliate provides each member with exclusive links. They are called affiliate links. Imagine you place one of these links on your post. Anybody that signs up after clicking your link will become your referral.
To take a look at some of your affiliate links, click here.
Besides the general affiliate links provided above, every post and training has an affiliate link. You can share this training that you are reading right now on social media using your affiliate link. If a person clicks your affiliate link and joins WA, that person is your referral.
How do you find the affiliate link to any training or post inside WA? You must go to the top and search for the "affiliate" button. In the picture below, you can see the location of this button.


The most natural way this works is that you build a site related to affiliate marketing. And you leave affiliate links to Wealthy Affiliate on your site. The Affiliate Bootcamp has seven courses on this subject. To take a look at the Affiliate Bootcamp, click here.
Wealthy Affiliate offers lifetime cookies. That means that if a person clicks on your link and joins many days later, that person will still be your referral.
You do not need to be a Premium Member to gain referrals at Wealthy Affiliate. If you want to check how many referrals you have up to this point, click here.
Every time a person clicks on one of your affiliate links, they can join Wealthy Affiliate free. If you are a Starter Member (free member), this is the commission structure of what you will earn:
Initial $19 offer, Commission = 8 Affiliate Credits ($4 USD)
$49/mth, Commission = 22 recurring Affiliate Credits ($11.25 USD)
$359/year, Commission = 175 recurring Affiliate Credits ($87.50 USD)
If you are a Premium Member, this is the commission structure of what you will earn (100% higher commissions):
Credits: If the person that joins through your link sets up his account = 2 Affiliate Credits ($1 USD)
Domain Purchases: 2 recurring Cash Credits ($1 USD)
Initial $19 offer, Commission = 16 Affiliate Credits ($8 USD)
$49/mth, Commission = 47 recurring Affiliate Credits ($23.50 USD) $359/year, Commission = 350 recurring Affiliate Credits ($175 USD)
Referring others to Wealthy Affiliate is easy, and it is a great way to earn Affiliate Credits (that are the same Cash Credits).
Note: Did you know that you can also get referrals through the posts you upload directly here in Wealthy Affiliate? Most think that you can only earn referrals through links on your website.
So, let me explain what you should do to get referrals by uploading posts here at Wealthy Affiliate. First, do keyword research for the title of your post. It has to be about affiliate marketing (obviously). Then research and write helpful content. Finally, publish on your WA blog.
How does it work? How can you earn referrals that way? Your post will get ranked in Google. Somebody searching for that keyword may read your post. And afterward, accept to join through the WA pop-up invitation. That's it! That person is your referral!
1.1.2. When people that you refer to WA purchase a domain:
You can only earn credits like this if you are a Premium member. Probably you noted when we were explaining the commission structure for a Premium member that when your referral purchases a domain, you earn two cash credits. And that can be recurring. If every year your referral renews his domain you earn those two cash credits.
1.1.3. By creating training at WA: at Wealthy Affiliate, you can take courses and learn. But you can also create training and teach others. As you build your site and gain experience as an affiliate marketer, there will be helpful discoveries that you could share on Wealthy Affiliate. And the platform will reward you for that information.
You can only create training if you have been Premium for at least three months. Before that time, you may have little to share because you are learning yourself. In some cases, people that have background knowledge about affiliate marketing join Wealthy Affiliate. But they also have to wait these three months to share their first training.
To get rewarded for your training, it must fulfill the following criteria:
- Must be relevant to online marketing and of high quality.
- Must be engaging, have likes, lots of views, and comments.
There is a Level System that indicates if a training qualifies for Cash Credits rewards. When you create a new course, it starts at Level 1. As people engage with your training it moves to Level 2.
Once it has entered level 2, an actual person on the Wealthy Affiliate team evaluates your course. The evaluator decides if it deserves Cash Credits. Not all training that enters Level 2 earn Cash Credits. If your training is approved, you earn 10 Cash Credits ($5 USD). Revision and approvals take place once or twice a month.
When people continue to engage with your training, it continues to advance in the Level System. When it reaches Level 3, you receive 20 additional Cash Credits ($10 USD).
And the process goes on when the training reaches Level 4. You receive 30 additional Cash Credits ($15 USD). Looking at it from another angle, by the time course reaches level 4, you have earned a total of 60 Cash Credits ($30 USD).
To move from one level to the next, other members need to engage with the training. Engagement is calculated based on views, likes, and comments. To go from level 1 to level 2 requires less effort than from level 2 to 3 (and so on).
If you have already created training and want to check which level it is in, you must go to your profile here at WA. There, click "Training," and the level will show below each course in the form of a progress bar. Take a look at the picture below.


You can also see how much it needs to advance to get to the next level. Please look at the picture below.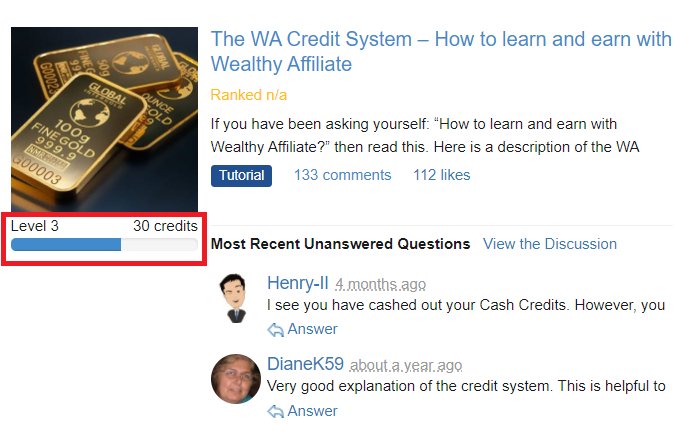 1.1.4. By leaving Comments on SiteComments: Wealthy Affiliate gives you one Cash Credit for every two comments you leave on SiteComments. If you leave eight comments, you receive four Cash Credits.
However, Wealthy Affiliate has another form of credit too. We will enter into details further on. But we mention this here because, besides Cash Credits, you also receive the other type of credit when you give comments on SiteComments.
Do you want to start earning Cash Credits by giving comments on the sites of other members? Click here to go to SiteComments.
To comment on other sites, be sure to click on the "Offer Comments" button, as seen in the picture below.


1.1.5. By buying Cash Credits: You purchase Cash Credits on your Credit Dashboard. To go to your Credit Dashboard, click here.
You must search for "Buy Cash Credits," as seen in the picture below, and scroll the tab to the right in correspondence to the amount of Cash Credits you would like to buy. Then you must click "Buy for…"

No one of us will try to obtain anything he cannot use. So, having gone through quite a few ways by which you can get Cash Credits, now we're going to take a look at how you can use these Cash Credits.