The WA Credit System – How to learn and earn with Wealthy Affiliate
The WA Credit System – How to learn and earn with Wealthy Affiliate
1.2. Ways in which you can use Cash Credits:
Once you have earned or bought Cash Credits, there are quite a few ways you can use them. We must remind you that when we say Cash Credits, we also refer to Affiliate Credits.
1.2.1. By cashing out through PayPal:
This is a great way to use your Cash Credits.
Imagine you invited people to join Wealthy Affiliate, and they have become your referrals. Or they have purchased a domain, or even your training got rewarded with Cash Credits. Where can you see your credits? They all appear in the Credit Dashboard. To take a look at your Credit Dashboard, click here.
Now, the most asked question: How do you cash out? First, you must set your "PayPal Email" and "Minimum Payout Threshold." To do so, you must click here.
Then go to the bottom until you see "Payment Settings." Insert your Paypal Email. Be careful to write your email correctly. .) And set the Threshold. The minimum Threshold permitted is $10 USD. After these have been set up, you must return to the Credit Dashboard by clicking here.
Go to the section that says "Exchange Credits for Cash." Scroll the bar to the right and then click "Exchange for…"
Payment will be delivered to your PayPal account on the first day of the next month.
Wealthy Affiliate has remained true to this. I can praise this based on my own experience with the platform. Every first day of the month, Wealthy Affiliate sends the exchanged cash credits to my PayPal account.
The only requisite is to request the exchange before the month ends, in PST time.
For example, it is Jan 31th, 11:30 PM PST, and you request your cash credits. You will receive them the next day.
Another example. It is an hour later, Feb 1st, 12:30 AM PST, and you request your cash credits. You will receive them a month later, on March 1st.
At the time I am writing this training, we are in February. Here is a screenshot of the payments I have received from Wealthy Affiliate into my PayPal account on the first day of the first 2 months of this year.




November 2021 Update: it has been almost four years since I wrote this tutorial. And Wealthy Affiliate keeps paying the first day of every month, smooth and precise, like a swiss watch.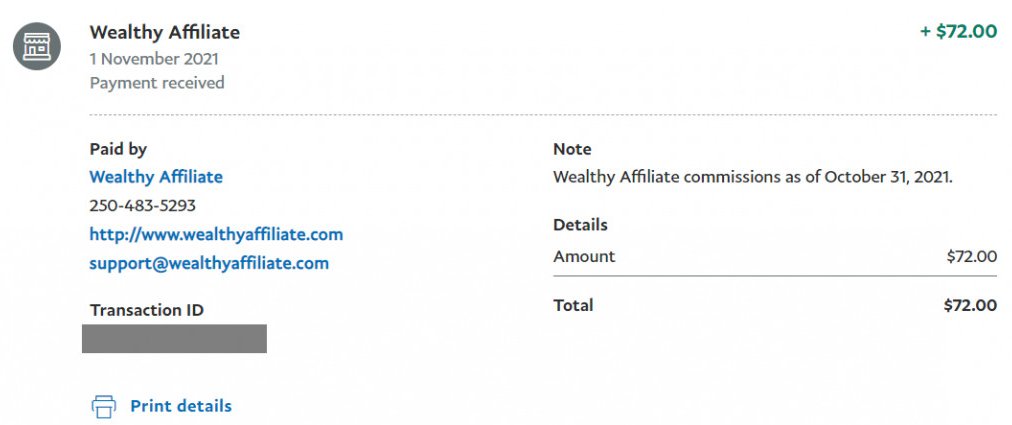 1.2.2. To request SiteComments or SiteFeedback:
Comments and feedback are very important for your site. Before you start getting comments from regular visitors, Wealthy Affiliate helps get the ball rolling by sending members to your posts or pages through a platform called SiteComment.
A regular visitor would not want to leave the first comment on a post but will feel encouraged to comment after seeing the post has a lot of comments.
You can also receive feedback from other members through a platform called SiteFeedback.
You can use your Cash Credits on Site Comments or Site Feedback. Each comment or feedback will cost you 2 Cash Credits.
Important Note: You need to have your site hosted with Wealthy Affiliate to use Site Comments or Site Feedback.
To use your Cash Credits on SiteComment, click here.


To use your Cash Credits on SiteFeedback, click here.


How can you get comments if your site is not hosted on Wealthy Affiliate? Click here to read how to get them.
1.2.3. To Register Domains using SiteDomains:
You can also purchase your domains using Cash Credits. If you have found a good domain name and have Cash Credits, you go over to SiteDomain right now. To purchase your domain using Cash Credits, click here.
You can also buy domains at Wealthy Affiliate using money from your PayPal account.
1.2.4. To pay for your Wealthy Affiliate membership:
This is an option that will come in handy for many. To pay your Wealthy Affiliate monthly (or annual) membership, go over to the page that shows your current Billing Plan. In the option "How would you like to pay?" select "WA Credits." And that's it! :)
PD: You have to have enough "WA Credit Balance" (this may be obvious, but just in case). ;)
Besides Cash Credits, the WA Credit System has another form of credit called Community Credits. We will learn about it too.