BIG Affiliate Opportunity in T-3 Days.
Last Update:
November 22, 2021

Hey folks,
We are THREE days away from this year's Black Friday event here in WA and the excitement is starting to spread within the community. We are not only offering our lowest price EVER for both memberships, we are offering some amazing "never seen before bonuses".
But this is just part of the overall opportunity. There is a SIGNIFICANT opportunity for each and every person here at Wealthy Affiliate to cash in on this offer through our affiliate program and our highest payout weekend of the year.
So, today I want to offer you some marketing ideas for the upcoming Black Friday offer.
Black Friday Offer Details...
Dates: November 26th, 9:00AM - November 29th, 11:59PM
Offer: $299 Premium Yearly ($289 off), $499 Premium Plus+ Yearly ($689 Off)
Who It's Available to: EVERYONE
This year we are going to be offering our lowest Black Friday pricing ever, bringing back the $299/year for the Premium membership, and lowering the Premium Plus+ yearly down to $499/year.
This is going to allow more people to take advantage of the Premium Plus+, making it feasible and within reach of a broader audience...along with the "lowest price ever" pitch, this is going to lead to more sales overall and more people upgrading to both memberships.
We have some brand new bonuses this year, and we think they are going to really push more people to buy that are not triggered by price alone.
We have two levels of bonuses, depending on the membership that is chosen.
Premium Black Friday Offer ($299/year)
$289 discount off regular price
Bonus Classes: Building a Business in 2022 and Beyond. 2 Experts, With Jay & Kyle
Access to EVERYTHING with Premium.
Access to ALL Premium Classes in 2022 (over 52+)
Access to ALL Wealthy Affiliate Updates in 2022, and we have lots slated.
Our "Forever Pricing" Promise.
Premium Plus+ Bonuses ($499/year)
$689 discount off regular price
Bonus Classes: Building a Business in 2022 and Beyond: 7 Experts with 7 Blueprints in 7 Days
Access to a Brand New "Beta" Keyword Research Tool
Access to EVERYTHING with Premium Plus+
Access to ALL Premium Classes in 2022 (over 200+), and all past Premium Plus+ classes (over 250)
Early "Beta" Access to Future WA Platforms
Access to ALL Wealthy Affiliate Updates in 2022, and we have lots slated.
Our "Forever Pricing" Promise.
We have recently released a coupon platform, which has turned into a significant project for us as it will serve many uses moving forward. We are going to be taking advantage of this new platform with this year's Black Friday offer.
How it works: People will see an advertisement at the top of WA. They can click a button to take them to the Black Friday order page, or they can click "learn more" to read our official blog post where the offer is explained. On the billing page a coupon discount is automatically applied to their order, offering a discount.
There will be a $289 off coupon for Premium which is a discount on the monthly pricing. And there will be a $689 off monthly pricing for Premium Plus.
Premium members will be given coupons for both Premium and Premium Plus. On the billing page they have the opportunity to "Make it Premium Plus+".
Getting Your Affiliate Links
Conventionally, the flow was to send people to an external Black Friday page leading up to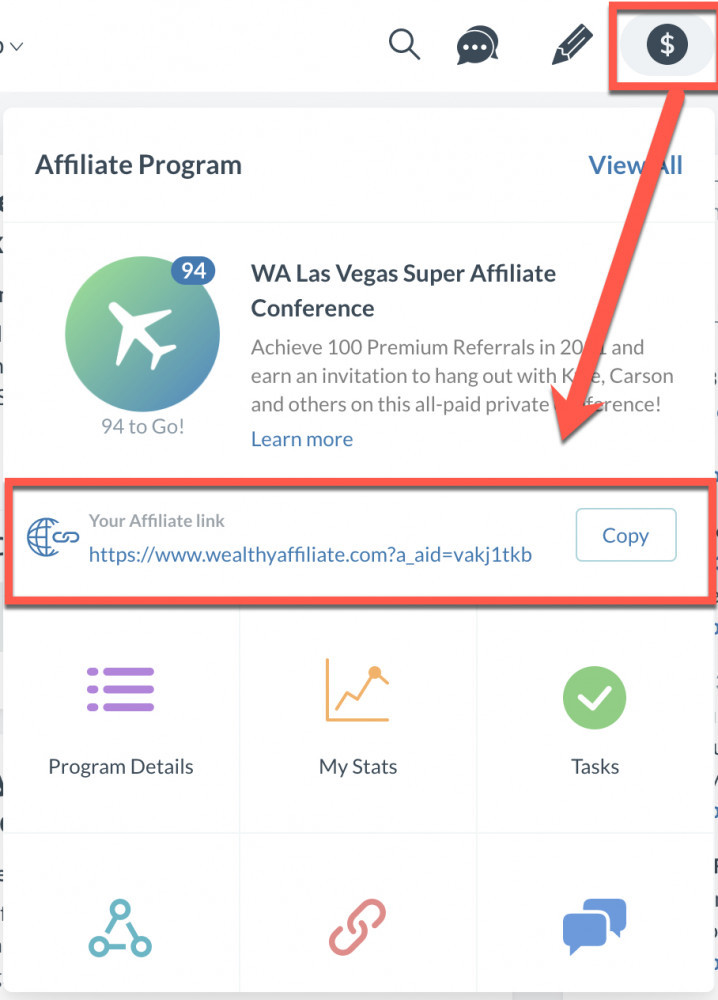 the offer. Now you can simply send people to WealthyAffiliate.com through your affiliate link.
Replace YOURID, with your affiliate ID or you can simply click the $ icon in the top header to grab your affiliate link directly.
===> https://www.wealthyaffiliate.com?a_aid=YOURID
There is already Black Friday branding directly on the WealthyAffiliate.com homepage. This will update WHILE the offer is taking place (November 26th - 29th, 2021) with appropriate wording. So if you want to promote this offer to people that are not yet members, you can simply send them to your normal affiliate link and they will see appropriate branding.
There are also new banners that you can access, you will find them on the Affiliate Banners page under the "Black Friday 2021" drop down.
https://my.wealthyaffiliate.com/share/banners
There are some banners there that you can leverage on your website, your social media platforms (Facebook, Instagram, Twitter, Pinterest), and your blog posts that you post here or on your website.
Commissions Galore!
Black Friday is always the biggest pay day of the year for affiliates within Wealthy Affiliate, but it is also an opportunity for newcomers to the platform to generate their first few commissions, in potentially earn their first $1,000/day online.

Here is a breakdown of the commission structure for the 2021 Black Friday Offer:
Premium Yearly $299: $130/year Recurring Commission
Premium Plus+ Yearly $499: $220/year Recurring Commission

To put this into perspective, let's look at a few scenarios.
If you can make 10 PREMIUM sales, you will have $1,300 recurring yearly.
If you can make 10 PREMIUM PLUS+ sales, you will have $2,200 recurring yearly.
If you can make 100 PREMIUM sales, you will have $13,000 recurring yearly.
If you can make 100 PREMIUM PLUS+ sales, you will have $22,000 recurring yearly.

You can see this adds up quickly, and we know this year there are going to be several affiliates reaching 100+ sales!
Marketing Strategies to Cash In on This Offer...
Alright, let's jump into some marketing strategies and techniques that you can leverage to take advantage of this offer. There are three different approach that I want to outline, first being people that you know, second how to generate new referrals, and lastly how to promote to your existing referrals.

Let's have a look.
1. Selling to People That You Know
First and foremost, if you know of anyone that is remotely interested in building a business online or that would love to do something they LOVE and build a business around it (no experience necessary), you should absolutely be sending them details of this offer with your corresponding affiliate link.
You could even showcase what you have accomplished thus far, and offer them "help" alongside their membership. It is free to get Started of course, so the barrier to entry is minimal and they can "try before they buy".
So the first approach is to let family, friends, co-workers, or any acquaintances that you know about this offer so they can take advantage of it (and at the very least get a free Starter membership).
And here are a few other promotional strategies that you can leverage leading up to and during the offer.

2. Attracting Brand New Referrals.
Here are some ideas that you can leverage to attract some brand new referrals to Wealthy Affiliate, which subsequently they will naturally be offered the Black Friday deal when they join (and when the offer hits).

New Blog Post on Your Website Outlining the Offer. Create a "Black Friday at Wealthy Affiliate 2022" post and publish it as soon as you can, with instructions on the upcoming offer and how to take advantage of it. You could then potentially send PPC traffic to this page as well.

Hit Your Email List. If you have an email list, you can let them know about the upcoming offer, and you can send them a link to join Wealthy Affiliate in advance to take part in the offer.

Facebook Cover Photo Updates / Social Posts. The first thing you should do is update your cover photo, and add an affiliate link within the comments. You can see mine here, click on the cover photo (background photo) to see the promo links I have added.

Also, leading up to and during the offer you can actively post on your social media platforms letting people know about


Youtube Video Outlining the Offer. If you have a Youtube following you can take advantage of this by creating a promotional video for the offer, or you could create and publish a Youtube video that you post to your website to further detail what the offer is, and how to take advantage of it.


Add Black Friday Banners to Your Website. You can leverage the banners that are available, and link these to your affiliate link. You could put them within a side bar widget, and also leverage them within a blog post on your website where you announce the WA Black Friday offer.
3. Promoting the Offer to Existing Referrals.
Blog Post on WA (several). Remember that when you blog here at Wealthy Affiliate, it will automatically notify ALL of your referrals via email. This serves as a "blast" to your list of referrals in essence.


Be active within the community during these 4 days. Make sure you are on top of support with your referrals, pop into chat and start a discussion, and offer assistance (and encouragement) to anyone that has questions about Black Friday or joining
Lastly, Take Full Advantage of the Offer...
You, as a member of the platform and community here are going to be able to get a STEEP discount on your current membership. If you want to take advantage of this offer, you are just a few days away from being able to take full advantage of this offer.
So stay tuned, and make sure you jump into Wealthy Affiliate this coming Friday so you can take full advantage of these offers!
---

There you have it. This was a bit longer winded than I intended it to be, but if you have any questions about any aspect of the Black Friday 2021 offer, please let me know and we will be happy to help you out. :)
Wishing you big success with your promotions this Black Friday, we are as excited for it as we are every year and anticipate a big weekend for you as a WA Affiliate!
Wishing everyone a brilliant year ahead, we have a lot to look forward to as a community and platform at WA!
Cheers,
Kyle