9,000 Referrals Came Through My Links.WoW!
Last Update:
December 15, 2021

Hey guys and gals! I hope you're having a great day!
I just wanted to share something amazing with you guys, just to show you that if you put in a lot of work and effort into it, it must produce results.
Since I started my Bootcamp site, I have managed to help 9,000 people to find their way to WA.
In other words, 9,000 people have said yes to my recommendation and decided to check out the program, community, and all the great perks of WA.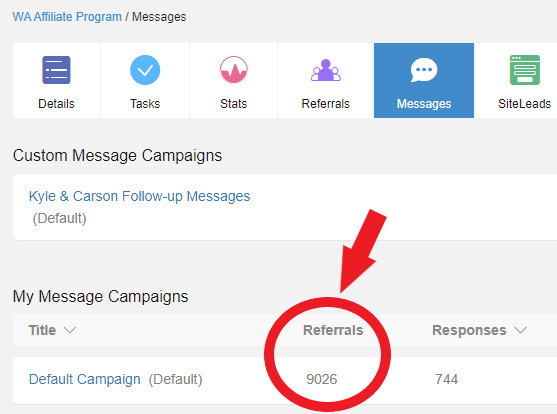 I remember when I was starting out the Bootcamp site, there was a discussion where Kyle asked us what it is that we want to be great at...
My answer was, I want to be great at helping people to find their way to WA.
And after a lot of time and effort invested into following his instructions from the Bootcamp training, I believe I can say, mission accomplished!
Now, this is not the end of the road, of course. It is just the beginning.
But I wanted to share a bit of motivation with you guys in case you are just getting started and need some inspiration.
WA works!
Whether you are working on your own niche site or Bootcamp site, set your goals, decide what it is that you want to accomplish, create a schedule to work on your site every day, get in the zone, and don't let the pedal off the metal!
It may take some time to get results, but don't worry. Even Rome wasn't built in a day!
The first few months are the hardest. However, once Google starts indexing your site at a faster rate, you will start getting traffic, and then, it is a downhill ride from there :)
You've got everything you need to make it happen right here at WA!
You have access to the best training, tools, and a super-helpful community. Those are three key ingredients for success.
So keep working! Keep hustling! And best of luck!
Your friend,
Ivan :)
PS: If you're on the fence about Wealthy Affiliate Premium membership, here's a little push on the right side! Upgrade today and start working on your site like there's no tomorrow. Your future self will thank you for it ;)

IvanBroz's Posts
53 posts