Downgrading from Premium Plus
Downgrading from Premium Plus
Last Update:
April 28, 2021

So, if you are tempted to try out Premium Plus for a month, and then downgrade again to standard Premium membership, there is one thing you need to be aware of.
As a Premium Plus member, you can have up to 50 websites hosted here, but as a standard Premium member, it's only 10. What happens if you should happen to build more than 10, while a Premium Plus member and then downgrade?
Not knowing the answer, I asked Kyle in Live Chat, and have added a screenshot of his reply below. Probably an unlikely situation to occur, but you never know! Somebody might be over-enthusiastic and go on a web building spree, and then be surprised when they can't continue to host them here!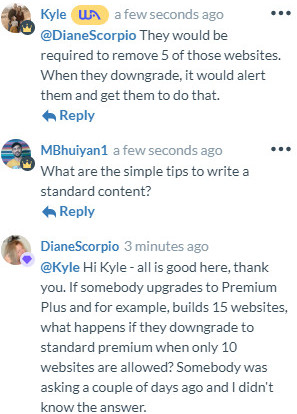 DianeScorpio's Posts
125 posts