Las Vegas 2022 (+ The Secret To Getting There)
Last Update:
February 08, 2022

I recently got back from the WA Super Affiliate Conference in Las Vegas & now that I'm (just about) over the jetlag, I figured I'd publish a quick post to share a little bit about what went down.
Plus, I'll also share the secret to getting there 😊
So yeah, to begin with, it's safe to say that the conference was a little bit different this year what with COVID & everything... But thankfully we still ended up having a blast all the same.
I'll admit though, it was certainly nerve-wracking with all of the testing & whatnot beforehand. Especially since this was actually my first trip since COVID actually hit back in 2020.
And I feel for those who didn't manage to make it, due to restrictions etc.
But one thing it sure did do was make arriving into the hotel room feel WAY more pleasurable. Not just because the rooms Kyle & Carson book are epic, but because of the inner "woohoo" feeling of actually making it after jumping through so many hoops & over so many hurdles.
Anyway, as I've been to Vegas quite a few times now, the first thing I did the morning after landing (before the initial meetup) was get off the strip & do some kayaking in the Colorado river. Specifically, at a place named Emerald Cave (pictured below).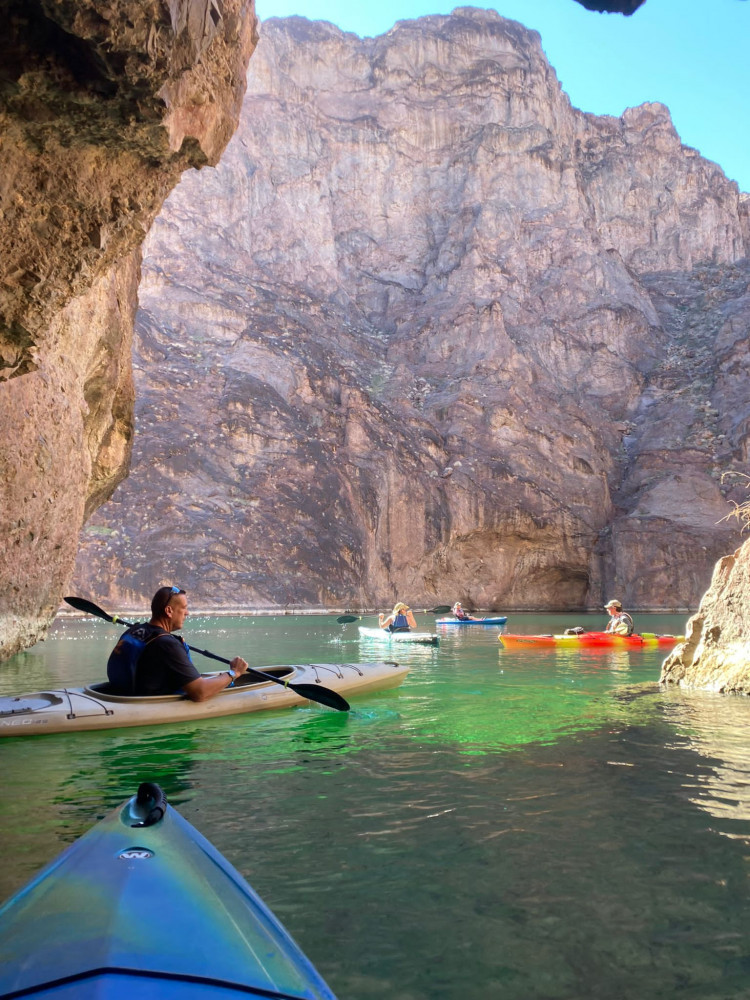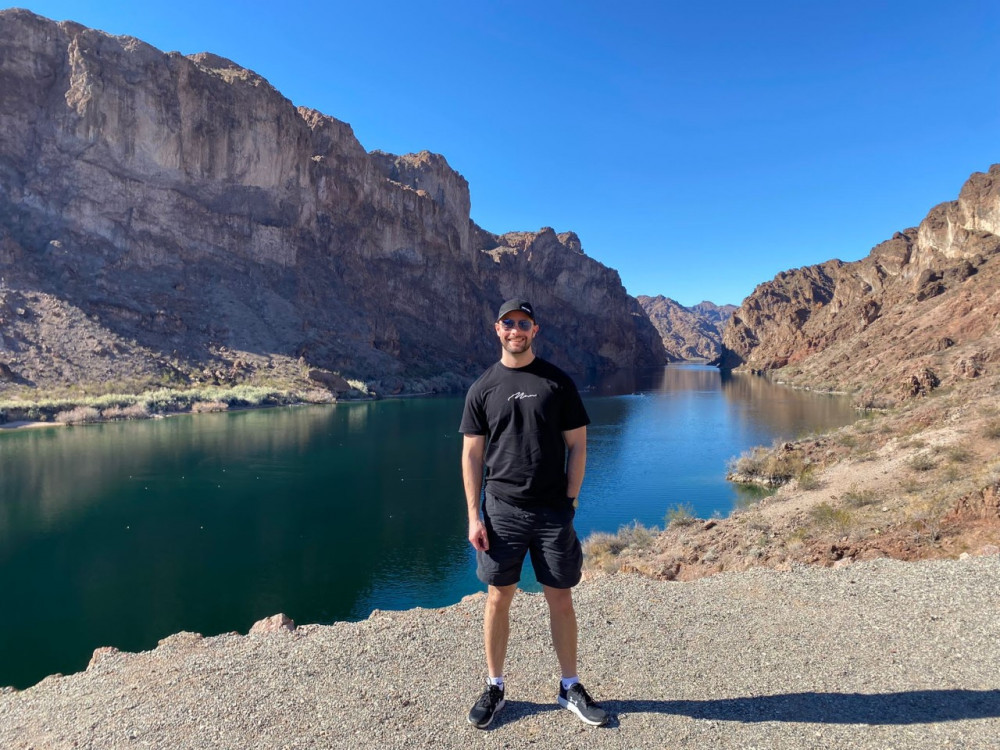 ...and let me tell you, it was epic.
If you go to Vegas, you NEED to hit up Emerald Cave on a kayak. It was only about a 1hr drive from the strip & the weather was absolutely perfect. I've never seen water so clear in my life!
After getting back from the kayaking, there was time for a quick meal before heading up to Kyle & Carson's suite for the meet & greet. It was great getting to see familiar faces again after so long, having some drinks, some food & chatting about business.
Then, from the next day onward it was time for the meetings... And I have to say that this year, I feel the discussions were amazing. I think that the fact we had been apart for 2 years meant that there was much more energy and many more new ideas.
In short, I believe there are some GREAT things to come... And I'm seriously hyped about them.
In terms of activities, we dined at a steak restaurant one day, we went to watch a hockey game another & on the final night we were treated to some amazing Asian food.
It's funny because it was only a couple of months ago that I tried my first ever Asian dish & so I was a little nervous about the menu, but every single item was absolutely delicious.
I could eat it all again in a heartbeat.
Now, this is the point where I have to apologize because this year I was really bad at taking photos. In fact, I don't think I got a single one! I think we were all just so engaged in conversation that nobody really took out their phone. Or at least I didn't, anyway.
One other photo I did get, however, was of this dessert I ordered: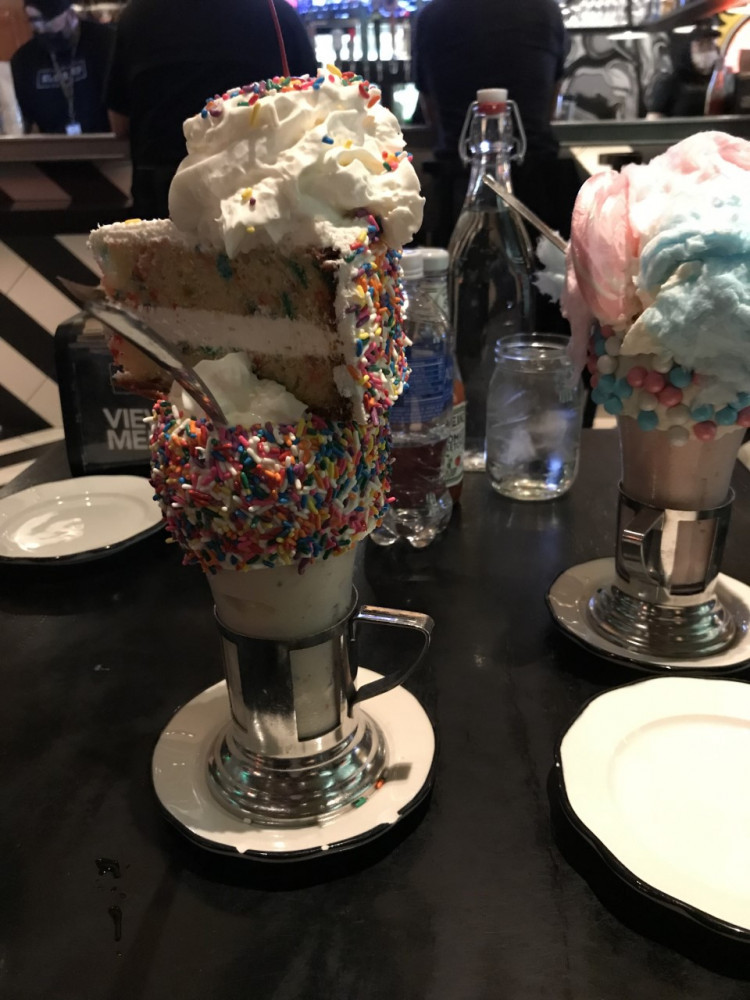 Maybe it wasn't jetlag I was recovering from after all, LOL.
Anyway, at the start of this post, I promised that I would share the secret to getting to Las Vegas with you.
So what is it?
Well, timely enough, when I got back from Las Vegas & logged into my WA account I was presented with this little popup over my dashboard: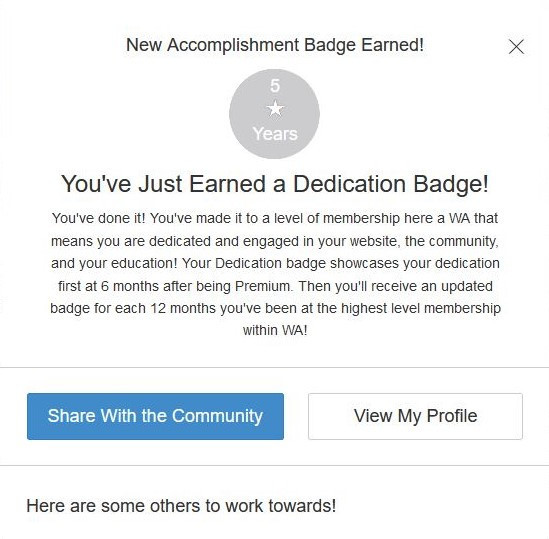 It's a dedication badge, celebrating 5 years at WA... And that's the secret.
Dedication.
Whether you want to achieve the Las Vegas conference, whether you want to build a thriving business in another niche, whatever you want to do... All you need to do is dedicate yourself.
Don't be one of those lame-o's that throws in the towel after a month!
Stick at it, and you will succeed.
I'm looking forward to the next time already.
And of course, I'm looking forward to all of the amazing updates that are soon to come.
P.S. you should be too 👀 it's all exciting stuff!
So once again, I apologize for the lack of photos but thought I'd share a little insight into the conference all the same... And hopefully, some of the other guys have some cool pics to share soon :)