Live Chat Tips - Revised
Last Update:
November 04, 2020

Hey WAmily,
It's certainly been an interesting couple of days here ;-)
One of the changes to the new UX for the Wealthy Affiliate Platform, is to do with Live Chat.
Apart from the menu location changes, a few members are struggling with the font size, and the fact that you can't pause/easily scroll through previous messages.
The workaround, is to open up Live Chat into a window of its own.
At the moment, the link to do this currently does not exist within the new UX, but it is on Carson's list :-)
To do this, you can click on the link below, and then add it to your browser's bookmarks.
https://my.wealthyaffiliate.com/live/conversation/home
To find my previous post about Live Chat, and the tips, you can click on the link below, as these are still relevant for the full-screen version of Live Chat.
For updated locations, please refer to the image below.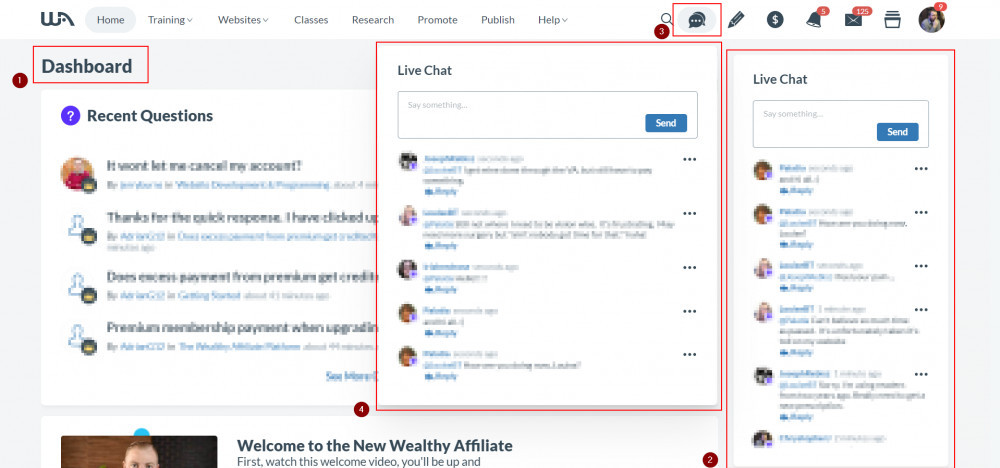 From the Home Page Dashboard
You will find Live Chat on the Right-Hand side.
From Any Page, you can click on the Chat Icon in the Top Menu
To open a slide out Live Chat box
Hope you enjoy the rest of your week :-)
ChrystopherJ
Premium Plus
ChrystopherJ's Posts
135 posts