Be The Tortoise Not The Hare - How CONSISTENCY Wins The Race
Be The Tortoise Not The Hare - How CONSISTENCY Wins The Race
Last Update:
June 09, 2022

I am a Stalker in our Wealthy Affiliate (WA) community. In that role, I observe a lot and learn a lot more.
One of the key things I am able to discern is who is going to go the distance and make this investment opportunity work and who will not. In so doing, one of my favourite Aesop tales always comes to mind.
The Tortoise And The Hare
---
For those of you who do not know the tale, here is a brief extract.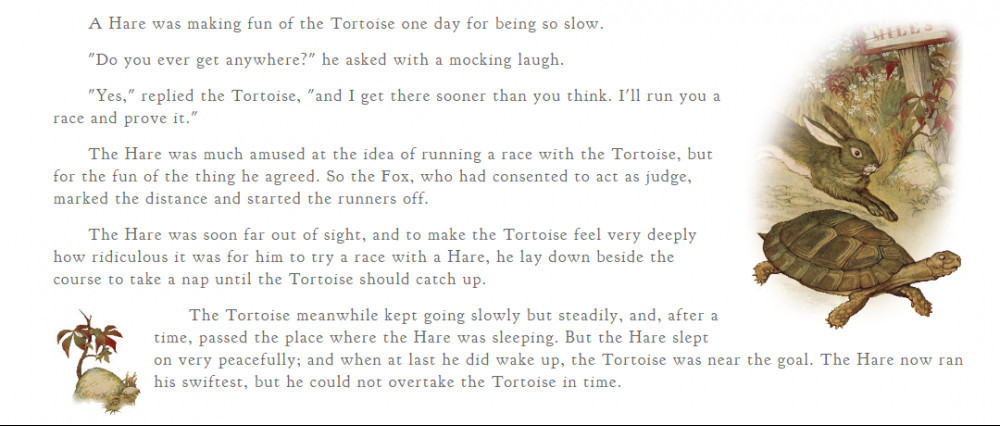 Courtesy of the US Library of Congress
The Race Is Not Always To The Swift
---
Every day, I observe new WA members beginning their journey, hurriedly diving into the training and announcing that they have completed it in a week or even a few days. They immediately start talking about how quickly they are going to start earning money and getting to Vegas.
I quietly pull back, take a deep breath and observe.
In quick time, they either disappear or start complaining about "how hard this THING is". Then, even quicker than they shot off from the starting gate, they give up and exit.
On the other hand, having followed members like Lisa, (@LMH1968), and Edwin, (@EdwinBernard), I can also tell the members who will slowly and steadily, day-in-day-out, push through all the struggles and start welcoming success.
They do so quietly and without fanfare. Simply taking the training step-by-step, reaching out for help when needed and, most importantly,
being consistent with their efforts.
Rome Was Not Built In a Day
---
Like every new initiative, it takes time to learn, understand and experience. And your experience will be different to everyone else's. Their success or failure may not be yours.
Build your business the way the Romans built Rome - one brick at a time.
Remember the tortoise and keep walking forward, slowly, steadily and firmly, one step at a time. Do not rush it.
Remember:
You may not get it the 1st or 2nd time - try again.
You will have failings but you will only become a failure if you give up.
Work in and on your business every day - whether it is 15 minutes or 3 hours, show up and do something.
Seize all the opportunities that come your way.
And, do not measure yourself against anyone else's achievements. Blaze your own trail and build your own unique Brand by following these 3 easy tips.
We are all here rooting for you and supporting you.
Cassi
CassiOfTroy's Posts
343 posts