Better every day, Day two Blog.
Last Update:
September 19, 2021

Good morning everyone, here is my day two getting better every day blog for WA. The photo is my friends kitchen I helped remodel. One of my other friends did the cabnets, complete with LED lighting under the upper cabinets. I did the bar, arches, drywall texture and painting. OH, and the floor. I somehow got talked into doing all three of those arches. Never made arches before so I just made it happen.
That place was a mess when I first started on it last summer. It took us about 3 months to rebuild the kitchen, bathroom, the two bedrooms. Another crew came in and stucco the outside, what a big difference that made on how the inside of the house felt tempurature wise that is.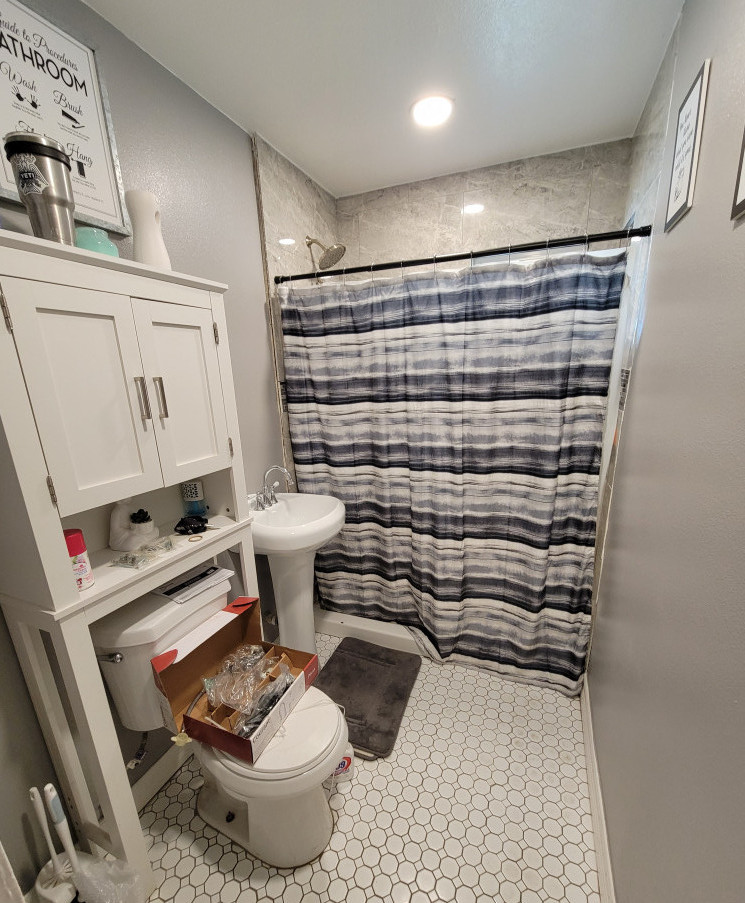 And here is the bathroom, used to have an old metal tub in it. When I removed that, the wall was rotted clean throug so good thing we put the shower pan in there. I tilled the floor, and the shower after adding new wood and hardybacker to the walls. For giggles and grins I had a five gallon bucket of bright green paint left over from another job and I used that paint as a primer for the bathroom for I redid all the walls in here. My friend had his parents believing he was leaving it that color. OH we had fun with that. I send pics to my friends via text and said, I have a new asian girlfriend, can you tell. Hahaha. It was a young asian teenager whoes room I painted that was were the paint came from. His parents loved the color, until I painted the walls with it. So I still got some very bright lime green paint if any of you need to brighten up your room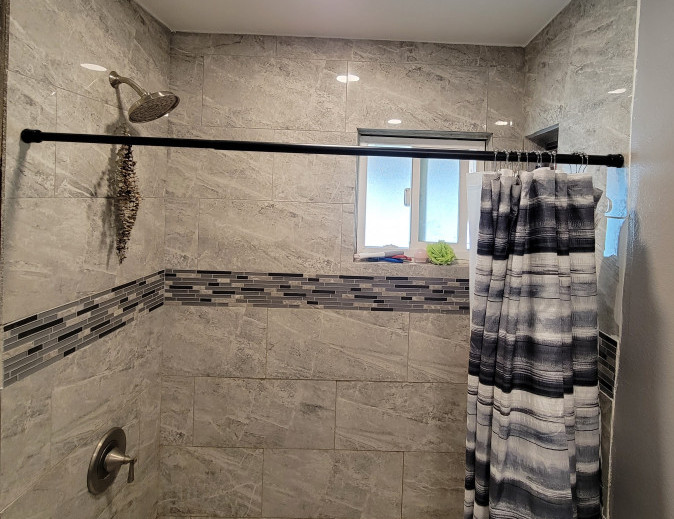 Well, there we are looking at the shower. That bathroom feels so nice now after all the work is done. Thankfully his parents live just down the street so him and his lady were washing up at Ma and Pa's house for a few days. Getting the drain working was a real challange to for when I removed the old bathtub the old cast iron piping had rotted out. One whole day just beating out cement and digging down to find a good chunk of pipe to hook onto.
And just like there, here I am having to learn and figure things out thus my new WA bloging gig as I call it. Today I am using my phone again to create this post via the Dex feature for Samsung phones and projecting this onto my TV and working with a keyboard and mouse. I am mainly learning at the moment how to get these photos out of my phone and into these blogs, and at the same time getting them where I want them in this blog. So now I have proven to myself that I can do it on my laptop, and now on my phone. Maybe tomorrow I will try using my tablet.
So here is an old dog learning new tricks.
Now off to church, I have a video wall to build and operate.
Have a super Sunday everyone.
Scott.