Need a break? Try JOMO!
Last Update:
June 29, 2021

Yesterday I did a blog post on the Fear of Missing Out (FOMO), a concept that many may have not been too familiar but some agreed that we all may experience from time to time.
Can JOMO be attained?
The opposite of FOMO is JOMO - Joy of Missing Out. You might ask, how can one find joy in missing out on something that most might find pleasurable or valuable?
Well....ideally, what others may find joy in doing, does not mean that you do as well. Therefore, JOMO refers to the pleasure of enjoying whatever you're currently doing vs worrying that others might be having more fun.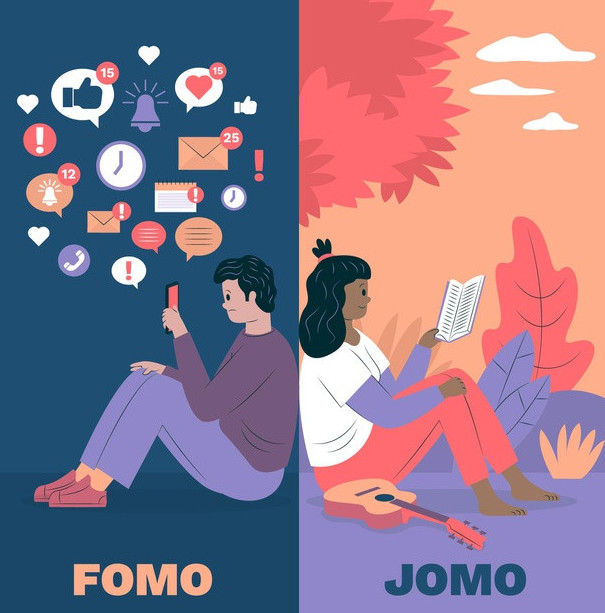 According to Cyberdefinitions, "FOMO is far more common than JOMO and an older term. JOMO has its origins in FOMO and came about as an antonym".
Psychology Today says that JOMO is the emotionally intelligent antidote for FOMO. In essence, being comfortable in your own happiness, doing and fulfilling your own life as you want it to be without comparing it to the lives and activities of others. It's amazing how our conditioning, life experiences and environment influence how we approach happiness and fulfillment on our own terms.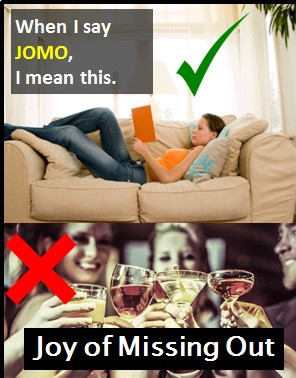 In an ideal world, JOMO might become second nature to most of us. However, the advent of social media, news feeds, status updates, memes and breaking news, have impacted our ability to truly find joy right where we are. The familiar adage 'the grass is always greener on the other side', becomes a reality and we find ourselves less happy with where we are and wondering about the greener grass across the fence.
Fortunately, as the antithesis of FOMO, the joy of missing out can symbolise the relief from the frenetic pace of modern life, the breathless and guild-laden need to be continually connected and switched on. JOMO allows us to stop and smell the proverbial roses and savour the aroma of being still in that moment and actually preferring to be there than to be on the greener grass with so many other hustling souls.
Proudly living life in the slow lane isn't so bad after all. There really is nothing wrong with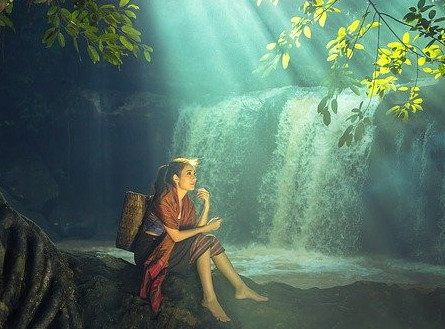 deriving pleasure from social exclusion sometimes. We need a break from time to time and it's ok to take it. Paradoxically, JOMO in essence might be considered a 'wellbeing concept' that allows us to take a step back, take off the shackles of overwork and mental exertion and simply turn the fear into joy.
At the end of the day, we might just find that JOMO allows us to reclaim one of our most valuable resources - time.
I appreciate you taking the time to read this blog post. If it has struck a cord with you, please feel free to comment below. I'd love to hear from you.
Cheers!
Maria
Brongsugah's Posts
61 posts