"My Girl"-
Last Update:
October 25, 2021

I began this blog last year, and had problems with picture uploads, so put it on the back shelf.
After the training tonight with Jay, I was encouraged to clean up some of my drafts and finish the blog. I'm getting much picture at the pictures so, we'll see.
Hello WAmily! I'm Michi, as in "amici", Italian for little friend.
August 13th, I left this world, and my Mom, Barbara.
Since then, Mom hasn't been the same. She's been stuck in inertia of inactivity, and lack of goals. Time for a change.
When Barb joined WA, 3 years ago, she found an amazing network of wonderful people and started following the training and suggestions of this family.
One of the best tips was from Alex, on writing. "Just write daily!"
Mom took his suggestion, and wrote 21 blogs in 21 days!
Another suggestion, from "I Remember Momma". ...Write what you know about, straight from your heart.
Those suggestions worked then, so Mom, ...try it again!
Write about ME! You"ve had a book whirling around, since Grandma passed way in 2013! Time to put some action into your dreams!

I hope to encourage Mom, by having her be my "ghost writer" as I could sing and dance, but never learned to write. I've been telling her to start somewhere, even if it's short and sweet, but write something, everyday!
Thank you, Michi! I heard you loud and clear, so here's a little tale about
"My Girl" Michi, the singing Malti-Poo!
Pardon, please, my morning half tonsil singing!
Michi and I started our journey together back in December 23, of 2008, a gift from my later to be ex-husband in 2012. Having just retired from teaching, I was free to take Michi with me wherever I went, and "Oh! The Places we've gone and the people we've seen!!"
By 2009, things began falling apart at home.
Enter teenage stepson! While living with mom, who worked, he wouldn't attend school.
Let's just have him live with us! Bad idea!
Now living with us, he still wouldn't go to school and do anything I asked. Soon he was beginning the same behavior! ...progressing to worse!
Imagine me, the teacher, having that living with this! Maddening!
He was i Spec Ed classes, but NOT mine!
He stole my watch which was a present, and a new well hidden DC player!
Dad just replaced them for me! He never made him comply, and blamed any disagreement on me.
Finally, after several very bad scenes, he went back to his mom's, where she simply went on-line and procured a high diploma, just as she had for her daughter. Geez...
Neither ex nor his ex, valued education, let alone simple discipline.
Soon began, David's (me 3rd ex) assignment in Japan. He came home 3 weeks for 3 times a year.
Travel time begins!
Mom had moved back to Michigan from California, so began our trips north from Texas!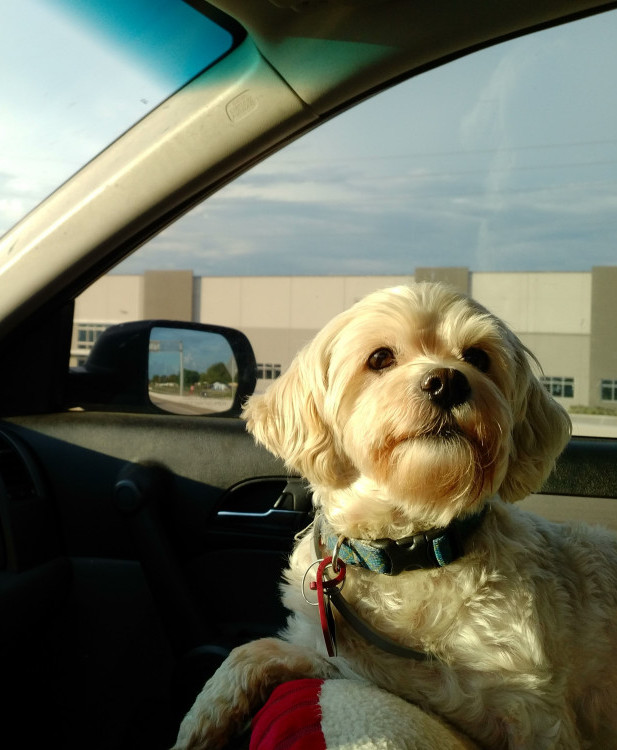 Whenever I started packing, Michi was right there. Action pack trunk, always meant a long roadtrip.
Michi sat atop my red "office" suitcase, and her matching red bed. She usually slept on the road, but when she wanted, she could take in the view!
Mom took me through my last couple of years of that marriage!

In 2013, she was going to move to Texas with me, until she "Fell and couldn't get up!"

Racing around to pickup, before the realtor was to show her house, she tripped over her Bose radio, which was her news connection. No TV in her house! I tried once, and she refused.
The fall, began her demise and also or monthly trips back to help.
Michi was Mom's favorite pal!
Once, I opened the back door, Mich would run right to the sitting room and jump on the couch to say, "We're here!"
Eventually, Mom went to a full care facility, that was dog friendly!
Now, when we got off the elevator, I let go of her leash, and she'd make a beeline to Mom's room, jumped on couch or bed, to again say, "We're here!"

When Mom passed away, Michi was bewildered, when we went to Mom's house.

No good smells from the kitchen, and nobody on the couch, made my Michi sad, as I was.
With Mom gone, travel to Michigan was out for awhile.
Travels West


Michi and I traveled up through Lubbock to I-40 or Amarillo, for Rte 66, depending on my mood.
Traveled to and through many states from Texas to Arizona, up to Montana and back through Washington, Oregon and down to SanDiego!
Headed to Carmel for cousin's wedding, and then on to Michigan once, through Las Vegas, and on to Colorado, Nebraska...

Many wonderful hours with my special pal.

Michigan condo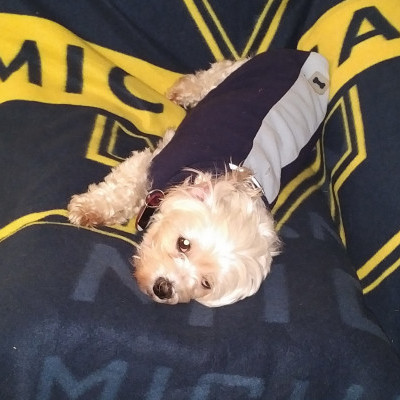 2016, I purchased a condo, back in Michigan, so again "We were on the road again!"
October 2017, while in my condo, a needing something to work on, I ran into WA!

The rest is history!

After 2 years of hassles, when I wasn't up there, I had to sell it, but WA began to take root!
2018, we finally closed, on a less than fair realty deal. That's fodder for another story.

Life happens
and we stayed put for a year, ... and then came Co-Vid!

4 Deaths in one year, ...My son's dog, Olive, right at the onset on pandemic, Michi, in August, sons's dad, October, actually today is the anniversary, and my step-mother, in December.


I needed an attitude adjustment!!
Enter Ginger
GinGin for short, ...
yes another Malti-poo!
Come Christmas time, I was emotionally spent!
Once, again, I bought my Christmas gift!
She's my new traveling companion!

She has years and miles to go, to catch up to all the states Michi visited!
My BFF, Suzanne, instantly fell in love, and 3 days later we were going to get Gracie.

She did go to Michigan, last July for my Band/Orchestra reunion, via Louisiana, and up through Mississippi, over to Alabama and the rest of the way to Michigan!

...Louisana trips with Suzanne and Gracie, too!
Well, I hope you enjoyed my memories of "My Girl" Michi and Ginger, "She's My Girl", now, for as long as I'm blessed to have her!

GinGin Dancing "She's My Girl"
GinGin and her best friend, Gracie!
Personal victory for this blog? Attaching videos and pictures! They are not the best quality as it's hard to dance and hold camera!
The closing songs...
"My Girl"-Temptations

"I've got sunshine on a rainy day

with My Girl..."

"She's My Girl"-Turtles
Wrapping up another post, number 92, Zoopie! LOL
Thanks all for stopping by! Always nice to have visitors at my Sandbox!
Best!
Barb

Brichnow21's Posts
104 posts