Know Why
Last Update:
April 26, 2016
Always remember your why.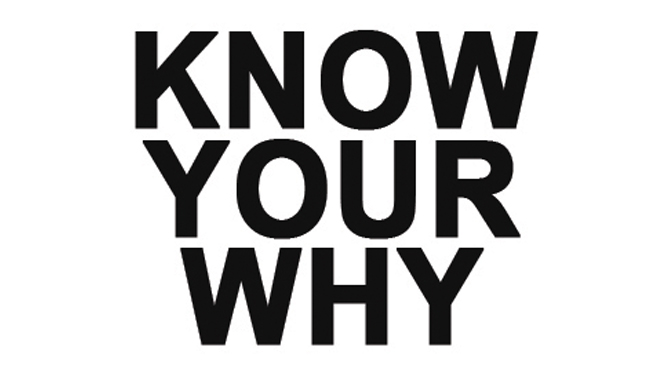 Remember why you are doing what you are doing. Without your motives you have no reason to do what you do. When you remember your why you'll be able to continually motivate yourself.


If you forget your why and lose your vision then you get no where. It'll be impossible.

Managing your thoughts will be the hardest thing you do all day. It'll be a struggle, and you might not be perfect at it, but you have to work at it. Other wise they could get the best of you.


I do what I do so I can defy average. I want to leave average in the dust. I don't want to be typical or predictable. That's no fun for me. I want to do things differently. I want to build and own businesses. I want to work for myself. I want to push myself to realize my full potential. I want to become my best self, and I want to earn top dollar doing it. I want to live a life most would only dream of. I also want to have more opportunities than most. This includes opportunities to give back.

What is your why?
What are you working toward?
Who are you working to become?
Do you do what you are doing with purpose?

Always work on having your head in the game so you can play at your best. Don't get sidelined by fear, or bulldozed by your competitors. Be you, and be your best you. That's what will make your happy, and that's who the world wants you to be. This path will not be easy, but it'll be worth it.

The daily struggle can only be successfully endured with an understanding of purpose, and a determination to work toward realizing a greater vision. A vision that excites you and moves you to act.

Know your why, do your best to manage how you see things. Don't give up. Keep working, and push yourself to move forward.
-Evan
---
Remember you can't start without your why, your purpose, your vision. It has to be the driving force behind what you do, and how you live.

TheGrizzly
Premium
Mar 31


2015
1
5
Years
TheGrizzly's Posts
98 posts