Escaping Inflation And Becoming Wealthy
Escaping Inflation And Becoming Wealthy
Last Update:
February 23, 2021

The target inflation rate for the US dollar is 2-3% per year. This is taken for granted as a "good" thing. I disagree, but whatever, I don't work at The Federal Reserve, so I'm not going to change anyone's mind. The best I can do is try to work within the system and leverage the rules to my advantage.
The sad thing is that inflation is destorying people's wealth, and most people are unaware.
What 2% Inflation Means To Savers VS Investors & Property Owners
2% inflation may seem like it's not a big deal, but compounded over time, it's a massive deal, and should not be ignored.
2% over 10 years means that your purchasing power is reduced by is 20%. In other words, what $100 will buy you today will be reduced to $80 in value after 10 years. You'll still have a $100 bill, but it'll buy you less stuff.
Now for the real kicker. Over 20 years that's 35%. Over 30 years, that's 50%. That means if you start saving money in your 30's, by the time you retire, whatever is in your bank account will be worth 50% less.
I'm pretty sure my grandparents would feel pretty rich if they had $1,000,000 in cash back in 1970.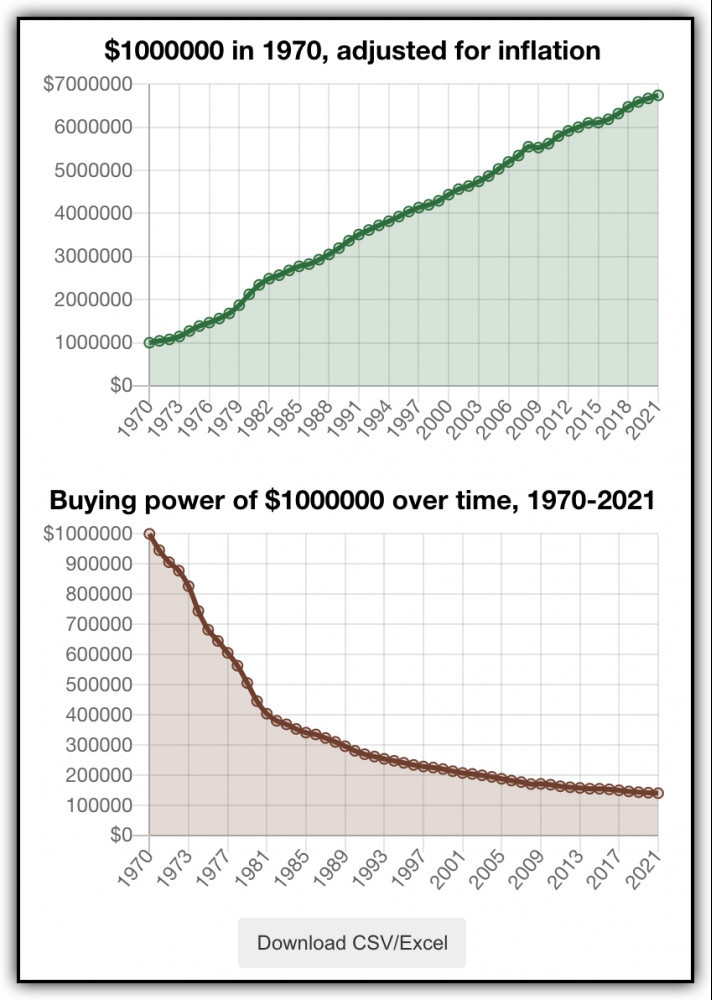 It's shocking to see, but that million bucks from $1970 has the same purchasing power of just $140,000 per day. While my Grandparent's could have retired very welathy with a million bucks, the truth is that today I could not retire even if I had a million dollars.
Long story short: saving money is bad. You need to invest it smartly to preserve your purchasing power.
Two of the smartest ways to preserve the purchasing power of your money is by investing in stocks and real estate. Stocks have historically returned 7%. Real estate is a bit more complicated, since it depends on where you live. Across the US, returns over the past decades have been around 1.5%, but in popular areas it may be betwene 5% up to 10%.
Either way, it's better than -2% which you get by holding cash.
Using Your Business To Escape The Hidden Tax Of Inflation
"Investing" is not limited to just stocks and real estate though. One of the smartest ways to invest money is to invest in yourself. In this case, I mean investing in your knowledge and learning how to build an online business.
Building your own business puts you in control of your income by giving you economic freedom. You set your own wage. You determine the value of your time. If you need more money to pay for stuff, you can just work more hours and make it happen.
The cool thing about owning a business is that as things get more expensive, you get paid more in "new money". Everyone knows that inflation causes the prices of things to go up. Instead of watching the price of ribeye take more and more of your monthly income each year, you get to watch your income from selling those ribeyes go up and up each year.
As the economy grows, your business will grow with it. When people start buying more stuff, you can start selling more stuff. Owning a business means you get to participate in the growing economy rather than sitting on the sidelines.
Even better, you can take that money you earn and then choose to re-invest it in the business by buying more assets (outsourcing content, buying other websites), and increasing your profitability over time. You could also choose to puchase alternative cash-flowing assets like rental properties or dividend stocks.
Don't Get Left Behind. Create Wealth With Your Business
Inflation is just part of the way our current monetary system works in the world. If your money is sitting in a bank in cash, it's losing purchasing power each year. It sounds crazy to say this, but saving money is losing money.
I receive daily emails from newbies who are concerned about spending $49 to join Wealthy Affiliate because they are not sure if it's worth the cost.
At the surface level, it's pretty obvious that $49/month is worth the tools that Wealthy Affiliate provides you. Hosting. Training. 1-on-1 support. Yeah, that's worth $1.50 per day. Less than a coffee these days (can you imagine your grandparent's paying $2.75 for a black coffee?).
At a deeper level, learning a skill that will help you keep up with the inflationary fiat economy and create true wealth is a hidden benefit I don't see talked about enough!
Nathaniell's Posts
300 posts