All In One SEO Update You Need To See
Last Update:
January 01, 2021

Have you seen the update? If yes, you can skip this post. I've just noticed the update last night so I thought I share it.
All In SEO Update You Need To See
Hi WA'ers! While most of you are celebrating your New Year, (mine's already ended) I'm sitting in front of my computer editing some of my blog posts I noticed that there are plugins that need to be updated, so I did. One of those plugins is the ALL IN ONE SEO.

After updating, I noticed that a new AIO SEO side bar is added. And it looks like this :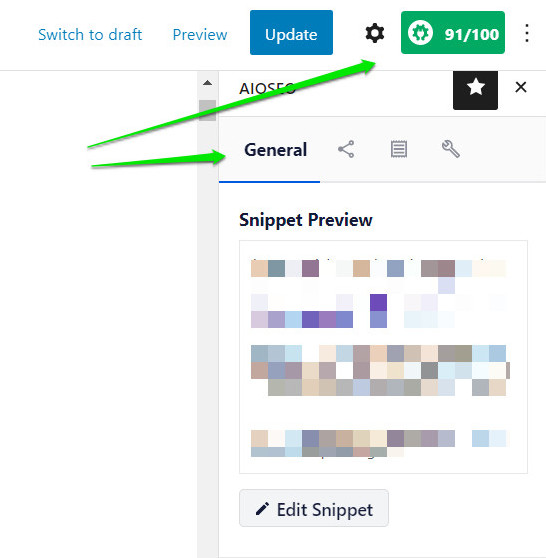 Before, the All In SEO section can only be found at the bottom part of the blog post, right?
Now, they created an easy access, which is cool I think!
But, it gets even cooler with the "NEW FEATURE"! 😎
All In One SEO's New Feature - TruSEO Score
If you look at the image above, you will see that there's a green box with 91/100 in it, apparently that's my blog post's TruSEOScore. And it is done by the checklists that they provided. Which are the following :
All In SEO TruScore Checklist :
Snippet Preview
Focus Keyphrase
Basic SEO
Title
Readbility
Snippet Preview
Let's use the above image again. Actually when I first check my snippet preview, AIO prompted me to edit it because it was too long for the allowed characters.
I'm aware that my snippet is long, but I didn't know that EVEN A FEW EXTRA LETTERS will hurt my SEO! So, lesson learned.
Focus Keyphrase
Focus Keyphrase is your main keyword.
Looking at the box, All In One SEO is actually telling you where you should insert your "focus keyphrase".
This is very important tip on how Google literally looks at your / our post for rankings 👍.
Therefore, this should not be overlooked.
Apart from Focus Keyphrase, below it is Additional Keyphrases, which I think refers to, supporting keywords.
This part is available for pro version. And unfortunately I only have the free version.


Basic SEO
Although, we already know SEO and how to apply it to our blog post, yet, there are some of us forget.
In this section, it's like, reminding you again where to put your "Focus Keyword". And for you to be sure that your Meta Description is under 160 characters, you have you Internal and External links in your post, and lastly, you Content Length.
Basic but essential.
So, to have a checklist "feature" like this... is really helpful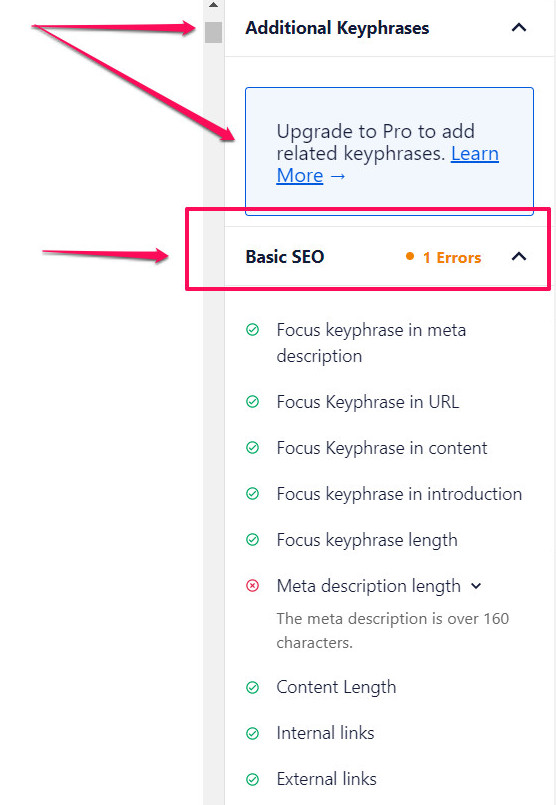 Title

This one will help you to remember that you should include your keywords in your Title.
And also, make sure that your title will not exceed to the maximum characters.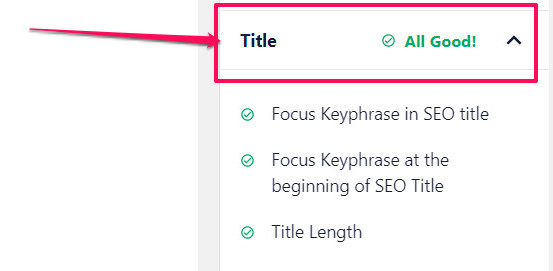 Readability
This checklist helps you to make sure that your blog post is readable. This is significant especially if you're writing a long post like mine.
As you can see, All In SEO - TruScore prompted me that my post has 3 errors that need to be fixed so my post will be 100% SEO optimized.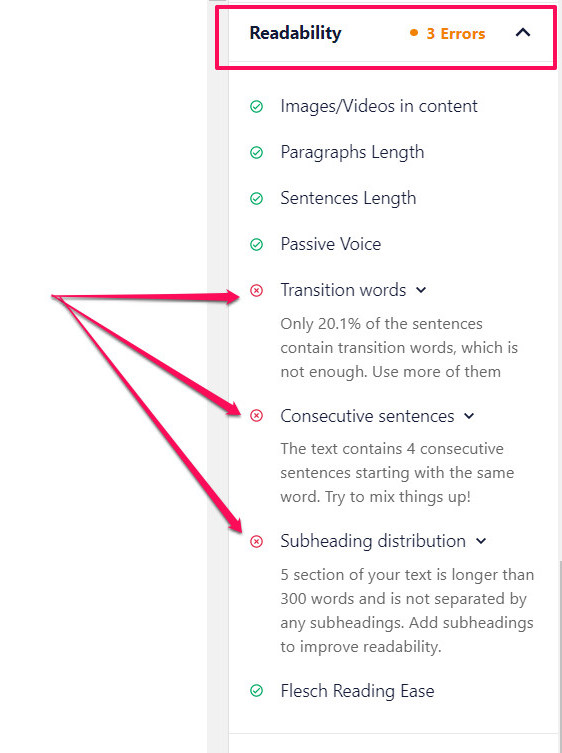 Conclusion
Personally, I like the new update. I think it is very helpful since, it lets you check your blog post for SEO right off the bat.
So, you can immediately make some changes right before you publish your blog post. Also, if you're using AIO you have a chance to review your older post for SEO using the All In One SEO - TruScore checklist.
OPTIMIZING YOUR BLOG POST MADE EASY WITH TRU-SEO SCORE.
Your Thoughts

Do you use All In One SEO too? Have you seen the update? How do you like it so far? Please let me know in the comments below.
AND...