The Crazy Week Behind Us, and the Exciting Future Ahead.
Last Update:
November 12, 2020

Last week we launched, unequivocally our biggest release to date with the NEW Wealthy Affiliate, and I wanted to just spend a moment updating everyone on the crazy week it has been. It certainly hasn't come without its fair share of hitches, ups and downs, and also accomplishments and breakthroughs.
When we sat down to re imagine and rethink what Wealthy Affiliate "could" be last year, our ideas evolved drastically. We wanted to create an environment that was more conducive to interaction, to getting help, and that is set-up for the advancement of ALL the tools, services, training, and support platforms here at WA.
This is just the beginning of the fun. We have an immediate few month game plan, but thinking on a broader scale, we already have projects far beyond the "idea" phase that are going to be integrated into the platform here at WA over the next two years.
And I want to start out by discussing exactly that. How evolution of a technology platform happens...
A Picture Doesn't Come Together in ONE Brush Stroke.
With every new platform, or launch we do, we like to treat it the same way an artist would a painting. You start with a blank canvas, and with every brush stroke you make it looks like a more refined painting.
The same thing happens with technology. With every iteration, the technology becomes more refined and more polished.
In the case of WA this will happen with each day that passes. We are rolling out changes at a speed that we have never been able to. In the infancy stage these are mostly bug releases and fixes, but as we transition into new projects, this is going to become paramount to the growth and evolution at WA.
Expect a lot of thought provoking brush strokes as push forward.
The Reception of the New Design BEAT Our Expectations.
Any time you make a design change, whether it is radical or not, people have the tendency to freak out. I know I do. I get into habits and particular work flows, and I don't really like those to be messed with! lol

With our recent changes here at WA, our goal was to improve the design and the overall function of WA through design. We have accomplished this in many respects, but we still have a lot we want to do (and will be doing), and many system refreshes coming.
Just as one example, blog posts here at WA. There has been new functionality built around these, as you can now comment and read ENTIRE blog posts directly from the dashboard. This has been well received, and it has lead to a lot more interaction.
Here is an example of what I am talking about.
However, the actual blog post if you click through it, look very much the same as the old platform. That is because they are. These are going to be completely refreshed and improved upon in the near future.

And here is an example of this UX that will be updated in the near future.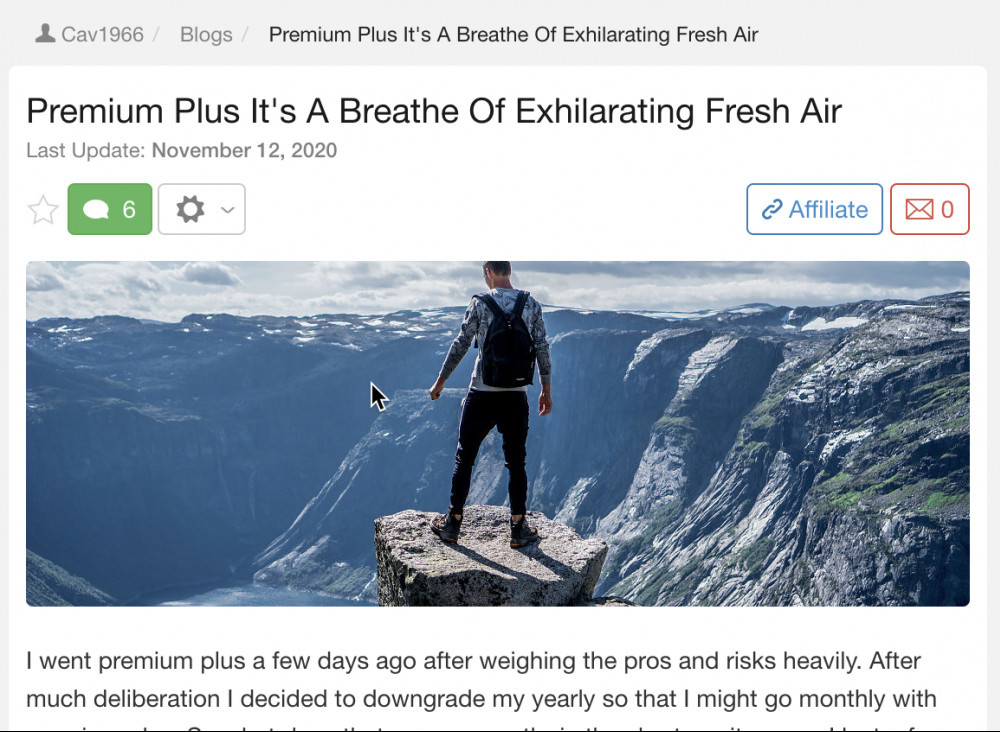 You are going to see this across the board, with anything that has not been refreshed quite yet. We are getting ready for a landslide of 2021 roll outs and refreshes here at WA. Every platform is going to be improved upon, refreshed, and in many cases reinvented as an entirely new platform!
A Few Very Busy Weeks Ahead.
We have a very busy few weeks ahead of us, and I know for all everyone within the online world we are scurrying around to get ready for Black Friday.
At Wealthy Affiliate this is typically our biggest event of the year, and this year it is going to be no different. You can expect some awesome stuff out of us again this year and we are really looking forward to the event.
It is a way to save, and also going to be a brilliant way for EVERYONE here to be able to monetize the Black Friday offer through the affiliate side of the promotion. This year is going to offer the biggest commissions ever, and we anticipate it being the most lucrative one or affiliates. More details to come on this.
Outside of that Black Friday rumblings, we are pushing forward quickly with bug releases (today alone we rolled out over 30 "fixes" and "improvements" to the platform). Expect updates and code releases on a daily basis, lots of exciting stuff coming.
As we mentioned in our initial blog post announcing the launch of the new version of WA, our platform is going to evolve and innovate at the fastest pace ever...putting YOU as the member at the forefront.
Acquainting Yourself With Premium Plus+
We have never been a fan of up sells. It is not how we do business, never have, never will. And Premium Plus+ certainly is not an "up sell". Rather it is a package of products that you would pay a lot more for if you were to purchase separately, and certainly if you purchased it outside of WA you would be looking at a MUCH higher cost.
The Jaaxy Enterprise and Hosting addition alone you could expect to pay $500+ per month through other companies out there. That's not to mention the over 200+ additional expert class that you get wtihin the Premium Plus+ membership.
You can find out more about Premium Plus+ and what is included in it here:

===> Watch the Premium Plus+ Video
Feedback thus far has been amazing from those that have bought the bundle.

The Premium Plus+ platform remains in line with our constant vision of keeping Wealthy Affiliate affordable for all, while offering the best platform in the industry for building a business. That is our goal and will continue to be our goal.
We Want to Thank YOU.
Lastly, but certainly not least we want to thank you for your patience through the first week and a bit here. There have been a few hitches, a few explosions...which we anticipated. We are working through them with efficiency.
Things like issues with notifications, live chat, a few dashboard hitches, and some small issues with the classes UX are already in development and will be rolled out in the coming days and week ahead.
We are completely aware, and as mentioned above, today alone we rolled out 30 updates to the platform. This is a regular occurrence on our end, and part of the fun of running a technology company. :)
As always, we appreciate you! We have never been more excited about the future here at WA and the future for the community!