Recalibrating
Last Update:
April 10, 2021

Hello Wealthy affiliate friends.

I hope you are all well.

It has been way too long since I wrote a WA blog. This is just a brief post to get me back on track again.

I have been feeling a little lost lately - paddling upstream the wrong way - life became a little stormy and blew me off course with my training and progress here.

The wind direction has changed and I have now reset my compass. I am going to head back down stream to refresh on the course and navigate my way to the next port to discover what opportunities there are to be found there.
I have stayed strong and true to myself through the stormy weather and held those close to me safe. My anchor has held for sure and connecting with the Wealthy Affiliate community at times during that turbulence has helped to keep me focussed and determined to progress.


"Your personal values are the best compass for your unique journey."
Chris Hutchinson,

I trust in life and what it presents me with and the faith I will find my way through it.
"You must navigate by means of your own natural compass."
"And if my compass is broken?"
"Then you must learn to compensate. Sail a little crooked, make adjustments, but you must set your own course, or the journey is meaningless."
Kathleen Tessaro

I know now is the time to reset the compass and recalibrate with renewed strength.

"Every direction the ship sails will only lead to the wrong destination faster if the compass is faulty or not calibrated correctly.
Recalibrate your life. You have been built for greatness."
Emmanuel Apetsi

The journey continues to new seas...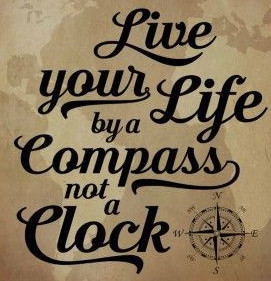 Any words of wisdom to stop me going overboard are welcome

Until next time
Stay safe and well everyone
Tracy



IamTracy's Posts
38 posts