Back to search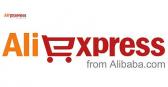 AliExpress is an online international marketplace created by Alibaba.com. On AliExpress, buyers from more than 200 countries and regions order items in bulk or one at a time-all at low wholesale prices. We now feature more than one hundred million products supplied by more than 200,000 Chinese exporters and manufacturers. AliExpress Affiliate Program will greatly compliment affiliate websites in apparel, jewelry, home & garden, electronics & accessories and other consumer niches. Deep linking is now permitted. International Service: AUSTRALIA, BRAZIL, CANADA, DENMARK, FINLAND, FRANCE, GERMANY, GREECE, HUNGARY, INDIA, INDONESIA, ITALY, JAPAN, KOREA, REPUBLIC OF, MACAO, NETHERLANDS, NEW ZEALAND, NORWAY, POLAND, SPAIN, SWEDEN, SWITZERLAND, UNITED KINGDOM, & UNITED STATES.
Program metrics
AliExpress (Global) Affiliate Program Review (1)
Guest
Rank 157713
VickeyJack
Rank 29334
Recommended to others
Yes this a great program is like everything are putting together in a one place.
VickeyJack
Rank 29334