Finally, some of my articles are indexed on google!
Last Update:
February 21, 2021

Hello, Wealthy Affiliate family! I trust you are all doing well today! I am so excited because this is my very first BLOG POST since I finally decided to go PREMIUM on CHRISTMAS DAY 2020! And what a good way to start by sharing with you the good news of my newly INDEXED POSTS, after working so hard on my website in my first 2 months!
Yesterday (20TH February 2021) as I scrolled through the Wealthy Affiliate home page, I came across a beautiful blog post entitled "AWESOME NEWS, TWO OF MY CONTENTS ARE INDEXED IN GOOGLE!" This blog post was so inspiring that after reading it, I was encouraged to check my site contents page too.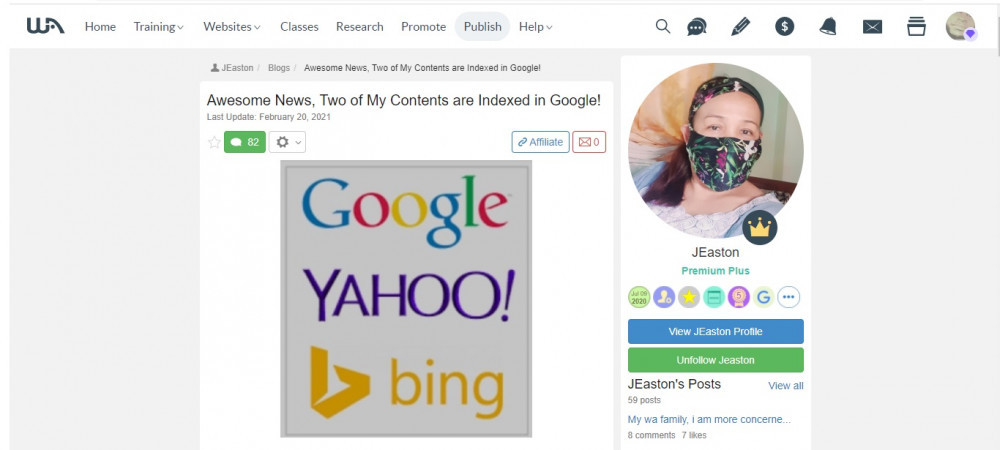 I needed that encouragement because after posting a few articles, 2 months later, none of them were indexed. I also struggled for a week or so, trying to verify the ownership of my website, but thanks to the caring Wealthy Affiliate community, I was able to get help from a fantastic gentleman who had made a step-by-step training of the google search console's website ownership verification process, after receiving personal instruction from him on what to do on my website, I was then able to verify the ownership of my website, yeah!!!!
I am not sure, but I believe maybe not verifying my website, delayed my articles from being indexed quickly, because I also posted some videos on my website, and already two of them were indexed, so I was a bit sad that my articles were not being indexed after all the hard work.
Fast-forward to yesterday, after reading that awesome article from a fellow WA member, I went straight to my site contents page and checked, and yeah!!!!! You guessed it right, some of my articles were indexed! not one but "TWO" what a coincidence!!?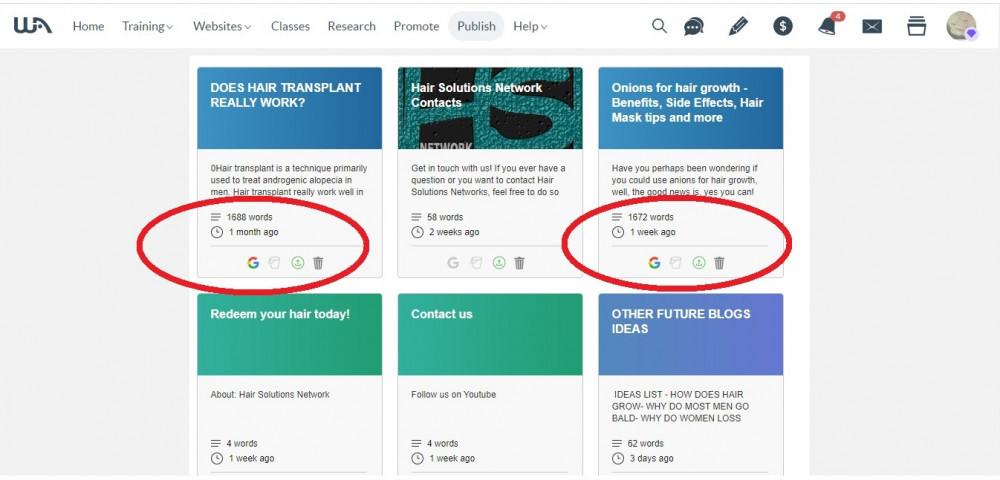 All I have to say to everyone here at Wealthy Affiliate, especially to relatively new premium members like myself, IS, NEVER GIVE UP! It is alright to be discouraged, sad, or frustrated sometimes because, things are not as easy as you want them to be, but do not dwell on those emotions for too long, lift yourself and KEEP ON MOVING FORWARD, for you will surely begin to see those results that you are working so hard for MANIFEST SOONER OR LATER, provided you do not give up!
Thanks to all the supportive members of wealthy affiliates, you make this platform a great place for one to build the business of their dreams, let all keep up the good work, TOGETHER WE CAN DO MORE!
Yours Truly
Nedi Mikobi