How to Become a Certified Commenter on Wealthy Affiliate
How to Become a Certified Commenter on Wealthy Affiliate
Last Update:
July 24, 2021

Hello my wealthy affiliate brothers and sisters! How is everyone doing today? First off, I'd like to share my recent success on wealthy affiliate.... drum roll... I have officially become a certified commenter on wealthy affiliate. (WOO HOO!) So now I have potential to make a little extra money by posting quality comments to peoples websites.

In this post, I will be giving you some actionable tips for you to become a certified commenter too!
Tip Number One : Be a Member of Wealthy Affiliate for at least 3 months
So a mistake I made on my first attempt to getting certified was trying to get the certification without knowing this. I ended up spending hours upon hours posting comments only to find out that doing that before 3 months was a mistake. You should still earn credits by posting comments because then you will get quality comments on your website. And I've noticed that my articles ranked faster when I used site comments.
So before you make a serious attempt at obtaining certified commenter status, focus on building your online business for the next 3 months and practice delivering high quality comments on wealthy affiliate.
Tip Number Two : Aim for 5 to Ten Quality Comments Per Day
Most of us on the wealthy affiliate community are in our early 20s and older so I can understand how tricky it is to balance an online business with your personal responsibilities. After the 3 month period, you should aim to provide 50 quality and approved comments within 30 days.

This sounds overwhelming at first but if you write 5 to 10 comments per day then your work is broken down into bite sized pieces and you will reach certified commenter status before you know it!
Tip Number Three : Avoid Getting Your Comments Disapproved

There are many sayings about how what you put out into the world can instantly come back to either reward or punish you. Same goes for the online world as well. Some ways that I've avoided getting comments disapproved was addressing key points in articles, finding out the name of the website owner and addressing them in the comment (more personalized that way), and writing in a friendly tone as if I were speaking to a close friend.
Getting comments disapproved can be a negative setback and hurt your progress but if it does happen then treat it as a learning experience and think about what you can do better in your next comment.
Tip Number Four: Be Prepared to Comment on Topics that You May Not Have Much Experience In
In order to reach certified commenter status, you will need to keep the skip rate on your stats very low. So you should be ready to comment on topics that you might not have much experience in. I've commented on articles about photography, music, and tech products despite not having much experience in them.
But I always aimed to provide the best comments I could while opening my mind to new knowledge. So you should do the same!
Please let me down in the comments if you found this article useful. I'd love to hear from you. If you want more content like this then do me a favor and smack that follow button. I'll be sure to follow you back :)
And here is a screenshot of my certified commenter status for those who are interested in seeing it :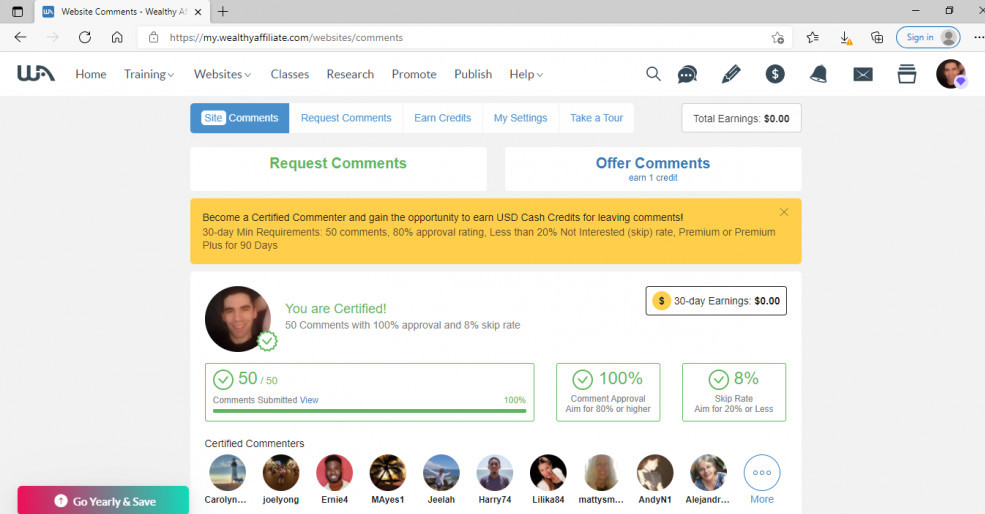 GabrielJ2021's Posts
32 posts