Understanding Google Search Console: Impressions
Understanding Google Search Console: Impressions
Last Update:
June 24, 2022

So, when answering questions, I have often noticed a lack of understanding of how to properly use Google Search Console, and worse still, not using it all!
It really does offer a ton of useful information and helps you truly understand how well your site is doing, and where improvements can be made.
I thought I would do a series of blog posts that break it down into small areas, so as not to overwhelm you!
(And that's a random stock image photo above, I have no idea whose site it belongs to!)
First things first, if you have not yet set up your Search Console, then please take a look at Phil's training, it's super simple!
https://my.wealthyaffiliate.com/training/gsc-google-search-c...
Do be aware, that once you set this up, it will take a couple of days to start gathering data from your site, and it won't show historic results, only from the day you activate it.
Once up and running, you will see the screen below.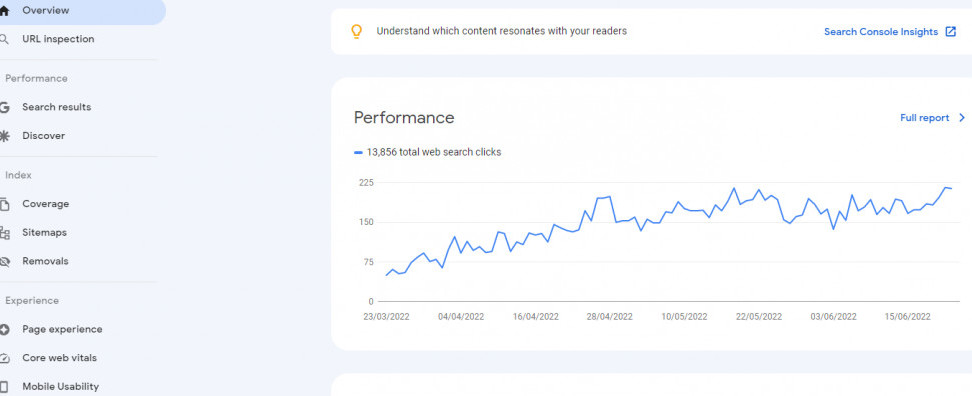 Today, I am looking at Impressions, so to get to that point, click on Full Report to the right of the screen.
Here is what comes up next.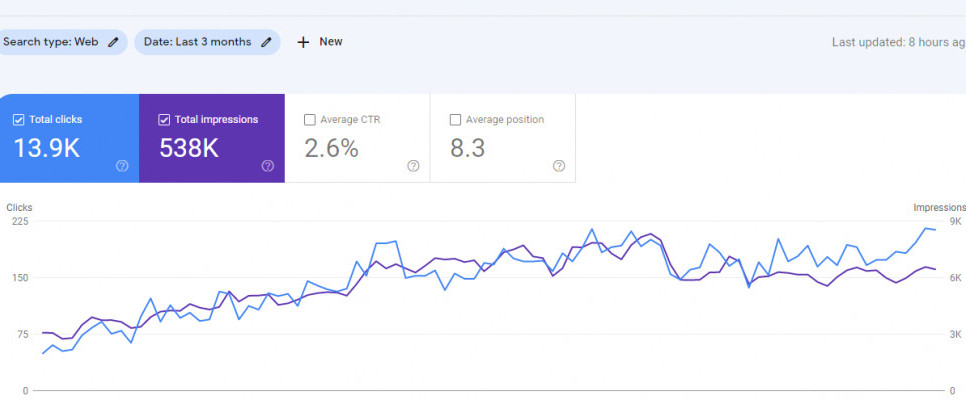 As you can see, it automatically sets the date range to the last 3 months.
And the graphic shows data for 2 metrics - Total Clicks and Total Impressions.
As we are looking at impressions, what exactly does that mean?
At its most basic, it is simply the number of times that somebody saw a link to your site.
So, they entered a search term, and Google decided that your post answered what they were looking for, and therefore put it in its search results.
Surprisingly, the searcher may not have actually seen your post at all.
A more accurate way of putting it, would be, for example, that it appears on page 1, but say it was in position 10, then perhaps the user didn't scroll that far.
But it still counts, as far as impressions are concerned.
Obviously, if you are not getting many impressions, then Google is not convinced that your post meets what the searcher is looking for.
Another surprising aspect, is that your site may show up in impressions for hundreds, if not thousands of keywords, not just the one you were hoping to rank for.
In my next post, we will delve a little deeper into how to look further into impressions, and how to find out which of your posts and which keywords are receiving the most impressions.
DianeScorpio's Posts
258 posts