Back to search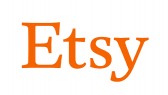 Join Etsy's affiliate program and earn commission for sharing one-of-a-kind items from our global marketplace. Etsy is a marketplace where people around the world connect to buy and sell handmade and vintage goods. Etsy offers a meaningful and personal shopping experience to consumers and gives independent, creative businesses around the world the tools to be successful. Our mission is to reimagine commerce in ways that build a more fulfilling and lasting world. Etsy offers a unique array of products that appeal to a wide range of audience. All affiliates are welcome to apply, however certain profiles are not eligible for the program at this time, including cashback and voucher code sites. Please note that we also have US, UK, French, German, Scandinavian (Sweden) and Australian affiliate programs. Affiliates should only apply to their specific country program. Commissions will be rewarded no matter what country the sale was made in. There is also an 'EU' and 'Rest of World' account, available to those with no country specific program to join. Etsy Sellers: Etsy sellers are eligible for the Affiliate Program but are not eligible to earn commission on sales from their own shops or from closely related shops. Closely related shops are shops in which an Etsy seller has a financial interest or that have a material connection, such as a shared bank account or credit card, with the seller's own shop. This is a wonderful opportunity to earn commission from showcasing other Etsy shops and embracing and discussing the Etsy community at large.To be eligible for our Affiliate Program, you must: Declare the names of any Etsy shops you own or are closely related to (if applicable) to Etsy's Affiliate team via email; Inform Etsy's Affiliate team via email of any Etsy shops you register or become involved in after becoming an approved affiliate.
Program metrics
Etsy Canada Affiliate Program Review (1)
Guest
Rank 157713
MarilianR
Rank 365751
Recommended to others
I love love how all the colors in the article and the wirds pop out to me when i read it. Keep it up????
MarilianR
Rank 365751