From $1 to $150
Last Update:
December 01, 2020

Hi WAers,
This is an update to those who followed me on this platform.
Please understand that this blog is not to show-off my earnings but to encourage other beginners like me.
November last year I announced my first $1 on I made it after 5 months
Today I want to let you all know that I made $150 on my November 2020 affiliate commission!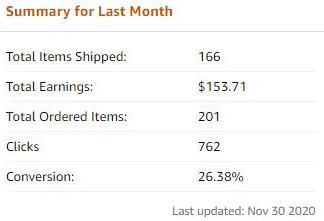 Below is a screenshot of my monthly earnings from Amazon this year as you can see the blue line shows an upward trend starting on July 2020.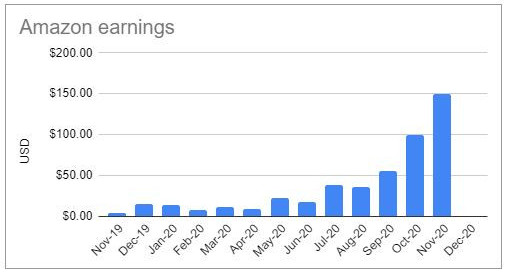 I know its not a lot but for me it means that this is something I can build on towards becoming a full-time business for myself.
Amazon is also sending me my first cheque, but due to the Covid-19 flight restrictions I dont know how long before it will reach Solomon Islands.

My progress is slow due to my demanding 9-5 job but I made sure I always add new content regularly.
I wish I could write 1 content per day like RoopeKiuttu...haha
To be honest it s not an easy journey because my website encounter technical issues like theme and Google Algorithm, so it take a lot of self learning as well.
Like others here always said: Follow the training and dont give up.
I will let you all know of my earning progress in November 2021.
Cheers,
Fred